Increasing the number of new and returning visitors on the website is one of the most important strategic goals of all online businesses. Without increasing your traffic, you'll struggle to raise your conversion rates. Knowing this, you've probably invested a lot in your marketing efforts. But what if you've been investing your money and resources in the wrong places?
Even though having an omnichannel content strategy followed by an advanced omnichannel funnel is a must in 2020, it could be a waste of your resources if you're not analyzing the data correctly. Just because everybody is using Facebook or Instagram doesn't mean it will get you any closer to achieving your overall business goals. This is where analyzing traffic comes in: the first step is knowing where your traffic comes from. To make sure that the source of your traffic is captured correctly, you need to know the two main places where Google Analytics gets these values from.
1. Directly From the Referrer
Whenever a visitor comes to your website, their browser sets the Referrer URL, which tells Google Analytics what page they came from. Google Analytics saves this information for every visit. You can see all such referring sites in the All Referrals report. Sometimes though, the Referrer URL is not set. This could be due to a range of reasons, such as:
A visitor coming from a bookmarked URL
Manually typing URL in the browser
Mobile apps
Email clients
Instant messengers
Twitter clients
Links in documents like PDF, MS Word, Powerpoint, etc.
In each of these cases, Google Analytics has no information about how the visitor found your website. You can see such visits in the Direct channel. So how can you make sure that the source of traffic is reliably captured by Google Analytics? That's where UTM parameters come into play.
2. Urchin Tracking Module Parameters (UTM)
UTM parameters are a set of five parameters that you can append to a URL. These parameters contain information about your marketing campaigns.
Required parameters:
1. Campaign source: Identify the source of the traffic.
Example: Facebook, newsletter, Google, etc.
2. Campaign medium: Identify the marketing medium used by a visitor to come to your site.
Example: social media, email, CPC, etc.
3. Campaign name: The name of the marketing effort.
Example: spring_sale, august_lead_magnet, etc
---
Optional fields:
4. Campaign term: Used for paid search keywords.
5. Campaign content: Used to differentiate ads.
---
If your original URL is
http://www.example.com
your final URL with UTM parameters might look like
http://www.example.com/?utm_source=facebook&utm_medium=social-media&utm_campaign=spring_sale
Bonus tip
Don't build these URLs manually. You can use tools like Google's Campaign UTM Builder to make them for you. This tool even offers you an option to automatically shorten the link and insert it in a copy of a social media post, for example.
PRO tip
Have you ever heard of link trust? Link trust is the inherent value a user places on the link they are thinking about clicking on. Researches have shown that users are less likely to click on a link if they don't know where the link will take them. This is why it's not surprising that customizing it could result in a 34% lift in clickthrough rate. Instead of pasting a messy URL or an automatically shortened URL, head over to Bitly and create a custom domain. Just in a few seconds, your link could go from
http://www.example.com/?utm_source=facebook&utm_medium=social-media&utm_campaign=spring_sale
to
https://bit.ly/EXAMPLE_BITLY
Now that you've learned how to make and track your links, be sure to follow up with our article next week. We'll be giving you the inside scoop on how to segment your data and get the most out of it.
We talked extensively about competitive analysis in our previous article. Now that you've got to know your competition, it's time to look into your customers. Numerous digital marketing trend reports for 2020 highlight customer experience as one of the leading trends. But to create an unforgettable one, you first need to understand your customers. Analyzing their buying behavior is the best way to do it.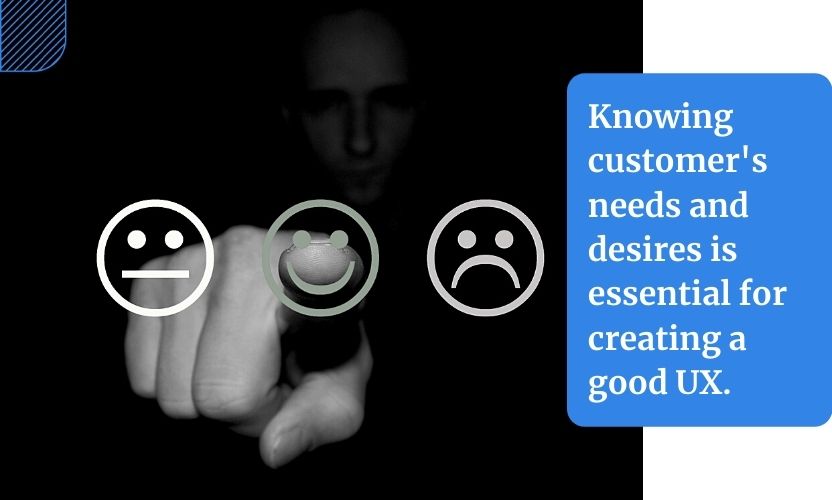 We know gathering valuable data on your customers can be tricky, so we'll share some of the top data sources and methods with you. Our team loves using them when performing customer research for our clients and we're sure you will too.
Method 1 | Google Analytics
One of the best places to start gathering data about your customers' behavior patterns is Google Analytics. Focus on data points like:
Traffic source
Page visits
Page views
Time-on-site
Bounce rate
These insights can serve as a solid starting point for understanding your customers' consumption patterns. If analyzed correctly, you can also dive deeper into their needs and interests.
Method 2 | Visual Analytics
Quantitative data is valuable, but a combination of quantity and quality is priceless. Our favorite tools for performing qualitative analysis are:
These tools will give you a visual mapping of:
Where your customers are clicking on the page
How far they're scrolling
What content on a page is resonating with your customers
This kind of data paired with a quantitative one from Google Analytics will give you visual stats on where your users like to spend time. Once you figure that out, you won't have any problems creating more similar content.
Method 3 | Social media discussions
People love to talk about themselves, so why not use it to your advantage? One great strategy to learn more about your audience is to simply go on social networks and ask questions. Here are our preferred platforms:
Pose the right question and you'll get tons of results for free that will inform you about your audience's motivations and interests.
Method 4 | Discussions with your sales team
Your sales team is on the front lines, which means they can bring you powerful insights on:
Who your customers are
How they behave
What sort of questions or objections they have
What is stopping them from taking the next step
Train your team to have open conversations and ask for feedback from every customer, whether they convert or not.
Method 5 | Interviews with customers
It does not get more first-person than this. Talk with your customers about:
How they found you
What their problem was
What made them hesitate before buying
Why they changed their minds
Only a few businesses do this, but the ones that do find the gold that others leave buried.
Mastering these tools and methods is the first step towards an in-depth analysis of your audience. We created 39 free sample questions to help you start understanding your customers. Combine them with our five ways of gathering customer data, and leverage this business intelligence in the best possible way.
Performing effective competitive analysis is often overlooked, but this analysis should really be underpinning every strategy decision you make. That's why we put together this article, answering the three main questions about competitive analysis that everyone should know.

What is competitive analysis?
Why will you benefit so much from conducting it?
How should you perform a competitive analysis?
#1. What is competitive analysis?
Any savvy business owner keeps an eye on their competitors' social media presence and website content, but that is truly just the tip of the iceberg. You might be missing out on some valuable intelligence.
Effective competitive analysis is a process of researching and evaluating your competitors' marketing efforts, sales process, content, and online activities in general. Identifying their strengths and weaknesses can also help you to identify real-time market trends and stay up-to-date on developments in your industry.
#2. Why will you benefit so much from conducting it?
The main advantages of conducting competitive analysis are clear: you'll keep your competition in check and you won't leave room for unwelcome surprises. But the benefits don't end there. You will also:
Gain insights into how your competition works
Learn about their marketing efforts
Identify their weaknesses and strengths.
Locate opportunities for future expansion and growth
Find the right timing to make important decisions
Uncover market trends
Get inspiration for new products and services
Come up with ideas and hypothesis for testing
This is the type of analysis that will help you come up with a strong, data-driven business strategy.
#3. How to perform competitive analysis?
Now that we're on the same page about the usefulness of competitive analysis, it's time we explored how to actually put it into practice. To analyze your competition effectively, you'll need to know:
Where to find relevant data
How to interpret the data you've collected
Before we tackle these two points, we would like to present to you some basic steps of competitive analysis. Feel free to download a made-for-you Excel sheet that will help you organize the process.
1. Determine who your competitors are
Don't waste time analyzing everyone that comes to mind. The best way to do this is to categorize competitors into direct threats and indirect threats. The direct threats would be those who offer the same products or services that you do. The indirect ones are those who offer similar services that could potentially solve problems of your target group. In a competitive analysis, you should focus only on the direct threats.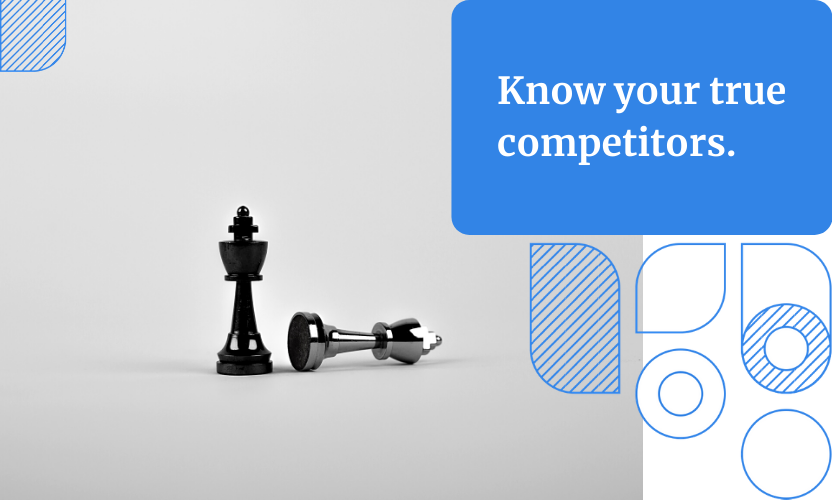 If you have time, you could also run basic analysis of the indirect threats. This would help you stay on top of the latest developments in your industry and come up with fresh content ideas.
2. Make a list of comparable products/services
Once you make a list, answer questions like:
How similar are your services?
Do your competitors offer added flexibility or additional options?
What is the price range of their services?
3. Analyze how they market their offer
Now is the time to do research into their website and social media research. In other words, it's time to dig into their content strategy:
Do they write blogs related to their offer?
How many blogs do they write monthly?
Do they have free resources (e.g. e-books, case studies, infographics, guides)?
Do they send newsletters? How many?
Do they have a series of lead-nurturing emails?
How often do they send these emails?
Do they produce videos/webinars/live discussions?
How many social media channels do they have?
How often do they post on social media?
Do they post different content on different channels?
What type of content do they post?
Are they running ads?
What kind of ads are they running currently?
Answering questions like this gives you an overall sense of their content strategy and provides the framework for the next step: data-focused engagement analysis.
4. Analyze Engagement
Without the right knowledge of the marketing ecosystem, the data won't mean much to you. This is why it's necessary to analyze content strategy, before moving on to examining the level of engagement. Otherwise, you could find yourself looking into the wrong metrics.
Here are some of the metrics that will give you a clear picture of whether your competitor's target group is responsive to their content:
How does their audience engage with their content? Are they liking, commenting, or sharing the posts?
Do users tag or mention your competitor organically on social media?
Are such mentions positive or negative?
Do users leave comments under blog articles or other pieces of long-form content?
Does their long-form content get shared by their audience?
5. Promotion of Marketing Content
After analyzing engagement, it's time to move from scanning to digging. The best way to uncover their most important content pieces and their promotion strategy is SEO analysis. This will help you uncover their most "prized" offer/product/service. Focus on:
Keyword density
Alt-text
Meta-description
Internal/outbound links
Refer to our "Competitive Analysis Research Template" to uncover questions that could help you with your research.
6. SWOT
Now you're armed with lots of useful information just waiting to be turned into actionable business data. Performing a SWOT analysis is a great way to produce competitive intelligence from what you've found so far.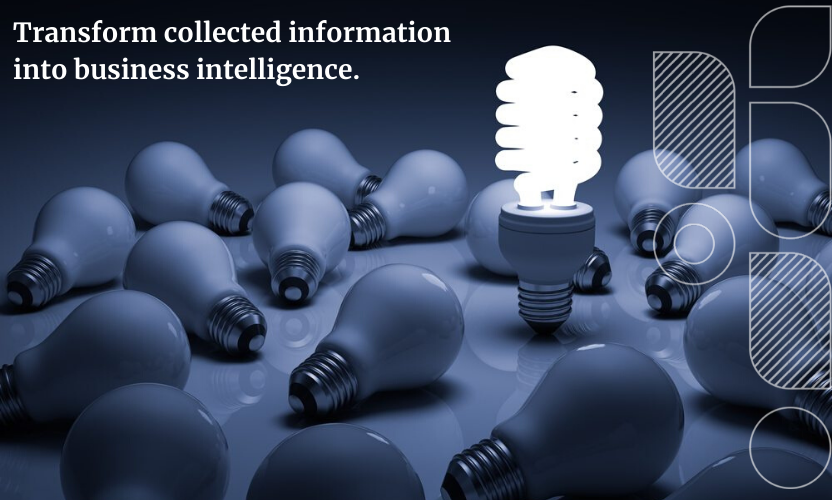 Once you've graded your competitors, be sure to grade yourself using the same principles. This way you'll be able to directly compare their weaknesses against your strengths and vice versa. Remember: having tons of knowledge and data means nothing unless you use it wisely.
---
Tools for performing competitive analysis
We feel good when you do good, so we decided to not only give you our "Competitive Analysis Research Template," but also to throw in a list of free and paid tools that will help you conduct successful competitive analysis.
---
‼️ ATTENTION ‼️
This 5127-word article is one of the most complete overviews of landing page best practices on the internet. It is intended to help businesses improve conversions, leads, and engagement from their landing pages.
Having said that, every business is different. Take what you think makes sense, and leave the rest. Don't stuff your landing page with "extras" because I mentioned them here. Less is more. Good luck 🙂
Sina Fak & Raphaëlle Sirhan
---
Let me ask you a question:
Why should a prospect want to buy from you?
"Because I sell only the best!"
Okay, come on. What I mean is, what SPECIFICALLY about your landing page would convince a total stranger to buy from you?
Does your headline speak directly to their needs and goals? Does your CTA promise to actually DO something they want to accomplish?
Get details like these on-point, and your landing page can grab you more leads than you ever thought possible – and I mean, seriously, more leads than you'd ever believed. So many leads you'll have to scale up your staff just to keep up with them all.
How do I know? Because we've made it happen for our own clients.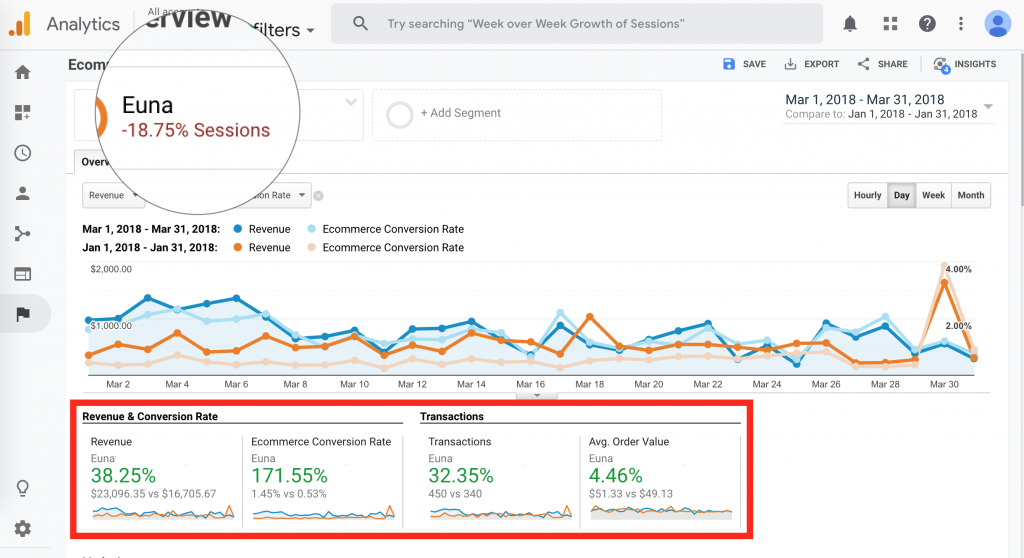 But it's only going to happen for YOU if you streamline your page into a precision-targeted machine that does one thing only: gets qualified leads to CLICK that opt-in button.
---
I'm going to bullet every point so that it's easier to refer to in any follow up…
#1. Start from your customer's end goal, and work backward
Writing a perfect headline can be tricky business.
That's why some businesses try to pack everything – including the kitchen sink – into their headlines:
Phew! I don't know about you, but I'm out of breath just from reading that mess.
Here's the easy way out of a crappy headline trap:
Ask yourself, "What's my customer's main goal?"
That, right there, is your headline. And the main theme of your page.
For our dizzying headline example above, a benefit-focused headline might be,
The customer doesn't care that you have ALL the parts for every possible car. They don't care that you ship everywhere in the world.
All they care about is that you have the parts THEY need, and that they receive their order on time.
Figure out exactly what your customer's goal is.
Write a headline that fulfills that goal.
Then build all your messaging, images, layout, and everything else around that headline.
#2. Stay focused on ONE overall selling point
The easier your offer is to understand, the higher your conversion rate will soar.
This doesn't mean, of course, that everyone will want what you're selling. You'll still get a lot of bounces – in fact, a bounce rate of 80 percent is totally normal, even for an all-star landing page.
But here are a few things that'll grab attention:
Use specific dollar values.
Your TVs cost "only $2,995," rather than "just a few thousand dollars."
Use non-round numbers.
For some reason, people find $2,995 easier to believe than $3,000.
Numbered lists sound official.
Instead of listing "lots of reasons" to buy from you, list "The Top 5 Reasons."
Skip the fine print.
Eliminate every word that distracts from the "Buy" button
Your TVs are affordable… and you offer free shipping… but what does your prospect REALLY want?
To watch the big game on a big, clear screen.
Zero-in on that primary selling point, and make sure everything on the page supports it.
#3. Make your page look unique (i.e., don't use a crappy template)
Yeah, I know… "Some of the latest WordPress templates look really professional!"
That's great if you're running a personal blog.
If you're trying to build a high-converting landing page, though… what's every visitor going to think, the second they lay eyes on it?
I don't mean to pick on WordPress. Some of their custom templates really do look professional – and if you put in some time really personalizing them, they can look totally unique.
All I'm saying is, we all know an overused website template when we see one.
An overused template does not inspire confidence.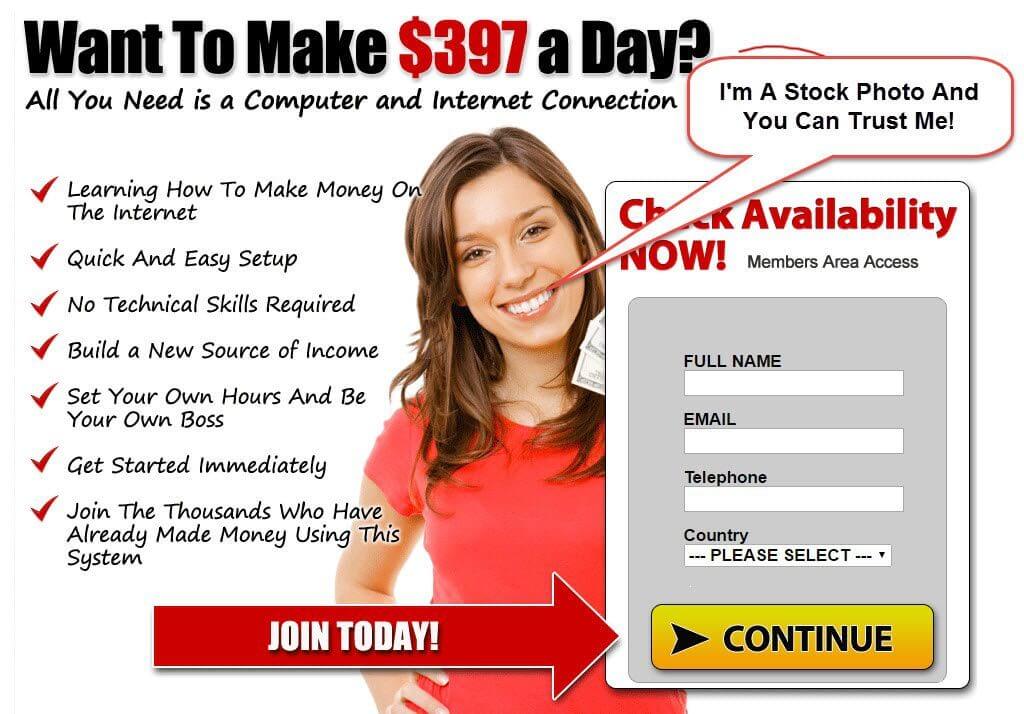 Don't be "that person." Invest in a good web designer – or at the very least, choose a template that doesn't look like every other high school blog out there, and put in some time making it look unique.
Even if all your other content stays the same, a simple change of site template can give you a huge boost in conversions. I've seen it happen.
#4. Keep the most important stuff "above the fold"
In a real paper newspaper (yeah, I know, what's this "paper" I speak of?) the biggest headline always goes on the front page, above the first fold.
The exact same principle applies to landing pages.
Except by "fold," we mean "the bottom of the visitor's browser window."
In other words, they should see everything you need them to see, WITHOUT having to scroll down.
Because most of them will never scroll at all. The vast majority of visitors will either click your CTA button without scrolling down, or else they'll bounce.
That means the "above the fold" area of your page needs to include a 5-Point Punch: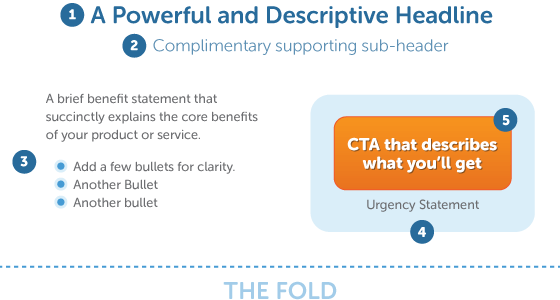 A powerful and descriptive headline: Something that will instantly grab your attention +give you a reason to stick around and learn more.
A complimentary supporting sub header: Give your headline a boost and help your customers put things into perspective.
A brief benefit statement: Go straight to the point and describe the core benefits of your product or service.
Urgency or special offer statement: Give people a reason to take action right now using a limited time or limited quantity offer.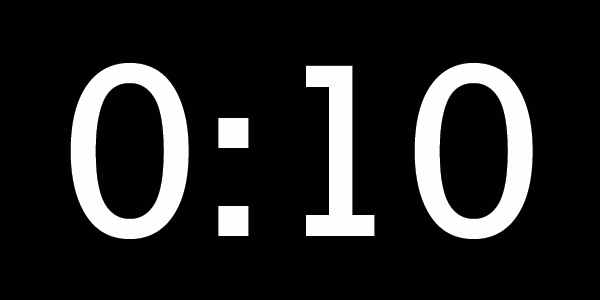 A CTA that describes exactly what you'll get: Entice clicks by describing the proposed benefits directly into your call-to-action buttons.
All of that might sound like a lot, but it's actually not that much – you'll have plenty of room for that all-important whitespace, if you design wisely.
Plus, it'll force you to write copy that's short, sweet, and straight to the point.
#5. Search-engine-optimize your page's title
I'm NOT talking about your headline!
I'm talking about the title that shows up in the browser tab.
Your page's headline and subheader are important too – and we'll get to those in a bit – but without an optimized page title, people will be a lot less likely to find (or click on) your page link.
Keep your title short, and pack it with keywords relevant to your page's main goal.
And, even more importantly, make sure to think phrase your title according to the CONTEXT in which people will search for it.
Google's filters keep getting smarter. Keywords used to be king, but context is taking over.
Here's what this means for you:
When Google's algorithm scurries off in search of a page to answer a user's question, it'll keep a close (robotic) eye out for page titles that look super-similar to the question the user asked.
For example, instead of a page title like, "50% Off Grand Canyon Hotels" – which almost no one will actually type into a search engine – use a title like, "Best Hotels in the Grand Canyon".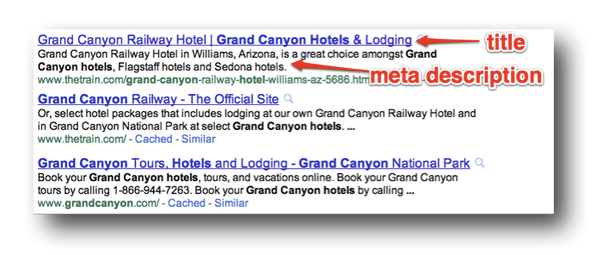 The more similar your title looks to the user's question, the more likely Google will bring back your page as a top search result.
#6. Make sure your landing page copy matches your ad
And when I say "matches," I mean, "matches EXACTLY."
For example, let's say some searches a "Best SUVs 2017"
Then your customer's experience should look something like this: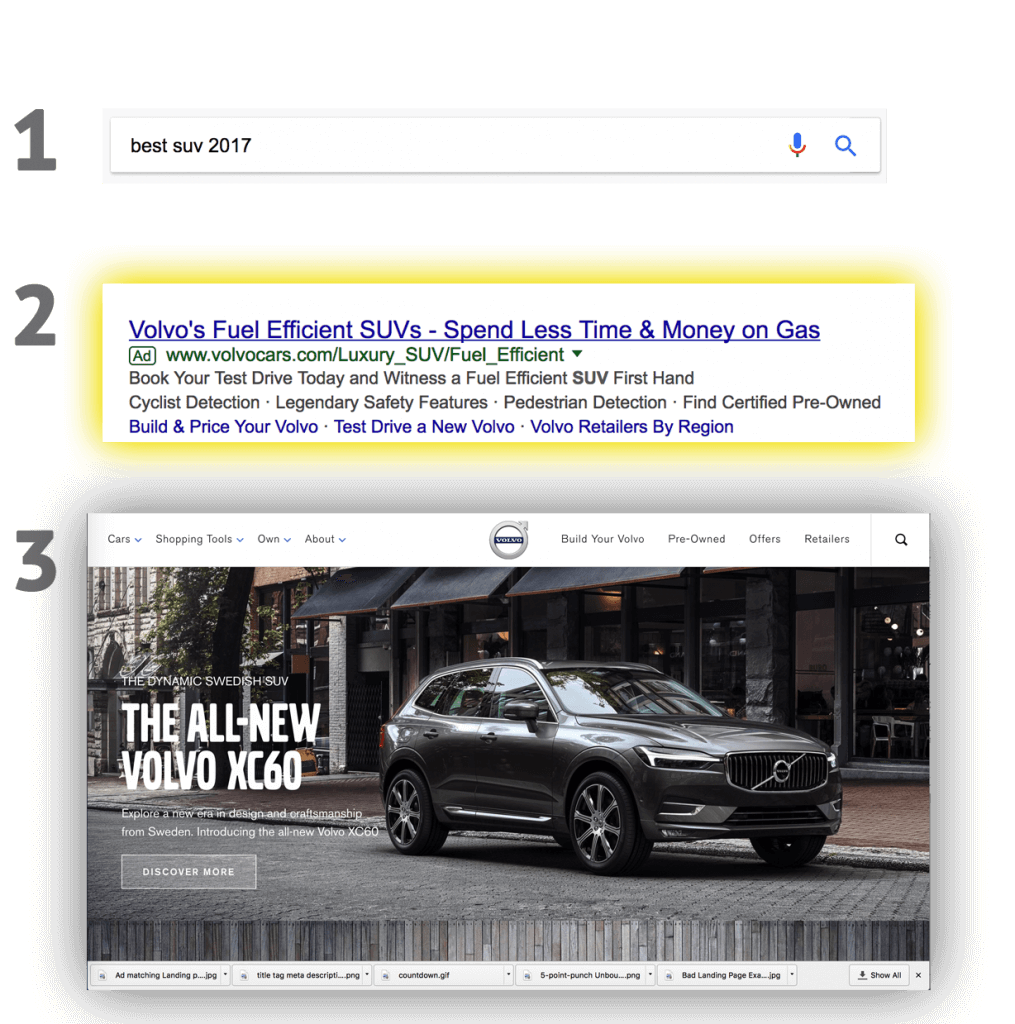 But what if instead sending you on an SUV page, you land on a page whose headline says, "Certified Pre-Owned"?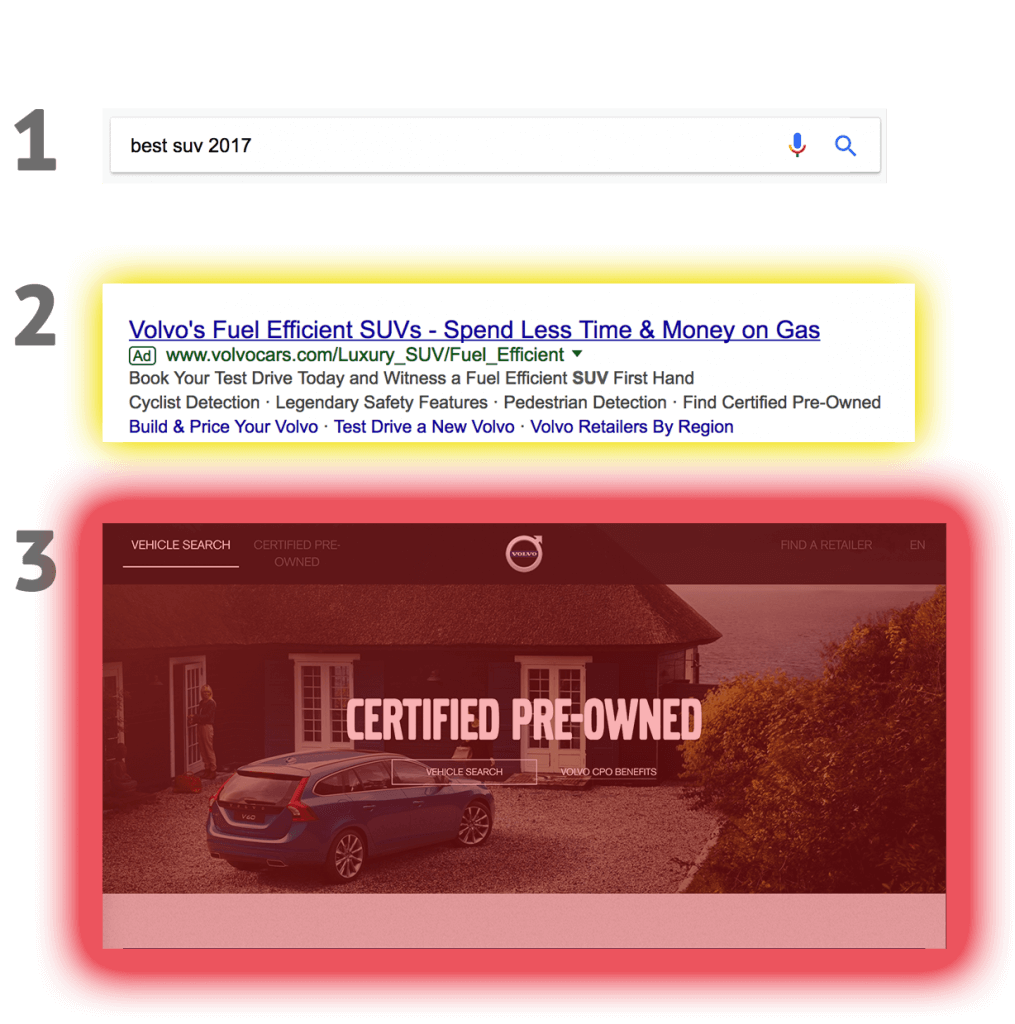 Right away, you would wonder if you're on the right page.
It might not seem like a huge difference to you. Hell, it might not seem like a big difference to your visitor, either.
But still… they start off with that little doubt in their mind.
Why give them the opportunity to doubt at all when you can easily avoid it?
People click an ad because they like what it says. Make sure your headline and subhead use those same words, so visitors see the exact same text they clicked, the moment they land on your page.
Then point them straight to a CTA that delivers precisely what they want.
#7. Pump up your views with social media buttons
The more people share your page, the more likely it is to show up in searches.
A few social media shares can now boost your page's rank MORE than inbound links from other websites.
But that's just the beginning of why you need social share buttons on your page.
People are 71 percent more likely to convert based on social media referrals. And social media buttons can boost a blog post's stats by up to 700 percent.
Sumo.com and similar free plugins make it easy to add social share buttons anywhere on your page – or even as an auto-scrolling sidebar.
Take a few seconds, set them up, and start raking in the shares.
#8. Build trust with testimonials
I already talked about the importance of social share buttons. What I'm talking about here is testimonials.
Remember when I said people are 71 percent more likely to convert based on social media referrals? Every real positive review on your page raises that percentage.
For example, we put snapshots of emails we got from customers who used our old $297 Landing Page Analysis…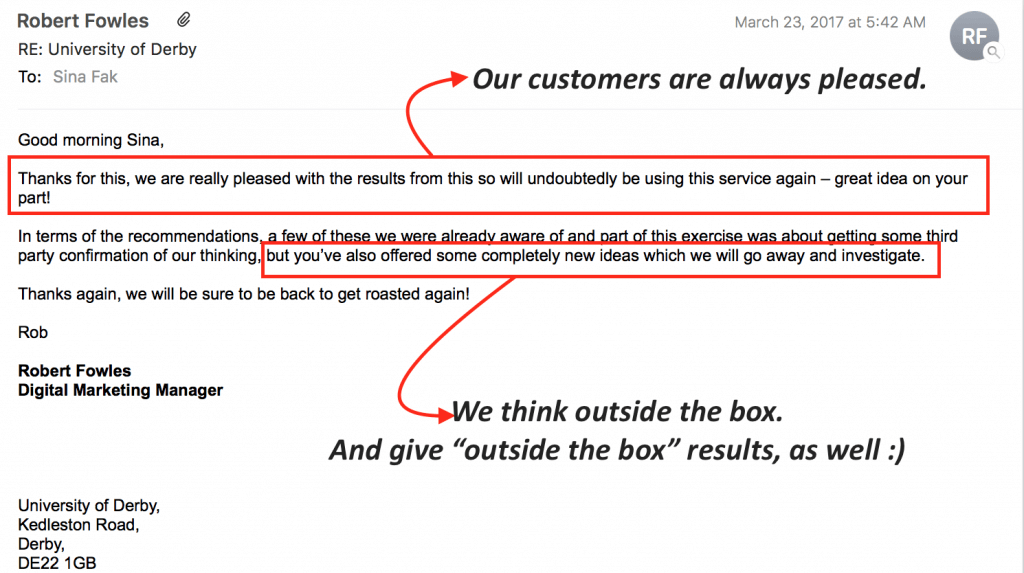 And our conversions went through the roof!
Customer testimonials look even more legit when accompanied by photos – or better yet, video clips – of real people who genuinely love your product or service.

In fact, a lot of businesses have found that the most successful landing pages of all are literally just huge testimonials from photogenic customers, with opt-in forms at the bottom.
Yeah, this is kind of a big deal – so let me say it another way:
You can use a customer testimonial (with an attractive photo) as an ENTIRE landing page, and that page will convert. Hugely. Massively.
Possibly even more than your other landing pages.
#9. Use trust symbols to prove you're legit
This is basically the corporate version of those photogenic customer testimonials.
You might be thinking, "But I don't work with any big-name brands."
YES, YOU DO. I promise.
If you run a cleaning company, you work with name-brand cleaning fluids. If you make glittery dog collars (hey, I don't judge), you use a certain brand of glitter.
And if you've been in business for a while, you've probably also gotten good ratings on sites like Yelp, Amazon, Etsy, etc.
Plaster those logos on your landing page. Make 'em easy to see.
Here are a few examples: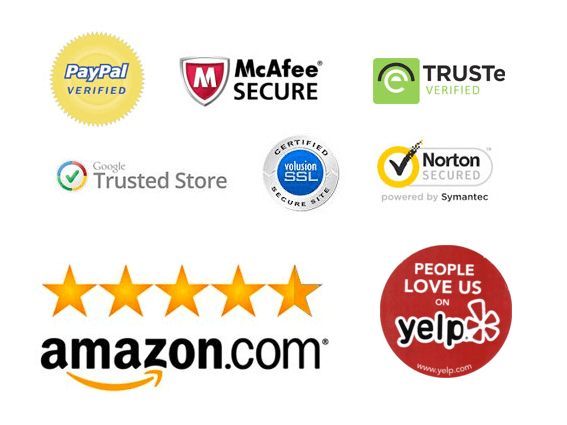 Visitors skimming your page aren't going to take a ton of time to examine the logos and wonder what they mean. Most visitors may not even consciously notice them. And on their own, they're not likely to grab you conversions.
But logos – otherwise known as "trust symbols" – make an impact all the same. In their own subtle way, they say, "We're a real company. We work with other companies you know and trust. And other companies trust us."
Even if it's just subconscious, your visitors will get the message.
#10. Play up the social proof
Tell your visitors how many happy customers you've got. And show them, too.
This is known as "social proof." I've already talked about using social media buttons, and stamping positive customer reviews on your page – and all these things are FORMS of social proof.
But the general principle is even bigger.
Invite your visitors to "Join 5,400 happy customers!" Encourage them to "Find out what 10,500 homeowners love" about your service. (Remember what I said about not using perfectly round numbers.)
Here's a great example of using social proof by Basecamp: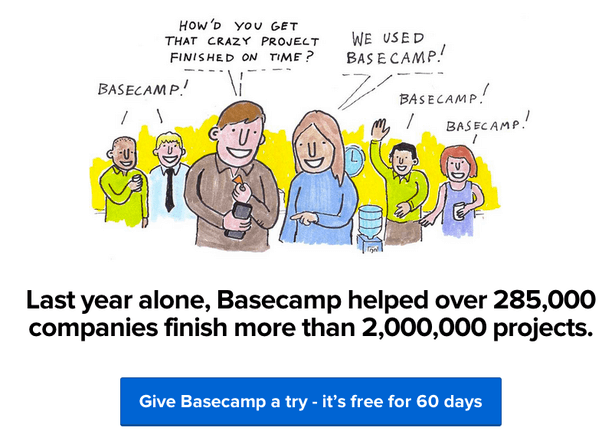 Photos are another powerful form of social proof. When your visitors see photogenic people using (and loving) your product or service, they imagine themselves in those people's shoes.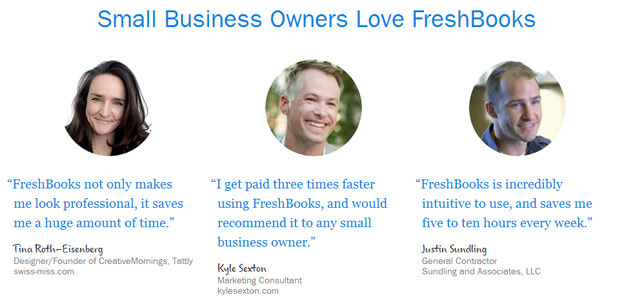 "That could be me!" they'll think. And they'll be right.
In short, everything on your page should reinforce the message that tons of smart people – people just like your visitor – already use and love your product or service.
You want every visitor to think, "If I don't opt in, I'll be missing out!"
THAT'S how powerful a single positive testimonial is.
#11. Make sign-ups as simple as humanly possible
Do you really need more than your visitor's first name and email address?
I'll answer that for you: NO, you don't.
And it's a good thing, too, because that's as much personal info as most first-time visitors will be willing to hand over.
Your opt-in form (or sign-up form, or whatever you want to call it) should be an eye-catching box containing exactly four things: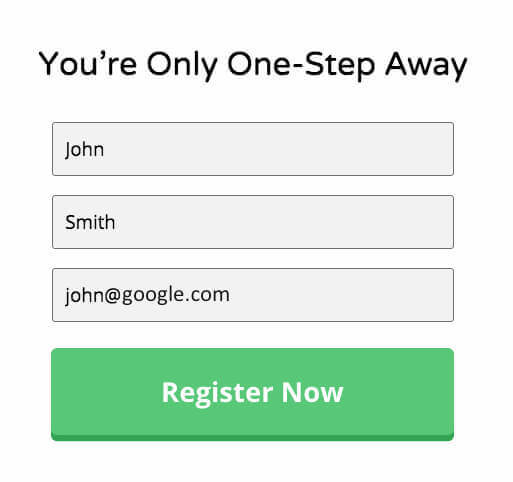 1) An attention-grabbing headline (A/B test a few, and see what works)
2) A "name" field
3) An "email" field
4) A button that says something action-oriented, like "Sign me up now!" or "Start my FREE trial!"
THAT'S IT.
Every other thing you want to add is a distraction, and will lower your conversions.
"But I need the lead's phone number!" I can hear some of you crying.
My response is: "WHY?" You've already got their email, which means you can start delivering valuable content to their inbox right now. (If you don't HAVE any valuable content to deliver to their inbox, then that's a whole different problem, and I'll be happy to help you solve it.)
"But what if they gave a fake email?" you ask.
Then they were never serious to begin with, and you've just saved yourself a huge amount of pointless work. Count yourself lucky.
Get the lead's name and email address. Start delivering valuable content to their inbox. THEN, and only then, can you start to think about making a sales pitch.
#12. Make it easy for your leads to contact you
All right, so you've got a simple contact form with an action-oriented CTA.
That's a great start – but what if a prospect doesn't want to wait for you to contact them?
Make sure they know you can be reached by phone, by chat, by Skype, and on any other platform they'd like to use.
Obviously, none of this info should distract from your main CTA.
You don't want your lead to sit there wondering which action to take… then get distracted by a phone call (or a police siren, or a party down the street) and forget all about you.
Just make sure they know you're happy to talk… or instant message… or whatever… whenever they are.
#13. Grab 100% of visitors' attention with one simple statistic
Your landing page already shows visitors how happy and fulfilled they could be if they purchased what you're selling.
But HOW MUCH BETTER would their lives be, exactly?
Maybe you can raise your clients' revenue by 20 percent. Or decrease their processing time by 15 percent. You get the idea.
The only big rule to follow with statistics is to keep it simple. Don't drown your visitor in numbers.
If you absolutely, positively, HAVE to show off more than one or two statistics, put 'em into a cool-looking infographic or flowchart.
Otherwise, stick to one big attention-grabbing stat, front and center.
(Kinda like we did at the beginning of this post)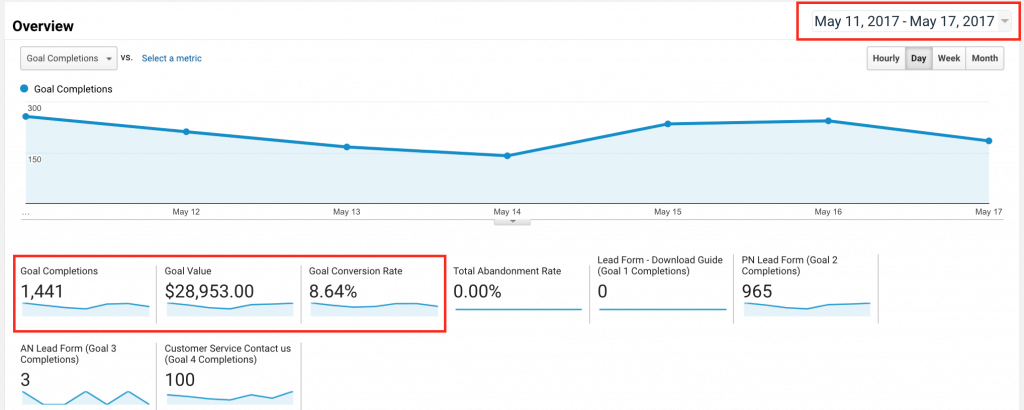 #14. Break up your features into bullet points
Nobody takes the time to read anymore!
Yeah, I know; our culture is crumbling. Look – do you want to make more sales, or not?
People don't read landing pages – they SKIM them. Often on small mobile screens.
That means you need to keep text to a minimum, make it as easy as possible to skim, and break it up in a way that makes your audience want to read more.
So, leave plenty of whitespace.
If you've got ANY text longer than two or three lines,
– find
– a way
– to bullet-point it.
Or use colored subheadings
In a different font, to break up the flow of text.
Call out the most important words with bold, italics, ALL-CAPS or links.
WARNING: Do not use all these things in the same paragraph, obviously.
That would defeat the whole point.
The point is to make your text as easy as possible to skim.
I mean, if it's not easy to skim… then why bother putting it on your page in the first place?
#15. Use POWER WORDS
We've all heard writers throw around words like "punchy" and "pop."
What exactly makes writing "pop?"
The answer is surprisingly simple. Writing "pops" when it uses…
[dramatic thunderclap]
POWER WORDS.
Does your workout program just "help people lose weight," or does it "deliver dramatic weight-loss results?"
You know power words when you see 'em:
On the negative side:
Beware!
Warning!
Toxic!
And on the positive side:
Amazing!
Stunning!
Triumph!
Once you get some practice, you'll find that power words become second nature.
Check out this list of 317 power words to get started.
#16. Make a limited-time offer
Yeah, I know, countdowns are everywhere. Yes, they can be cheesy. And sure, we all kinda know they're a little bit fake.
But you know what? They're everywhere because they WORK.
The simple combination of:
– A clear offer
– A numerical statistic, and
– A countdown timer
…is one of the most knock-out combos for ANY landing page.
Tell your visitor what they'll get, how many other people love it, and how long they have to grab it.
And watch your conversions shoot through the roof.
Why is this so effective?
Because countdown times create a sense of urgency. When people fear they have a limited time to make a decision, they're more likely to convert right on the spot.
Time is running out!
Add a countdown timer to your page today!

#17. Use action words in your CTA
Nobody wants to click a button that says something boring.
Would your customers rather just "download the report," or do they want to "read the FREE report NOW?"
All great CTA copy shares one thing in common: it's action-focused.
Make it the button that DOES THE THING!!
A button with text like "Go" or "Submit" is not only boring – it tells the visitor absolutely nothing about what will happen when they click it.
NEVER let your user wonder what the button might do. Once they start wondering, their attention drifts away.
So tell them EXACTLY what will happen the instant they click that button:
– "Download my FREE ebook"
– "View my free report"
– "Begin my free trial" ← Although that's a popular CTA, I would never use it. Why? Because nobody wants to start a trial that's going to expire and ask for more money.
– "Import my data now" ← Again, a popular CTA, but one I'd never use. Why? Because it sounds like it's going to involve boring work, and nobody wants to do extra work.
– "Start using the app NOW" ← There! Much better. See the difference?
The more directly your CTA highlights the benefit of clicking the button, the more likely a visitor is to click it.
#18. Make your CTA button stand out
This one's pretty simple. Make sure your CTA button jumps out at the viewer.
Action words help a lot with this. But even the most thrilling action-packed words won't make much different if the visitor doesn't NOTICE your CTA button in the first place.
Make it bold. Make it bright. Make it contrast with the surrounding page.
In short, make your CTA button the most eye-catching element on your page.
Here's a great example by Freshbooks: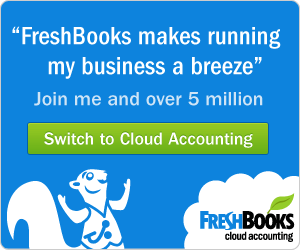 #19. Get rid of outbound links
Somewhere along the line, somebody probably told you that "more links = a higher search ranking."
Yeah, but that's only true for inbound links – links that point to your page, not away from it.
Every outbound link, on the other hand, is another excuse for the visitor to leave your landing page.
Yes, even if it's a link to another page on your own site. It doesn't make a lick of difference.
Every outbound link is a dangerous distraction.
Each time you offer to take your visitor away from your landing page, you've giving them another reason NOT to click your CTA button.
A lot of business owners (and even marketers for Fortune 500 companies) love to load their landing pages up with all kinds of nav bars, menus and links to other areas of the site.
(Take a look at this page by Rogers Wireless and tell me you know what to do…)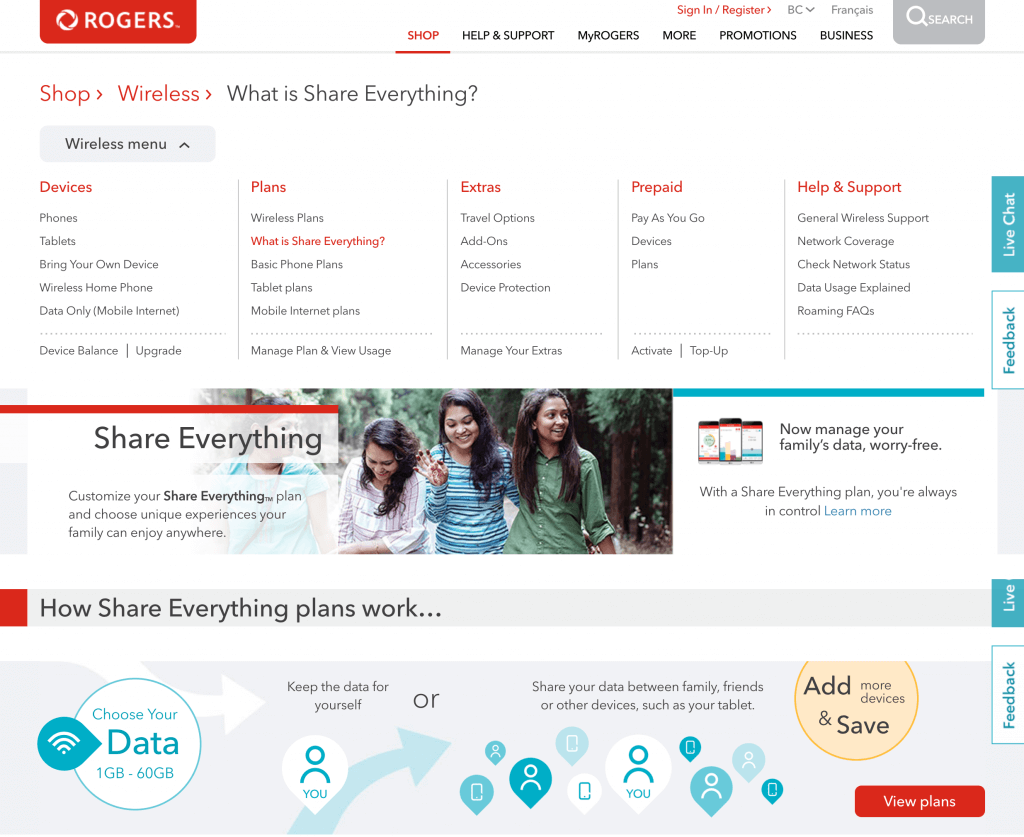 This typically happens because they don't have a single, clear goal for their landing page.
The instant a visitor lands on your page, your goal should be to get them to do one thing, and ONE THING ONLY: click that CTA button.
"Yeah, but I also want them to see this other cool thing…"
NOPE.
Every "other thing" you dangle in front of your customer is a reason NOT to convert.
Never give them any reason not to convert.
Give them a button to click.
#20. Give people something in return for their contact info
No matter how much a prospect likes what you're offering, they'll always be a little hesitant to hand over their personal information "for no reason."
Okay, sure, you're going to give them a good reason as soon as you get in touch.
But still. Handing over "something for nothing" feels a little cheap. A little too easy.
You can hugely boost your conversions just by giving people a little something in exchange for their personal info. You know, so it feels more like a trade.
It doesn't have to be anything major. Just something that feels exclusive:
An ebook
A special report
A free consultation
A specialized assessment
A contest entry
A small product sample
Free beer! (Hey, a guy can dream…)
The list goes on and on. Spend a little time developing a free product or service to give your prospects, and I guarantee you will see a lift in conversions.
And when you reach out to the prospects you've converted, they'll be all the more ready to listen, since you've already helped them for free.
#21. Run A/B tests on your landing page…
If you owned a restaurant, you wouldn't serve the same dish to every customer, would you?
Of course not. You'd test different variations of every dish on the menu – and the most popular variations of your best dishes would become your "house specialties."
Landing pages follow a really similar principle.
If you try to serve the same version of the same page to every visitor, you'll convert a few – and miss out on the opportunity to win a lot more happy customers.
Running A/B tests is simpler than it sounds.
All you need to do is create two (or more) variations of your landing page.
Then set up your site to serve each variation to visitors at random, and find out which performs better.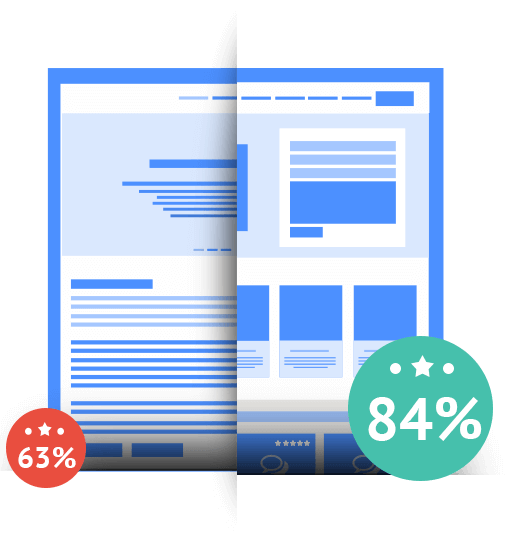 But here's the key:
Only test changes to ONE page element at a time.
When you find out which of two (or three, or four…) CTAs performs best, then stick with the ONE top-performing CTA, and move on to testing two (or three, or four…) headlines. And so on.
The more you A/B test, the better you'll understand how to convert your visitors.
And the whole time you're testing, your conversions will keep rising.
#22. …and create different versions for different customer segments
Just as you can (and should!) A/B test different headlines, CTAs and other page elements, you can (and should!) create and test pages targeted at different customer segments.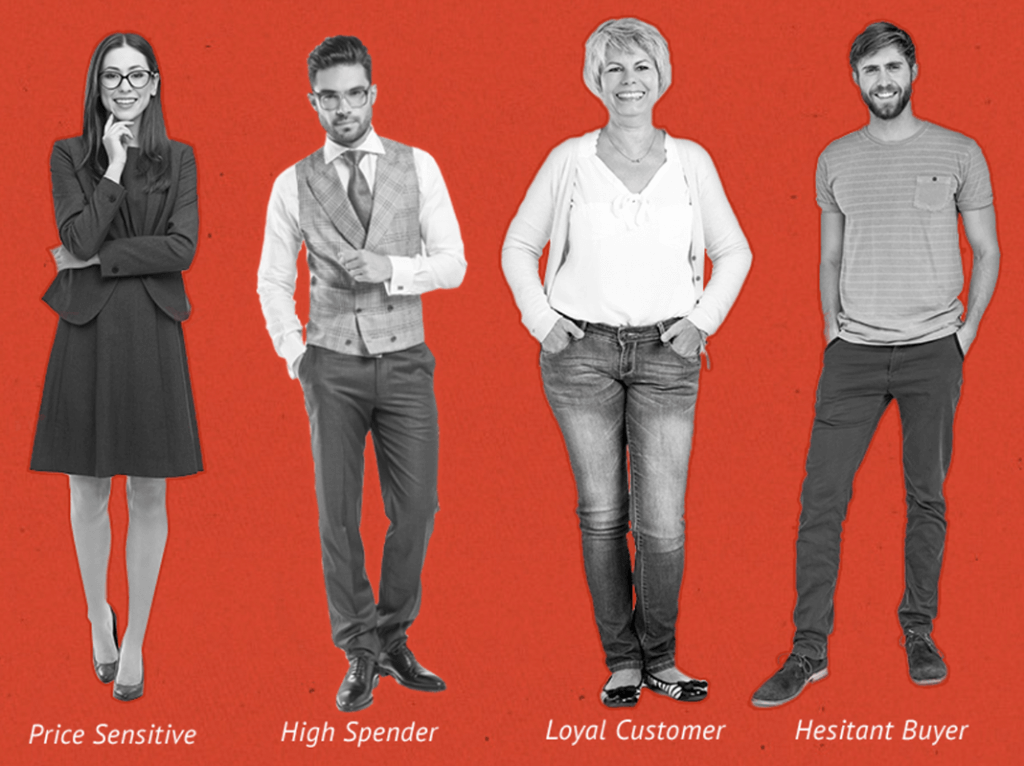 Maybe college guys want to buy your shoes because they're great for trekking across campus.
And maybe middle-aged dads love 'em because they're comfortable for golfing.
Starting with each of those specific benefits, craft a headline, CTA, and page message around the things each customer segment value most.
Then A/B test every possible variation of every element on those pages.
Over time, you'll not only get a boost in conversions overall…
…you'll also get a hell of a lot more unique conversions from EACH SEGMENT.
That makes all this testing more than worth your while.
#23. Share a video (that people actually want to watch)
Customer photos and product shots aren't the only "hero" images out there.
Videos have been popular hero shots since the earliest days of the web.
Problem is, not everybody understands how to use them effectively.
If your video's preview freeze-frame is just a shot of a car (or a computer, or… just about anything else) with a "play" button, your prospect has NO REASON to watch it.
You're basically asking them to spend two minutes of their life watching something that may have absolutely no value for them.
So that's the first step: make sure your video is actually helpful.
Now, maybe your video IS helpful. Maybe every second of those two minutes is jam-packed with useful tips, meaningful statistics, awesome music, beautiful people and epic explosions.
In that case, you need to give every visitor a SPECIFIC REASON to click that "play" button.
One easy way to do this is to overlay your headline on the video (if it's relevant to the video, obviously).
Or, if it's not too distracting, come up with a subhead that highlights a benefit of watching the video.
Remember – just like with your headline – start with the visitor's main goal.
For example, if your visitor wants a great deal on car insurance, title the video, "Save 40 percent on your car insurance, today," and title the "play" button "Find out how."
Here's a great example of how Slack used their video headline to create intrigue and demonstrate their value proposition: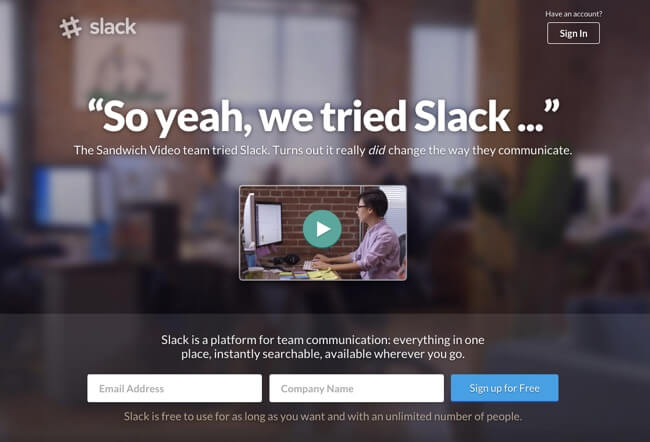 Just make sure the landing page doesn't rely solely on the video to get its message across. No matter how awesome your tagline is, not everyone will want to play it – and some visitors may be in a quiet room where they can't.
Still, watching a well-made video can be a lot easier than reading a page of copy.
#24. Consider using exit popups… sometimes
We've all encountered them now and then – those little popups that appear at the moment you hit the "back" button, or try to close the window: "WAIT! You can still save 10%…"
These little guys can be highly effective when used in the right context – but I don't always advocate using them.
Why not? Because when used in the wrong context, they can be super annoying, and turn away customers who might've converted over the longer term.
To use exit popups wisely, you need to have a clear understanding of WHY your audience is bouncing away from your landing page.
If they start to leave, but come back and convert when they get the exit popup, chances are your landing page's headline and CTA aren't getting your message across.
On the other hand, if they leave and DON'T come back, it's probably safe to say your exit popup turned them off for good.
In other words, I really only advocate using exit popups as a tool, to help figure out where and why people are bouncing off your page.
Other than that, I don't recommend them.
#25. Point your visitors in the right direction
You've put together a brilliant headline, an eye-catching hero shot, and a CTA that's impossible to ignore. What's left?
Maybe nothing – except a little indication of where you want your visitors to look.
After all… if you just let their eyes wander anywhere, they can easily wander to that "back" button.
Directional indicators can be simple – sometimes as simple as an arrow, pointing directly at the CTA.
Sometimes a big shiny arrow is a little too loud. You can still get away with a small arrow (or arrow-like shape) pointing below the fold, as a way of saying, "Hey, look, there's more down here!"
If people in your photos seem to be looking toward a corner of the page, their gaze can subtly guide visitors to look at a special offer, paragraph or CTA.
Here's a great example from BaseCamp: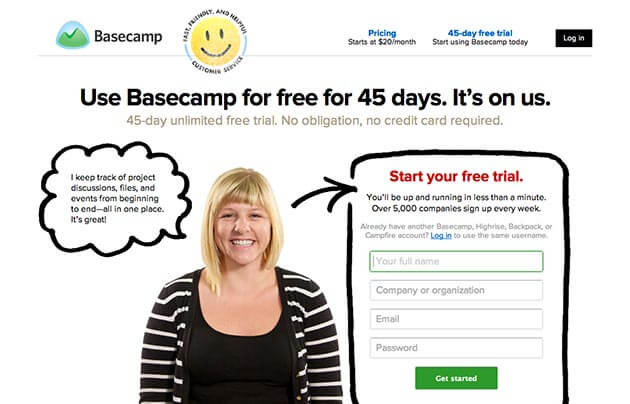 Try a few directional cues, and you'll find that visitors are surprisingly easy to guide with a few simple shapes.
Just keep it simple and subtle, and they'll look (and click) right where you want them to.
#26. Draw attention to the most important elements
I'm not talking about big yellow stars and neon pink text. Please don't think that's what I mean.
"Attention-grabbing" is not a code word for "ugly."
I'm talking about CONTRAST.
Your headline, CTA, and (maybe) one or two more important elements should stand out from the background, and from the rest of the content on the page.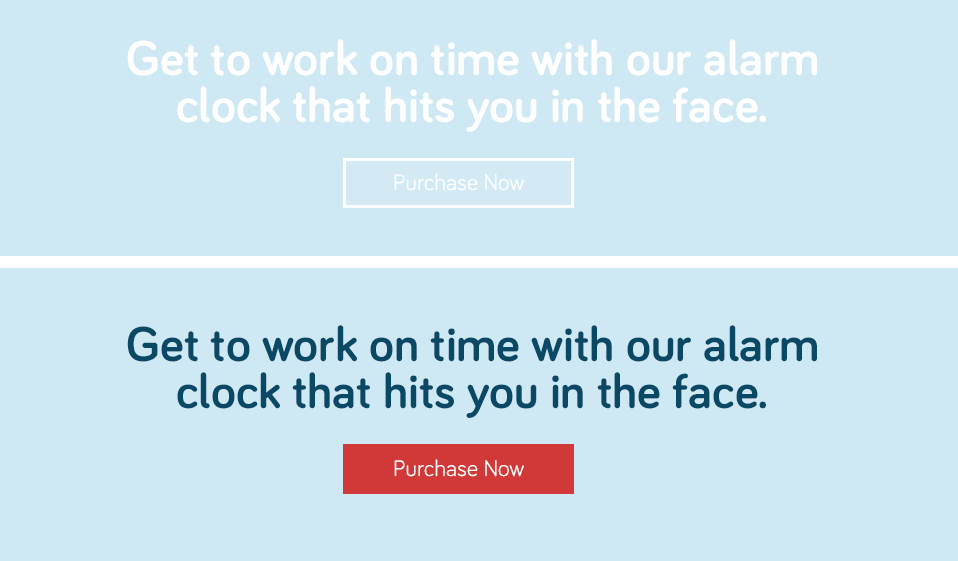 See what I mean?
The visitor will naturally look at these elements first. So choose carefully.
Also, you've obviously got some limits on the number of "most important" elements that'll stand out. Two or three is usually the max.
Once you've picked out the page elements your user absolutely has to notice, call them out with bold fonts, contrasting colors… maybe even a shadow or two.
The easier it is for a visitor to focus on the benefits, the easier it is for them to convert.
#27. Keep everything positive
Why do so many landing pages seem to list all the things the company WON'T do?
Well… I wasn't thinking about any of that until YOU brought it up!
In fact, a lot of pages use an overwhelming amount of negative language:
You might start with the very best intentions… but after a page or two of relentless negativity, your visitor is going to start thinking in terms of "NO."
The ONLY time you should ever use negative language… is when you're calming a specific worry that you KNOW your audience feels.
And even then, try to phrase it positively if you can.
I mean, this world needs a little more positivity, don't you think?
Conclusion + Closing Remarks
As you might've noticed, most of these tips don't recommend ADDING anything to your page.
Just the opposite: they recommend things to REMOVE, so your page can get out of its own way and start converting leads like never before.
But it's tough to make cuts to your beloved page – this beautiful creature you worked so hard on.
Oh, I know. Believe me.
That's exactly why I'm here: to give you one-on-one guidance on building a landing page that fits perfectly into your conversion funnel – so your leads click, convert, and tell their friends.
When you're ready to take your sales to the next level, get in touch. We'll talk about turning your website into a high-powered conversion factory.
Sometimes leads seem like these weird, mysterious creatures. What do they want? How can they be caught? What's their secret weakness?
In all this frustration, we forget a very basic fact: leads are people, just like you and me. They ignore ads for the same reasons we all do. They say "no" for the same reasons you say "no." And – just like you and me – all leads change their minds at some point or other. Your job is to make sure they change their minds for YOU, and not for some other joker.
Here are the six most common reasons I've noticed leads say "no" to buying something online – and what to do to fix each of them.
#1. Your Leads Don't Know, Trust, Or Like You
Think about the last time you read an interesting article online.
Maybe you loved it so much you shared it with your friends – but you probably never thought about the fact that an actual human being took the time to write this article because they (gasp!) WANT something from you in return.
Even if you did think about that, a single article doesn't make you very inclined to trust the person who wrote it – no matter how many adorable puppies dressed like superheroes they've just shown you.
Surprise! This is pretty much exactly how your leads think, too.
All the epic content in the world isn't going to make a lick of difference unless you give your visitors a concrete reason to like you. Give them a free ebook. A free video series. A no-obligation consultation.
Once you've actually helped your leads in some way, THEN you can start thinking about building an ongoing relationship of trust with them.
And then, and ONLY then, should you start thinking about how to get them to buy from you.
Because the problem is, right now…
#2. Your Coming On Way To Strong
Imagine if some brightly-dressed guy you'd never met came running up to you on the street, screaming, "Here! Take this free book and then buy my video series!"
Gaah! Stranger danger! Break out the pepper spray!
Yet this is pretty much exactly how most marketers approach their sales funnels.
As soon as a lead hands over their email, they've got an automated system ready to blast one message after another into that lead's inbox, loudly proclaiming the urgency of visiting a sales page.
I don't care how compelling your copy is. I don't care how worthwhile your offer is. People get freaked out by that level of pressure – no matter how gently you phrase it. They can still see what you're doing, because we're all exposed to sales tactics like this every day, and we know the game.
And nobody wants to buy in response to tactics like those. It feels like being tricked – like being "cheap," in a way. Come on. Try a little harder.
Sure, there'll always be a few outliers who lap up aggressive offers and buy right away. But those people will NEVER be the majority of your customers – and if you keep using tactics that target them (at the expense of more wary shoppers), then you're leaving a TON of money on the table.
Stop catering to your outliers and annoying everyone else.
Start trying to get inside the heads of the leads who say "no."
And you'll soon realize…
3. We're All Trained To Say "No" To Strangers
Every lead who says "no" to you is doing exactly what their mama taught them.
From the time we first learn to walk and talk, we're told again and again… and again… to ALWAYS say "no" to unknown people who offer us gifts out of the blue.
And that's a good thing! If your customer says "no" to strangers, that means they're smart!
Now, this isn't to say you never buy anything from strangers. That's obviously not true – we all buy things from strangers every day. Every time you go to the grocery store, you're handing over money to a total stranger.
Well… not exactly, though, right?
You've been to that grocery store (or one like it) many times before. You know there are laws in place to prevent them from selling rotten fruit.
In other words, you know some basic facts that make you more willing to hand over your money to this PARTICULAR stranger, in this particular time and place.
That's exactly what your leads want, too. But…
#4. You're Not Giving Them The Fact(s) That'd Changed Their Mind
If a lead has given you their email address, that means they're interested. There's SOME fact (or set of facts) you could show or tell them that'd get them to buy, right now.
Your lead may not know, right now, exactly what that "something" is.
But at some point, they're going to find it, and they're going to buy – whether from you or from one of your competitors.
We call this a "response indicator" – the specific action, or piece of knowledge, that just about guarantees a customer will respond.
What does this particular lead need to know – or do – in order to choose YOU?
Sometimes the answer to this question is simple. For example, maybe you sell cars, and your lead just wants to take a test drive. Or maybe you sell solar panels, and your leads needs to see that your brand will slash her energy bill more than your competitor's will.
In most fields, though, response indicators are a lot more subtle.
Say you're selling a video course.
You might discover (if you've got good analytics) that 60 percent of leads who download your free ebook go on to pay for the full course. That's a solid response indicator.
Or (if you've got REALLY good analytics) you might discover that a whopping 90 percent of the leads who download your ebook AND read the whole thing end up buying your course. Now that is a fantastic response indicator.
Your goal is not to push your leads to buy. Your goal is to move them from one response indicator… to the next… to the next… for as long as it takes to change their mind.
But somewhere along this chain of response indicators, you'll usually start to notice…
#5. You're Giving Them Too Few Changes To Change Their Mind
What's your first thought when you walk past a store window with a big yellow sign that says, "EVERYTHING 75% OFF! LAST CHANCE TO SAVE!"
If you're like me, you immediately think, "They're unloading all the crap they couldn't sell."
Well, that might be true, or it might not. Maybe the store just needs to clear off their shelves for some new inventory. But it sounds like they're too nervous about their product to give me time to think about it.
Like I said above, you'll always get a few outliers who love those kinds of sales.
But the vast majority of your customers will be people who said "no" the first time… and the second time… and maybe the third, too… but finally came around because they were impressed with your consistency and patience.
The more chances you give them to change their mind, the more sales you'll make.
We call this "multiple conversion points."
A lot of campaigns have only ONE conversion point, repeated multiple times.
This is a crucial distinction. If you're sending a whole series of emails that all make the same offer in the same way, that's still only ONE conversion point. You're just repeating it.
Your conversions will go through the roof when you make an offer at DIFFERENT points in your buyer's journey.
This goes back to the concept of response indicators, which I talked about in section 4.
Say you're trying to sell a video course, but you're hardly getting any conversions from your email series. Buy you know (because, remember, you have GREAT analytics) that 60 percent of people who download your free ebook end up buying the course – plus a full 90 percent of people who read the whole ebook buy the course.
What's the logical way to set up your conversion points?
Make sure the offer for the course pops up as soon as a lead downloads your free ebook.
Make sure the offer – phrased differently, obviously – is INSIDE the ebook, where 60 percent of your leads will be thinking of buying.
And make absolutely damn sure the offer is at the end of the ebook, where a full 90 percent of people are primed and ready to buy.
See the difference?
You're not just sending your leads the same offer again and again, hoping they'll magically change their mind on one of those repetitions.
Instead, you're showing them VARIATIONS of the offer at DIFFERENT POINTS in their journey.
You're giving them opportunities to change their mind – at the exact moments when this change is most likely to happen.
All that's left is to fix one last problem…
#6. You're Not Giving Them What They Actually Want
"Well, duh, Sina!" I can hear you saying. "So I'm just gonna skip over this section, because…"
NOPE.
Just because you make a good product does NOT mean you're offering your leads what they want.
This trap is WAY too easy to fall into. I've fallen into it myself, more than once.
Here's how it works:
You think, "My leads are interested in increasing their sales. I made a video course on how to increase sales. Therefore, my leads should want to pay for my course."
Sounds logical, right? Except it's a HUGE oversimplification.
It's like saying, "My leads want to travel quickly over long distances. Catapults throw things quickly over long distances. Therefore, my leads should want to pay for catapults."
Your product or service needs to do more than just generally do what your leads want to accomplish.
You need to help your leads meet their goals – in the ways they want to meet those goals.
And here's the thing:
Leads are INCREDIBLY skilled at sniffing out products and services that promise exactly what they're looking for – but only deliver half, or a quarter, of the solution they actually need.
The first step to solving this is to dig into your analytics, and find out precisely where your leads and dropping out.
Example A: Your leads are devouring loads of articles on your website, but aren't subscribing to your email list. This probably means the list doesn't promise the kind of help they're looking for, and you need to restructure your offer
Example B: A lot of leads subscribe to your email list, then unsubscribe a few weeks later. This means your email content isn't delivering what you promised, and it's time to put together some better email articles.
Example C: Your leads are downloading your ebook, but not taking action on the offers inside it. That means the ebook's content ITSELF is not solving their problem, so they're giving up.
Example D: They're downloading the ebook and purchasing the video course, but they demand refunds a few days later. This means your videos are not helping in the way you promised, and that pisses your customers off.
Once you've found the general source of the problem, the next step is to pinpoint exactly where and why – WITHIN that particular content – your leads are getting frustrated.
Maybe your "subscribers-only" email content is nowhere near as helpful as the articles on your site.
Maybe your ebook is too light on specific, actionable tips, and leads can tell right away that it's a bunch of useless fluff.
Maybe your videos are way too long and way too boring, and people stop watching them after the first two minutes.
Or maybe… worst of all… you're promising a specific kind of help, but failing to deliver solutions that ACTUALLY help your audience solve that problem.
Whatever the case, you need to study your audience's behaviour until you understand exactly WHERE and WHY they're getting fed up with you.
And then you need to find a way to give them what they actually want.
This can be a frustrating process, I know. That's why I'm here.
I want to give you one-on-one guidance on how to get your leads to like you, trust you, buy from you (obviously), and love their purchases so much they spread the word to their friends.
When you're ready to take your sales to the next level, get in touch. Let's talk about turning your website into a high-powered conversion factory.
There's always a learning curve in building a successful business, and some mistakes just need to be made. But if you can avoid some key missteps that might cost your business dearly, wouldn't you want to know about them in advance?
Since 2013, we have helped hundreds of businesses both big and small face down tricky challenges. What we have noticed is that there are three mistakes that they often have in common. These mistakes not only hurt the growth of their business but, in the worst cases, even snuff them out of existence altogether.
Read on to find out what these problems are exactly and how you can avoid them.
Problem #1: Lack of understanding of how to drive sales
Most online business owners try to increase their sales by investing time and money in more paid advertising, more social media, more SEO, more emails, and more content. The truth is that none of that matters unless you understand how people make buying decisions.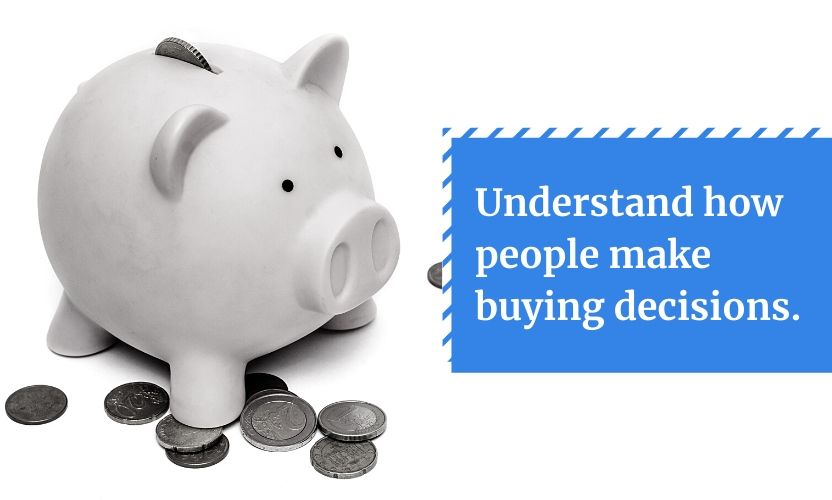 If you want to increase your sales, you need to understand how the different elements of the buyer's journey work together. Every step of your sales funnel should drive your customer closer to taking the desired action in a natural way. Creating loads of content won't get you anywhere unless it's well-aligned and targeted. Each piece of content needs to fit into the buyer's journey and have a key reason to draw them further down the funnel.
You should also make sure that their journey doesn't end once they complete the purchase. Nurture the relationship with them until they become a repeating customer. A happy, returning customer will become your unofficial brand ambassador. Remember that users often tend to trust information that travels through word of mouth than from branded sources. Nowadays, social proof can be everything.
What you can do
Make an omnichannel conversion funnel that is predictable, measurable, and modifiable. Use various free and paid channels to target your potential customers with content tailored to their stage of the buyer's journey, rather than overloading them with bulk content. Analyze your results and optimize each step accordingly.
Problem #2: No culture of continuous improvement or optimization
Most online business owners are reactive. They only invest in their business when they feel like something is not right. This is a sign of the wrong usage of data. Don't use your analytics only to track activities and check results. This will put you in a reactive position, as you can only act after something has already happened. Use them wisely and with forward-planning to make active decisions and predict future outcomes.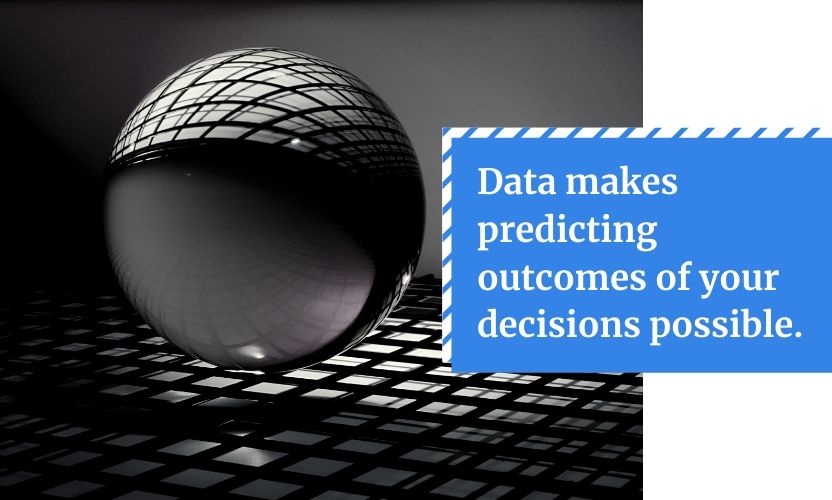 Companies that grow the most in the long-term are the ones that are constantly challenging their own assumptions and the status quo. They are able to stay modern and up-to-date in a market that's full of change. They do so by creating a culture of 'what if's'.
These curious thoughts encourage them not to stick to what they already know, but rather dip their toe into the unknown. Experiments based not on a gut feeling, but real data and insights help them make better decisions in any and every area of their business.
What you can do
Having great content is not enough. Content without a strategy is just stuff and nowadays, the market is full of stuff. The only way to give your content true meaning is to adopt a culture of analyzing, testing, and improving based on data. Remember that competing with yourself and challenging your own ideas, instead of focusing on beating the competition with short-term success, is the only way you'll grow your business long-term. If you can focus on looking ahead and challenging what you think you know, you will leave the competition far behind you.
Problem #3: Lack of vision for long-term growth and returns
Many businesses go after short-term wins because they crave immediate results. This is another consequence of reactive thinking. Instead of discovering the root of the problem by analyzing data, they spend money on paid advertising and quick solutions to see a spike in results short-term. If they took the time to optimize their strategy based on key data learnings, they would benefit from a far-reaching perspective on their business.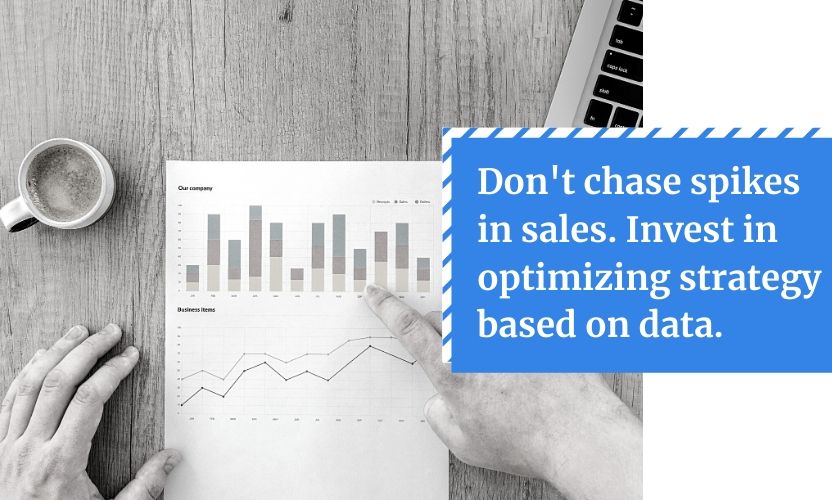 In their eagerness for short-term gains, they're missing out on opportunities for long-term gains. Taking the time to understand the bigger picture and optimize what they are already doing is what will bring businesses long-lasting success.
Businesses with long-term vision will understand that optimization is a slow process. However, this process will not only increase the return on investment you get for every dollar you put into marketing and advertising today, but will also have a compounding effect over time. When you look at the ROI of optimization over a one-, six-, twelve-, or twenty-four-month timeline, you can see that those small improvements in your conversion rate can have huge impacts on your profitability in the long-term.
What you can do
Analyzing the root of the problem, experimenting to find the best solution, and optimizing your content takes time. But ask yourself: would you rather waste your time and money on short-term wins that won't grow your business, or would you rather invest in optimization that will lead to exponential growth? Keep in mind that sale spikes can be misleading successes and short-term solutions. Be prepared to put in the hard work and work on your long game.
Are you making these mistakes?
The truth is that, if you are making even one of these mistakes, your business is at risk of:
Getting knocked out by the competition.
Having all of its profit margins eaten up by rising advertising costs.
Not achieving long-term, sustainable growth.
The world is changing and a new breed of data-driven online businesses has emerged. Only investing in ads and chasing short-term sale spikes is far behind us. Omnichannel strategies, user experience, social listening, and other important market trends for 2020 all rely on analytics and data-driven decision-making. Make sure you're on the right side of the trend. Take these steps today to leave the competition behind you for good.
If you have been in business for a while, you'll know that most prospects will say no at first. Most of the time, it won't even have anything to do with the quality of your offer: it's just a normal initial reaction. Especially nowadays, with an oversaturated market, consumers will often be suspicious of new brands and want to take time to consider their options.
Even if you do get a quick sale, remember that this an outlier. You can't rely on them and you certainly can't base your entire strategy on them. As a matter of fact, if you know the tricks of the trade, you'll find that the real opportunity lies with these people who said no at first. You can make the most of these rejections by using a conversion funnel. To get started, let's look at what types of funnels are out there.
Types of Conversion Funnels
You've already evaluated your conversion funnel with our quiz, so now is the time to also identify its type. Here is a brief summary of the three basic types.
1 | Basic Three-Step Funnel
This is a three-step funnel and is often used by beginners.
As you can see, it all comes down to:
Attracting new website visitors (a targeted ad campaign will often do the trick here).
Giving these visitors something valuable to spark their interest in your product.
Waiting for the conversion to happen.
It's very simple to implement, but the best news is that there is also a lot of room for optimization. If you're already getting good results with this, then the sky is the limit.
2 | Standard Five-Step Funnel
This type of conversion funnel covers the five basic stages of the buyer's journey. This is also a foundation for the ideal omnichannel funnels.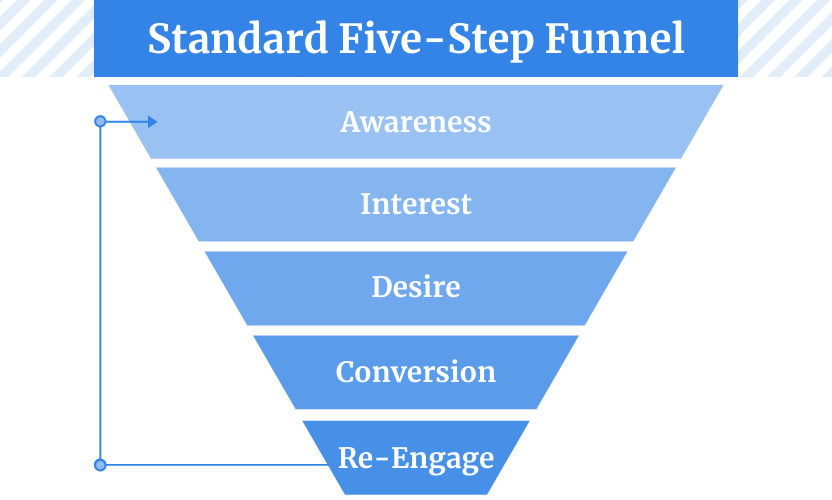 1. Awareness – In this first step of your funnel, it's all about attracting leads to your website and making them aware of your business.
2. Interest – Now that you have led them to your website, it's time to pique their interest and form a relationship with them. This is your chance to offer them something valuable, before asking for value in return.
3. Desire – If you did the second step right, they will come back for more. They will want to know more about what you have to offer and what it can do for them.
4. Conversion – Now the prospect finally completes the desired action. You might think that you've achieved your end goal – but true success means taking it one step further.
5. Re-Engage – Lifecycle marketing is one of the biggest trends right now, and for good reason. Just because prospects have completed the desired action it doesn't mean your relationship with them should come to an end. Find a way to nourish it and keep them coming back for more. Eventually, they'll become your unofficial brand ambassadors and do your marketing for you. Keep in mind that users do not often trust information coming directly from brands nowadays. They are much more likely to trust someone they see as a peer, like finding information through customer reviews, case studies, or social proof.
3 | Advanced Omnichannel Funnel
The famous "less is more" motto of the minimalist architect, Ludwig Mies van der Rohe, is true for many things. The conversion funnel is not one of them. In fact, the more details you can include, the better. Details allow you to customize your sales funnel and make it more natural for the user. If you can personalize your funnel enough, your lead won't feel like you've trapped them in some cycle. The process will feel much more natural and your prospects are more likely to trust you.
With an omnichannel funnel, you reach leads across multiple channels and touchpoints, creating a holistic and trustworthy message. It often requires more steps than the basic or standard funnels mentioned above but also offers high rewards.
Improving the user experience is, of course, a great reason on its own, but there are still more advantages of using an omnichannel conversion funnel. They include:
Enhancing your ability to find lookalike customers that are more likely to convert.
Easier optimization of smaller parts of the funnel, rather than overhauling an entire system.
Scaling your business more efficiently and effectively.
Step 3 | Follow-Up Email
A personalized follow-up email is a great opportunity to start building a relationship with users. Keep it brief and to the point, perhaps signposting to a couple of other pieces of content that they might find interesting. This is your chance to make a good impression and leave them with a positive association with your brand.
For the airline ticket company, their follow-up email could be a cheerful note thanking them for reading the blog post, sharing a maximum of two other forms of content, and containing plenty of attractive travel images. You want to send your leads something that is low-effort for them and contains plenty of positive branding.
Are you interested in seeing what an omnichannel conversion funnel looks like and how you can put it into practice? We have created a 10-step ready-to-use conversion funnel just for you, with clear examples and takeaways.
Creating a successful conversion funnel from scratch can feel overwhelming. If you're unsure of where to start, not to worry. To help you get started, we've created a 10-step omnichannel conversion funnel you can use as inspiration.
Before getting started
Remember that at every step of your funnel you need to answer these questions:
Let's assume you've defined your niche and created your ideal customer persona. Next up, you should find a topic that is relevant and of interest to your target audience. The best way to brainstorm topics is by conducting thorough keyword research and search queries.
Keyword research helps you identify some key terms, but search queries will also help you go a little deeper by identifying common questions around that topic. You can then provide high value by providing expert answers to burning questions.
In this article, we're going to walk you through the steps with clear examples from a theoretical business; our chosen hypothetical company sells airline tickets to long-haul destinations. Their users are interested in finding the best deals. But how can they attract new leads? What strategy will keep past users coming back? Using discounts and promo codes will likely result in sales spikes, but that only represents short-term success, rather than exponential business growth.
Our 10-step method uses sales/conversion funnels and highly valuable content in tandem to foster long-term growth; let's dive into how you can apply this to your own business.
Step 1 | Create a High-Quality Piece of Content
The first thing you want to do is create a high-quality piece of content directly related to the topic you've chosen. For our example, a good choice would be a blog article covering the top long-haul destinations for the upcoming year.
Be sure to give detail and provide real value to those reading it; it's crucial to always give value before asking for something in return.
Step 2 | Create a Lead Magnet
A lead magnet is a marketing term for an item or service that is given away in exchange for useful information. Don't give away your highly-valuable content entirely for free: add it to your website, but offer it in exchange for an email address. Keep in mind that the more questions you ask, the fewer leads you'll get. Find a balance between getting the right information but not putting up too many obstacles for your audience.
In our example, this would be a good opportunity to ask potential leads for their name, traveling preferences, country of origin, and other useful information. This is the chance to segment the leads and learn more about them so you can offer them tailored content later in the funnel.
Step 3 | Follow-Up Email
A personalized follow-up email is a great opportunity to start building a relationship with users. Keep it brief and to the point, perhaps signposting to a couple of other pieces of content that they might find interesting. This is your chance to make a good impression and leave them with a positive association with your brand.
For the airline ticket company, their follow-up email could be a cheerful note thanking them for reading the blog post, sharing a maximum of two other forms of content, and containing plenty of attractive travel images. You want to send your leads something that is low-effort for them and contains plenty of positive branding.
Step 4 | Social Media Organic Promotion
Create content that will help you promote lead magnets organically. A monthly plan for your social media channels will allow you to use proven formats to your advantage. Your content on every channel should be cohesive and related, so your audience knows what you're about at every touchpoint. If you're creating videos, why not cover a topic related to your lead magnet?
For the long-haul destination blog post, share aesthetic photos of destinations mentioned in the guide, reviews of passengers who already visited them, and "discover a perfect destination for you" quizzes. These fun and light snapshots of your lead magnet content will draw people in further. Tease your existing audience and use hashtags to reach new users.
Step 5 | Social Media Sponsored Content
Create a clear and structured plan for sponsored content. What ad formats would be best? Dig into your analytics for past campaigns and make a data-driven decision. If you haven't got data to fall back on, test a few different options. This is your golden opportunity to make the most out of your high-value lead magnet and reach as many new leads as possible. You can also retarget those who visited the lead magnet page but didn't take the desired action.
For our travel company example, using attractive images of the destinations mentioned and drawing people in with the lure of high-ticket destination options would likely appeal to the right audience and generate fresh and relevant leads.
Step 6 | Lead Nurturing Emails
Once people download your lead magnet, add them to a lead-nurturing thread of emails. This automated, pre-made set of emails should feel different from your newsletter content. These emails will be sent to your high-value leads and prospects and should feel like you've personally written that email just for them. Where newsletters are generic, lead-nurturing emails are tailored to your users' needs. This is your chance to start building a relationship with your lead.
In our example, if a lead identified a specific area of the world they wanted to visit, you could provide them with guides, deals, and more information on how you can help them to get there. For example, a lead told you that she is a 30-year-old traveler from the US who prefers traveling by boats and trains and wants to visit Europe. Let her know that there is a Venice Simplon-Orient-Express tour, send her a series of emails that include a list of EuroRail centers, suggested itineraries, and a collection of the best deals for traveling from the USA to Europe.
Bonus tip: activate a behavioral email to hit the maximum personalization level. This automated marketing feature will help you personalize your content the most, since these emails are triggered by actions users take on your website. For example, if a lead clicks on deals related to Thailand, an email containing content linked to articles and reviews for Thailand would be automatically sent to that user.
Step 7 | Present a Paid Offer
This step is crucial – and its success depends on your analytical skills. Based on behavior both on the website and in emails, you need to determine for yourself when a lead becomes a prospect. Only when a lead has matured enough can you present them with a paid offer. As ever, this offer should be tailored to their interests.
For the airline ticket seller, this could be an offer to design an itinerary for their ideal destination.
Step 8 | Remarketing Ads
Use paid ads to target people who saw your introductory paid offer but haven't taken action yet. We would advise testing ads with both gentle and more direct approaches. Retarget them with case studies or customer reviews to show just how successful you are. Let your results speak for you. Your audience is far more likely to trust social proof from their perceived peers than content that has come from you.
The travel company might retarget with glowing stories of adventurous travel in long-haul destinations to show how booking with their company provided customers with the best vacations of their lives. It's all about proving the value of your services.
Step 9 | Upsell
Once a prospect buys your sample service that was tailored to their interests, such as the custom itinerary we suggested above, it's time for upselling. It could be purchasing flight tickets and accommodation in our hypothetical case. This is where you'll start making real money and achieve your original goal. But why stop there?
Step 10 | Re-engage Customers
This is a step most marketers forget. It's also a crucial step for increasing the lifetime value of your customers. If you aren't clear on the 5th step of a medium-sized funnel, take a second now to refresh your memory. It is all about re-engaging your customers and nourishing them until they become your unofficial brand ambassadors.
For the travel company, this could be a post-vacation follow-up encouraging them to plan for their next summer, or suggesting similar destinations that they might enjoy.
---
On a rare occasion, you'll get lucky and the conversion will happen right away. And sometimes you will be able to use a basic three-step funnel or a happy medium-sized one. At the end of the day, however, the key to long-term conversions is:
Being good at customer value generation.
Maintaining a relationship with your leads, prospects, and customers.
Analyzing and tracking all of the data.
Experimenting, testing and optimizing based on insights.
These long-term conversions are the ones that will make you real money and promise long-lasting growth for your company. Remember when creating each step of your funnel to refer back to the key questions we listed at the start.
We hope that this ten-step plan sets you on the right path and if you need any further assistance in optimizing your omnichannel funnel, don't hesitate to reach out. We are always ready to be of service.
If you are in a decision-making or management role, you are probably facing at least one of these three problems: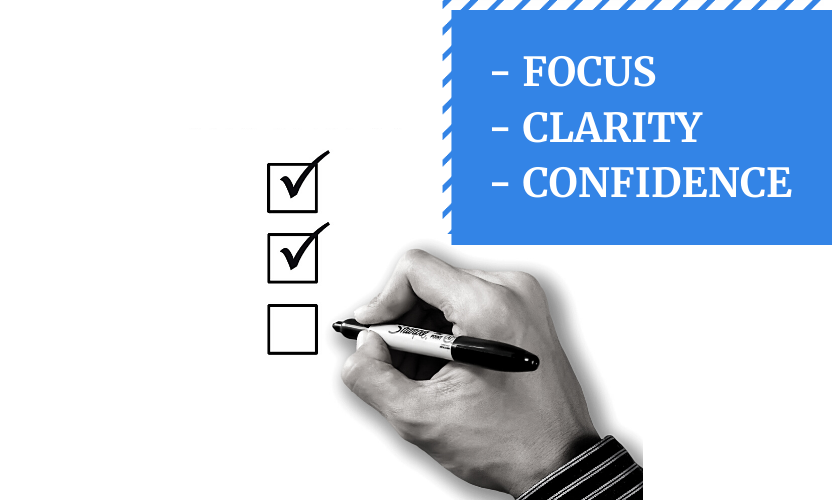 1 – Focus
Are you experiencing issues with focusing your time, energy, and budget? Are you investing in paid advertising, social media, SEO, website, email marketing, or even all of the above? Are you getting the results you wanted? Probably not.
The problem is that you are not sure about the true value of each asset. You are skeptical of how they work together to drive sales and increase revenue for your business.
2 – Clarity
With a busy schedule, ever-increasing task lists, and time spent managing clients, it's normal to sometimes lose perspective on the bigger picture. You are well aware that your team has set up Google Analytics and is using heat maps, scroll maps, and session recordings to track user behavior. What you don't have is the knowledge or simply the time to properly and efficiently analyze the data, let alone the resources to use it to make decisions.
3 – Confidence
Are you constantly having second thoughts about investing and scaling your business? It's probably because you don't have confidence in your marketing system. You want to innovate and grow but you don't have a process to test new ideas and improve existing ones.
If this sounds like you, you're not alone. These are the top three problems of all businesses we've worked with since 2013. Thankfully for you, our CRO process addresses all of them. Let's look at how we do it.
We use 100% genuine data and real-life information to tackle the fundamental assumptions your business is making about:
Your product
Your customers
Various marketing activities that drive sales and revenue for your business
The problem is most businesses make decisions based on what they think, believe, and feel will grow their business. You'll agree that believing something is not the same as knowing it.
Top Three Solutions to Make Your Business Grow
Now we've looked at the obstacles to growth, let's find some solutions. We made a top list of our top three solutions: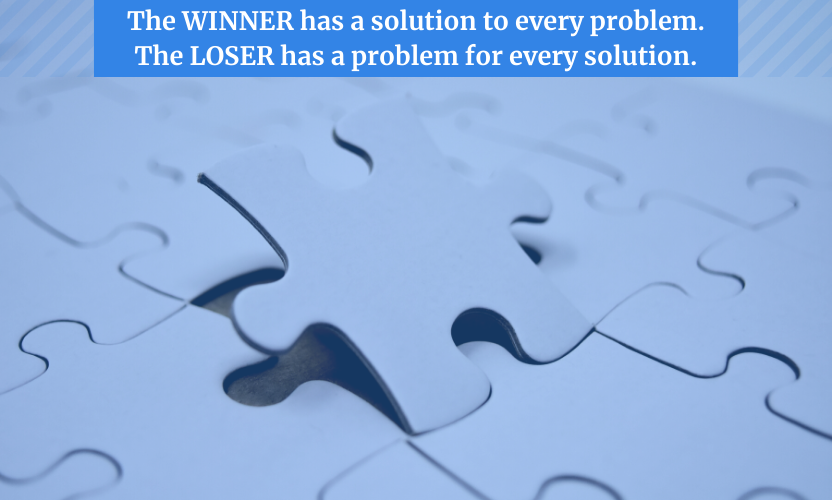 Solution No. 1
To optimize your online business successfully, you need to understand the ecosystem that it operates in. To do so, you need to understand how all the moving pieces in your business ecosystem are working together to drive sales and revenue. When we talk about a business ecosystem, we talk about everything from advertising and websites to landing pages and email marketing campaigns.
Solution No. 2
Having a systematic and continuous improvement process that identifies the various success and failure points within your business is crucial. After implementing such a system, you can move on to systematically running tests to improve the performance of each system.
Solution No. 3
The third solution is the most challenging one. It involves letting go of your ego and limiting the influence of your own beliefs and baseless assumptions of what works and what doesn't. Once you've relieved yourself of these burdens, you can start to learn to put your confidence towards a data-driven process for selecting, evaluating, and challenging every decision you make.
These solutions are not opinion-based; they're driven by real-life data. That's how we've helped businesses optimize and grow since 2013 and why we were ranked #3 out of 2560 CRO Agencies Worldwide.
In his book, Web Analytics: An Hour a Day, Avinash Kaushik wrote that, "dinosaurs used to rule the prehistoric world. HiPPOs rule our 21st-century business world." Even though the resemblance is often uncanny, the mentioned "HiPPO" does not actually refer to a wild animal, but rather the Highest Paid Person's Opinion. Despite being vegetarian, the hippo is one of the most dangerous terrestrial animals, killing more people across the continent of Africa than lions. The same goes for business HiPPO – it can be fatal for your company. This is why decisions should be data-driven. But what exactly does that mean in practice?
Data-driven decision making is made up of three basic parts. First, collect data based on measurable goals or KPIs, then analyze the patterns and facts arising from these insights. Finally, use them to develop strategies and activities that benefit the business in various areas. Measurable results of in-depth analysis and meaningful experiments will help you detect pain points. They will also help you reduce financial losses, avoid bad investments, and break the cycle of wasting resources. To effectively use data to your benefit, however, you need to know where to find it and how to interpret it. This is where our team of top experts comes in.
Nowadays, you have access to more data than ever before. But are you using it to fuel your business growth or only to track activities? Companies that do leverage data to drive decision-making have an instant competitive advantage. If analyzed properly, data offers you a chance to reduce business costs and increase profits.After years of perfecting it, we have developed a four-step IIEA framework: Insights, Ideation, Experimentation, Analysis. Its primary assumption is that thevalue of any decision is equal to the strength of the insights it generates.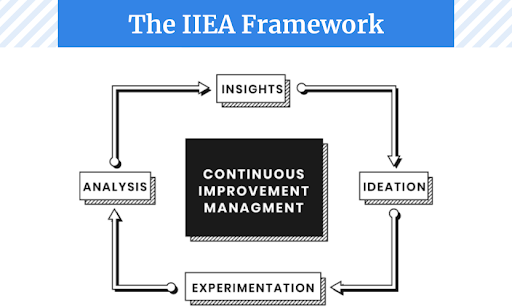 1. Insight
Evaluates the strength of your insights. It signals you when you base decisions on weak evidence or information sources.
2. Ideation
Evaluates the strength of your ideas based on a series of criteria that allow you to prioritize initiatives and rank ideas based on the most important metrics within your company.
3. Experimentation
Improve the quality of your experiments before conducting them by establishing important criteria. Determine the number of experiments you should run. Evaluate how you'll use gained insights for future decisions and continuous improvement initiatives.
4. Analysis
The strength of analysis depends on the quality of them. The quality is based on statistical significance, comprehensibility, the depth of segmentation, the number of sources, and accurate interpretations.
We know how challenging it is to make the best choice and set the right course for your business; that's why we are here to help. The right interpretation of data can provide you with everything you need to make an effective decision. The better decisions you make, the more exponential growth your business will benefit from long-term.
There is no need to make important decisions based on biased and emotional opinions. Know that you and your business are on the right path by making calculated decisions backed up data. Because data will always tell you the truth, no matter what. You just need to know how to hear it.