In mid-2020, Apple announced their iOS 14 Update which included a striking change to their privacy policy. This updated App Tracking Transparency (ATT) policy will ask iOS 14 users to choose whether or not they wish to share their personal data with advertisers. This type of data collection typically allows advertisers to serve users with more personalized ads and a better overall mobile experience.
Users who update to iOS 14, or purchase a new iPhone or other Apple product with the most current iOS, will now be prompted to opt-in or opt-out to sharing their user data upon installation of a new app, or on their first post-update use. App developers will be required to adhere to these rules against tracking for all products in the app store.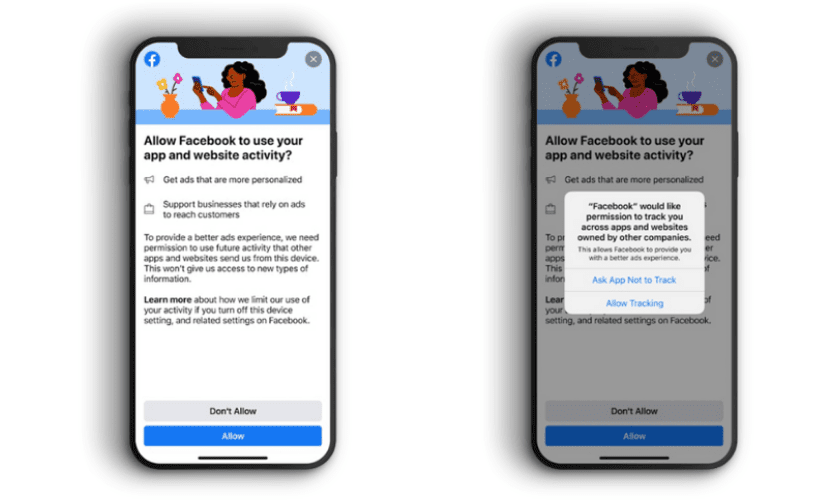 This news has concerned many in the eCommerce field. In the past year, online shopping has grown more than anyone could have anticipated. eCommerce businesses have begun to rely more heavily on in-app advertising on platforms like Facebook to help drive conversions and interest in their products. Online shopping has spiked an estimated 44% throughout 2020 and into 2021, with only more growth on the horizon.
Reasonably, many eCommerce businesses and advertising platforms, such as Facebook, have expressed concerns about how the Apple iOS 14 update will impact advertising and analytics. Without the ability to target users with relevant ads, they worry that it will be more difficult to use their advertising and marketing budgets as effectively, and ultimately, that their conversion rates will drop.
While ad platforms such as Facebook have emphasized their agreement with Apple about the importance of protecting user privacy, they have also expressed conflict and disappointment with Apple's proposed means of user data protection.
As more questions than answers arise, we've compiled some of the most pressing issues advertisers are facing, as well as some possible solutions to help reduce this update's impact on your conversions:
What Does iOS 14 Update Do?
When Apple users update to the new iOS 14 operating system, they may not notice any immediate impact on their experience.
However, upon a new app install, or when opening an app for the first time since installing iOS 14, they will now be given a prompt asking for their permission for the app to share their user data for ad tracking.
The prompt will allow app developers a few lines of text to explain why they collect data before asking the user to choose to allow or deny access to this data. These few lines are the developer's chance to reassure the user that their data is safe, as well as explain what will it be used for.
Upon choosing to opt-out of data tracking, the user's IDFA (Identification for Advertisers) will not be shared with the developers for data collection purposes. Apple's IDFA is essentially a unique identifier for each individual Apple user. It is crucial for many advertisers for measuring ad performance and delivering targeted ads to users.
The user will likely not notice a difference in their experience after choosing to opt-out of sharing their data — at least, not at first.
However, advertisers will no longer be able to provide these users with ads that are individualized to their interests. Since fewer ads will be reaching users who would otherwise be interested in them, this will likely produce a drop in conversion rates for advertisers.
Additionally, advertisers will face friction in providing a tailored user experience for iOS users who opt-out of tracking.
They will no longer be able to target users based on location data, demographic information, and browsing data. They may also face roadblocks in accurately measuring the efficiency of their advertising performance in Facebook Ads Manager due to delayed reporting.
In time, this could hamper the growth of eCommerce businesses who depend on traffic from paid advertisements from apps like Facebook to drive potential customers to their products.
Why Is Advertising on Facebook Affected So Much by iOS 14 Update and What to Do About It?
Facebook continues to be vocal about Apple's privacy change and for very good reason. Facebook has earned the position as the prime choice for targeted advertising and has helped grow millions of businesses through their ad platform. Its newsfeed is meticulously constructed to provide users with content they care about through their interactions with the website, and this includes advertisements.
With Facebook's focus on providing content that is catered to its users' behaviours and patterns, it's no surprise that they have stayed ahead of the curve.
They have already provided advertisers with details surrounding the changes in reporting and specific actions they can take now to improve their advertising efforts in spite of the iOS 14 privacy changes.
Regarding the Facebook Pixel tool, they have advised businesses to complete domain verification through the Business Manager for any domains currently utilizing pixels.
They have also advised advertisers to plan to operate with 8 conversion events per domain, as their Aggregated Event Measurement will now limit domains to 8 conversion events for use in campaign optimization.
Facebook has also made changes to their attribution window settings. Attribution window settings will now be set at the ad set level instead of the account set level. This change is meant to provide more helpful reporting on advertising performance as well as better information for more optimized campaigns. A 7-day click attribution window will now be set as the default for all new and active ad campaigns.
This also means that 28-day click-through, 28-day view-through, and 7-day view-through attribution windows will no longer be supported for new and active campaigns. Inactive campaigns can still access historical data, however, through Facebook's Ads Insights API.
Facebook tells advertisers to further analyze their historical data on past attribution windows and conversions to help optimize future advertising efforts. They have also lessened the burden on advertisers to acclimate to these changes by rolling them out in stages. They will initially default to a 7-day click and 1-day view attribution setting before Apple's changes are implemented. Once Apple begins to enforce the new privacy policy on app publishers, the default will change to a permanent 7-day click attribution setting.
Apple's new policy will also bring about new limitations in measuring and reporting ad performance on Facebook for iOS 14 users. Real-time reporting will no longer be supported on Facebook for iOS 14 users. Instead, conversion events will be reported to advertisers based on the time they are reported to Facebook. This means that they will not be provided at the time they actually occur, which means they may suffer delays by as much as 3 days.
For eCommerce businesses who invest a portion of their advertising budget on Facebook targeted ads, this means each dollar they spend could return less value. With limited data on conversion events, it will be more difficult to gain insight on which ads are the most effective for which users. Ultimately, this is likely to result in a dip in conversion rates and sales.
Will iOS 14 Update Affect Advertising on Google and YouTube?
Understandably, many small business owners are wondering what, if any, effects these new user privacy changes will have on other advertising platforms. Google Ads and YouTube are often relied upon by advertisers as another way to reach users to deliver more personalized ads.
Apple's Privacy Policy update states that all apps in the app store will need to comply with this change, or else they will risk removal.
That means that iPhone owners and users of other Apple devices will be asked for their permission to share their user data with advertisers when downloading any mobile app on an Apple device — this includes Google products, YouTube, and all others on the app store.
While this is certain to affect Google and YouTube in similar ways that it will affect Facebook, it is unlikely that they will face the same financial impact.
In the past, both Google and YouTube have utilized in-platform user ID graphs, so it is possible that they will see a reduced impact from missing out on tracking user data through iOS.
However, Google has recently made its own privacy policy changes that certainly will impact advertisers. Just weeks ago they announced that they, too, would be ending cross-site tracking and targeting of users for all purposes, including advertising.
With privacy and trust at the forefront of priorities for major tech players like Google and Apple, it's crucial for eCommerce businesses to remain proactive and ahead of these changes. Luckily, there are solutions that allow companies to branch out and explore other means of user data collection and analysis.
The List of Effective Solutions to Save Yourself From a Drop in Conversion Rates
The announcement of this update has caused Facebook advertisers to come up with inventive ways to continue delivering personalized ads to their desired audiences. They're also ramping up their efforts in analyzing and acting upon the data they collect outside of iOS, as well as their historical data from past ad campaigns.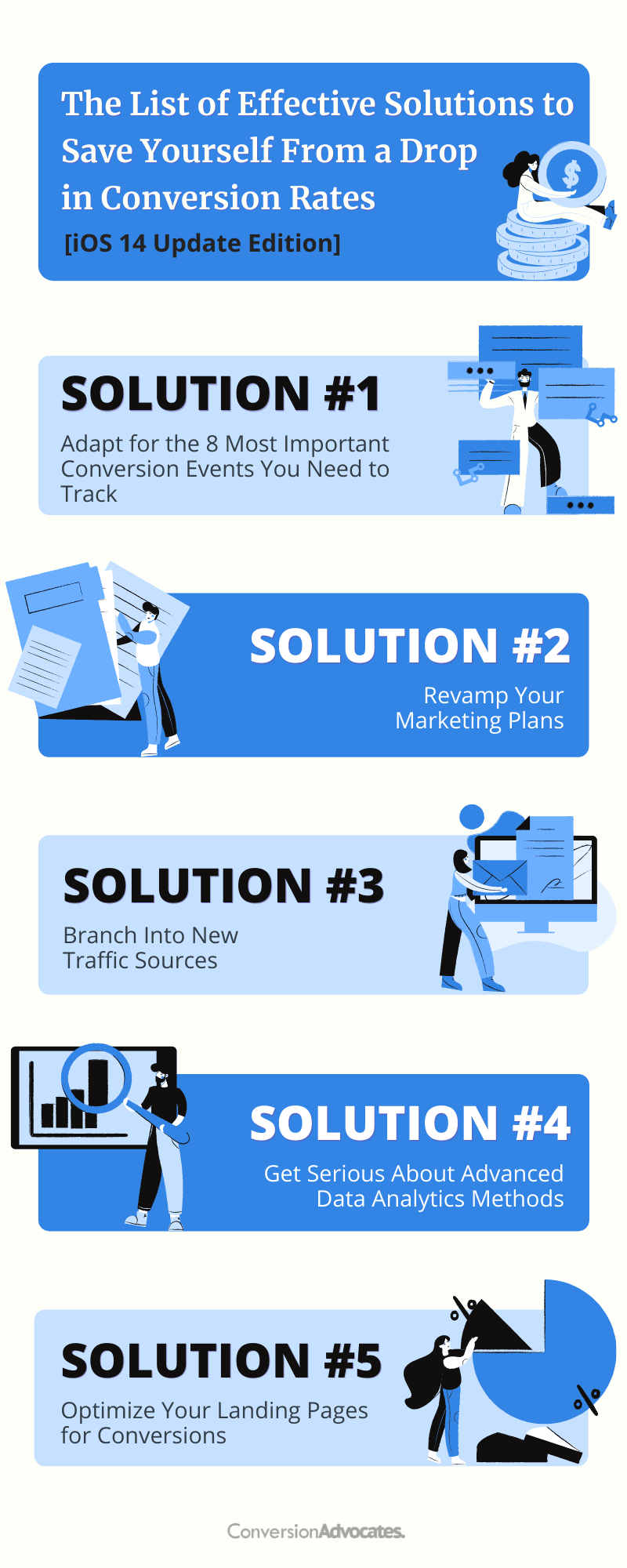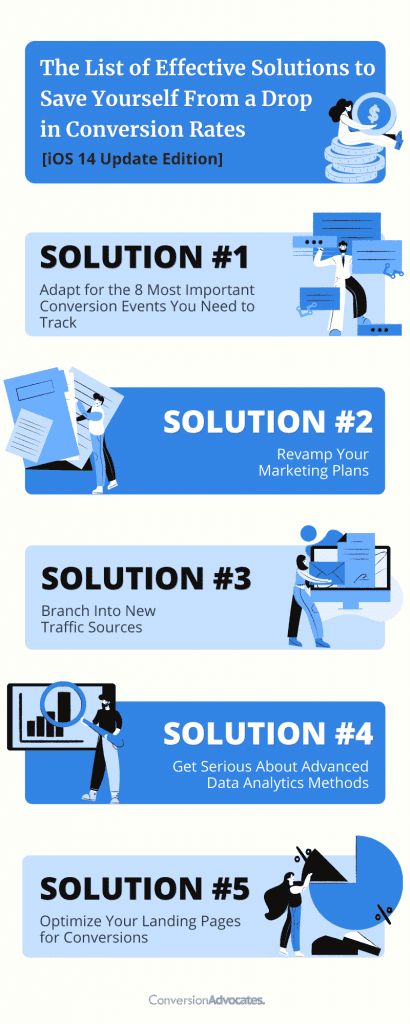 Adapt for the 8 Most Important Conversion Events You Need to Track
Facebook will be limiting reporting to 8 conversion events per domain moving forward. That means it is more important than ever to prioritize the events you're tracking. These events will look differently depending on what is important for your business. For some, it could be purchases or products viewed. Use the conversion events that provide you with the most usable and actionable business intelligence.
Revamp Your Marketing Plans
While it's been convenient and lucrative for many businesses to rely on Facebook and other ad platforms for ad targeting, this change will force businesses to get more creative with their digital marketing.
This means investing more into independent research, testing new traffic sources, and building new sales funnels for all types of traffic pools.
Branch Into New Traffic Sources
Facebook ad targeting has provided us with a generous pool of traffic, but it's not every business's only source of traffic.
Branching out into sources outside of Facebook advertising traffic, such as sponsored blog posts, influencer marketing, print publications, and your own customer email lists, can provide you with traffic from users you may not have been reaching previously.
Get Serious About Data Analytics
Collecting data is only useful for your business if you're proficient with your data analytics methods. There are plenty of ways to analyze data to gain insight that can be used to drive conversions. Using advanced data analytics methods in Google Analytics is one important step in tracking conversions from Facebook.
By connecting your Facebook campaigns to Google Analytics, you can understand the performance of your ad campaigns and filter your data with various metrics, such as "Buy-to-Detail Rate" and "Cart-to-Detail Rate".
With Google Analytics, you can also view conversion tracking data on user behavior by creating a shopping behavior report.
Finally, you can create a custom customer segment of iOS 14 users in Google Analytics that will help you better understand how iOS users are interacting with your ad campaigns.
Optimize Your Landing Pages for Conversions
Your landing page is the most important touchpoint for many of your potential customers. Optimizing your landing page is a key step in converting as many customers as possible.
There are a myriad of ways to improve your landing page for more conversions, including paying closer attention to visual design, user experience, and content hierarchy. Positioning your CTA in the best position, adding or removing information that will assist or distract your visitor, and ensuring your copy is strong are all methods of optimizing your landing page.
Additionally, you'll want to uncover bugs and other issues through Quality Assurance Testing that can cause friction in your customer's journey. With QA testing you can also be sure that your landing page is optimized for iOS devices and screen sizes for improved usability for iOS users.
Lastly, it's a smart idea to reevaluate how you're collecting your visitors' personal information from your landing page. You can collect personal data without relying on ad tracking by utilizing email sign-up offers, pop-ups, discounts, and promotions.
Some Final Thoughts
It's important to emphasize that while we expect this iOS update to change the way we track customers and deliver them relevant ads, the extent of this impact remains unknown. It's estimated that the true impact won't be realized until late 2021, or even 2022.
Many factors play into this scenario. For example, it remains unknown exactly how many iOS users will choose to opt-out of data tracking. Some experts believe that users may opt-in for a more personalized experience on their mobile devices. Others have the opinion that users will not be well-informed of the consequences of opting out. They may find that their mobile experience declines in quality as their content becomes less personalized over time.
It's currently estimated that around 40% of Apple users will initially choose to opt-out of data tracking through apps. While this presents an immediate issue with Facebook ad campaigns, it doesn't have to mean an unexpected drop in revenue or conversions.
Businesses should strive to remain proactive and ahead of these issues before they arise. Protect your business now by exploring options outside of traditional tracking, Facebook advertising, and data collection. By utilizing some of the suggestions mentioned above, you should be able to formulate a plan to combat this unexpected privacy update, as well as any others that may arise in the future.
While this issue develops, we'll keep you updated and provide you with the best information on the latest methods of conversion rate optimization.