Growing an eCommerce business is easier when you know what works for your business, and what doesn't. Your ability to grow your business hinges on your capacity to capture and analyze data and turn it into meaningful changes that attract and retain customers. Advanced data analytics methods can help you optimize your conversion rates, even amidst privacy policy changes that make gathering personal data more difficult.
Recently, Apple announced its iOS 14 Update, which included a change to its user privacy policy. This change will now require that users opt-in or opt-out to a prompt that asks if they will give permission for their data to be collected and shared across platforms.
This means that Apple will be giving users the choice to block the IDFA identifier at the app level. For those who are unfamiliar with IDFA – the Identifier for Advertisers is a unique identifier for mobile devices and is used to target and measure the effectiveness of mobile advertising on a user level across the mobile device.
This data is typically used to help businesses target users with ads that are personalized to their needs. Demographic, geographic, and browsing data help mobile advertisers reduce advertising costs and maximize conversions through ads on apps like Facebook.
With this change, many users are predicted to opt-out of this data collection, making it more difficult for advertisers to target their ideal audience and use full potential of ad tracking.
Despite this change, it is still possible to collect data and implement advanced data analytics methods. These methods can make powerful changes in your conversion rates and help accelerate the growth of your business. Some of these time-tested methods include:
Before tackling these methods, it's important that you understand what the iOS 14 Update changes will mean for your advertising plan.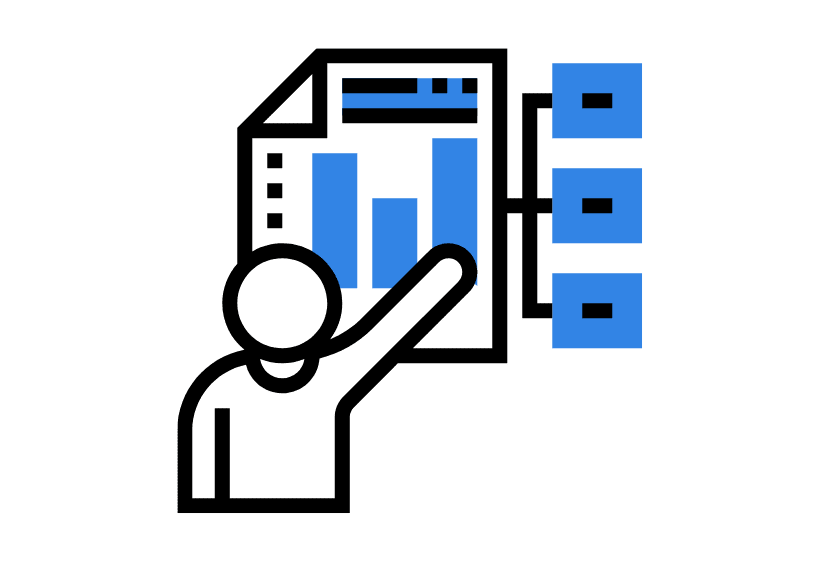 The Top 3 Ways To Improve Your Landing Page Conversion Rates [IOS 14 Update]
Use our landing page conversion rate optimization 3-step guide to overcome the drop in conversion rates due to Apple's privacy policy change for iOS users.
What will happen to Facebook ad targeting, optimization, and tracking?
Apple enacted its new privacy policy with its iOS 14 Update. This update will now prompt users with an option to block app tracking of their activity on iOS 14 devices.
Since this prompt will be more prominent than in past iterations of iOS versions, it is expected that some users will choose to opt-out. This change is predicted to make mobile advertising on platforms such as Facebook less effective for iOS 14 users. It is likely that this change will make it more difficult to reach specific audiences businesses wish to target for advertising campaigns.
The complete impact of giving users the possibility to block IDFA tracking is still unknown and will only be revealed with time. It is uncertain how precisely iOS app audience targeting will become less effective, or more optimistically, where it will remain effective.
No one is certain whether this change will negatively impact your ability to cater to users based on their age, gender, hobbies, location, or any other information used to deliver relevant ads.
Because of these unknowns, the self-evaluation of Facebook ad campaigns with Google Analytics is more important than ever. Facebook's optimization algorithms may not make the necessary adjustments for us.
How many people will opt-out?
One of the many questions surrounding this update is how many users will choose to opt-out of sharing their data when prompted.
This number remains uncertain, but the first estimates suggested that more than 63% of users will opt-out of data tracking when the new prompt is implemented. Fortunately for numerous digital marketing advertisers, the latest research by TapResearch suggests that this percentage has decreased a bit, and now is just above 55%.
Still, with approximately 1.25 billion iOS users in the world, this could represent a large number.
How will iOS 14 update affect reporting?
Changes in reporting will be most noticeable for mobile marketers who rely on Facebook Advertising to reach specific audiences.
Businesses can expect fewer conversions reported from Facebook, as they will now rely on a default 7-day click attribution model.
The number of event reports will also likely be reduced, and the reporting will experience delays.
Should advertisers panic over the Facebook ads and Apple iOS 14 changes?
Despite the stirring of conversations around the iOS 14 update, there is no reason to panic over these changes.
The world of advertising is constantly adapting and changing. Businesses will still be able to collect valuable data on iOS users to help convert them.
By creating multiple campaigns with varying targeting parameters, we can still use Google Analytics to evaluate iOS 14 website traffic, track user acquisition to some extent and keep tabs on Facebook ad performance.
Mobile marketing will endure even this iOS 14 privacy policy change.
Click To Tweet
How to track Facebook Campaigns in Google Analytics?
Connect Facebook ads to Google Analytics to help gain insight into the performance of your ad campaigns.
In Google Analytics, visit Acquisition ➔ Campaigns ➔ All Campaigns. Look for your Facebook campaign names and you can compare important campaign metrics including conversion rates, bounce rates, and more.
To narrow in on iOS 14 users, add a secondary dimension of "Operating System Version". Set it to version "14.5", as this is the version where privacy changes are expected to roll out.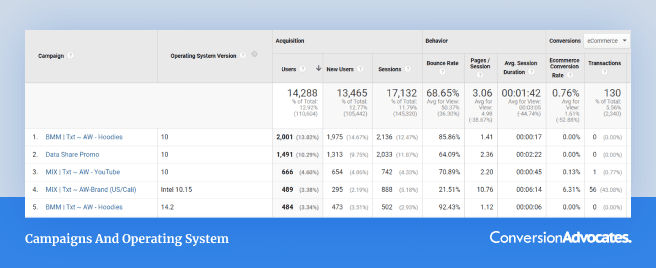 To see both the operating system name and version, you'll need to create a custom report and add dimensions of "Campaign", "Operating System", and "Operating System Version", followed by your desired metrics. You should now be able to see "iOS 14.5" next to your campaign names.
Under your custom reports, you are able to analyze campaigns with various metrics in addition to the default metrics above.
Gain additional insights by adding metrics such as "Avg. Page Load Time", "Buy-to-Detail Rate", and "Cart-to-Detail Rate", and more. These metrics will provide valuable insights about your Facebook ad campaign performance on iOS 14.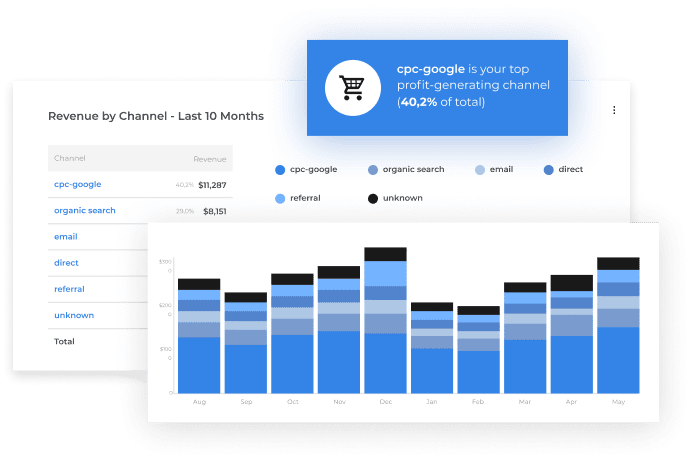 Marketing Analytics by Insights
Is your marketing budget being used constructively? Pinpoint which channels help you attract the most customers. Identify opportunities and connect the dots in your marketing plan, from campaign to conversion.
How to Track iOS 14 Users' Behavior with Shopping Behavior Report?
While Facebook has stated that they will now be limiting the tracking of events such as conversions and product views, this data can still be seen in Google Analytics.
To access shopping behaviour reports in Google Analytics, go to Conversions ➔ Ecommerce ➔ Shopping Behavior. To filter this report with your Facebook campaigns, just change the drop-down icon stating "User Type" to "Campaign".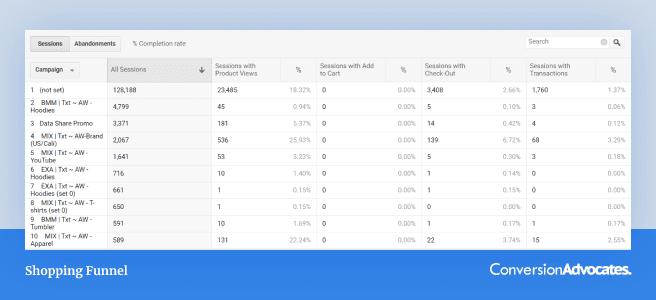 Look for your Facebook campaign names and compare the percentages of users that have added an item to the cart, reached the check-out page, and completed transactions. This data will provide insight into how well users move through these steps and will help you understand if your campaigns are reaching your desired audiences.
How to Create a Custom Segment of iOS 14 Users in Google Analytics?
While Facebook may be the main platform for your ad campaign, the iOS 14 privacy changes will affect all apps that usually track user behaviour. It's important to understand how iOS 14 devices are interacting with your website.
To do this, you can create a custom segment in Google Analytics and filter all of your data by only traffic coming from iOS 14: Add Segment ➔ + NEW SEGMENT ➔ Technology ➔ Operating System "14"
On the "Create a Segment" page, click the "Technology" tab and simply add the Operating System of "iOS" and choose "starts with 14" to filter in all iOS 14 versions, or "exactly matches 14.5" for the latest version only.

Now, all of your Google Analytics data will be filtered by only iOS 14 traffic to your website. Every report in Google Analytics will specify how this specific segment of website visitors are interacting with your website.
Some Final Thoughts
Digging into your data with advanced data analytics methods is essential to understand the impact of your Facebook ad campaigns, as well as the reach of your campaigns on other apps.
If you link Facebook ads to Google Analytics, you can gain a deeper understanding of the efficacy of your campaigns. These data analysis methods are of utmost importance as you face significant changes in your ability to track user data on iOS 14.
Having a dependable and thorough data analytics process is key to extending the reach of your advertising campaigns. Along with landing page optimization, the efficiency of your ad campaigns has a huge impact on your overall conversion rates.
If you are facing uncertainty or confusion in the face of these changes to Apple's privacy, or if you are struggling with your own data analysis process, Conversion Advocates is here to help. We focus on data-driven strategies to help businesses reach more customers, retain them, and accelerate their growth.