The Paint People joined forces with ConversionAdvocates in July 2020 when launching their eCommerce store. Our team successfully increase the revenue from $0 to $100K per month, in 11 months, but instead of hearing it from us, check out the interview we did with one of the owner at The Paint People – Billy-Borche Petrovsky.
Tell us a little bit about yourself and what your company does.
My name is Billy Petrovsky, I am one of the owners of The Paint People out in Mississauga Ontario. We are a painting distributor of architectural products and we've grown to be one of the biggest in Canada.
What problem were you looking to solve when you discovered ConversionAdvocates?
I was working with an online marketing agency before working with ConversionAdvocates. We weren't doing any kind of eCommerce solutions. We were strictly driving traffic to the website through blogs.
Then Covid hit and you know, you have to jump into eCommerce, right? So we dove right in and I started something by myself just very briefly and we noticed there was some uptick in sales. It was probably because of Covid and then one of my customers, Rade from PaintCore, actually recommended me to reach out to Sina from ConversionAdvocates.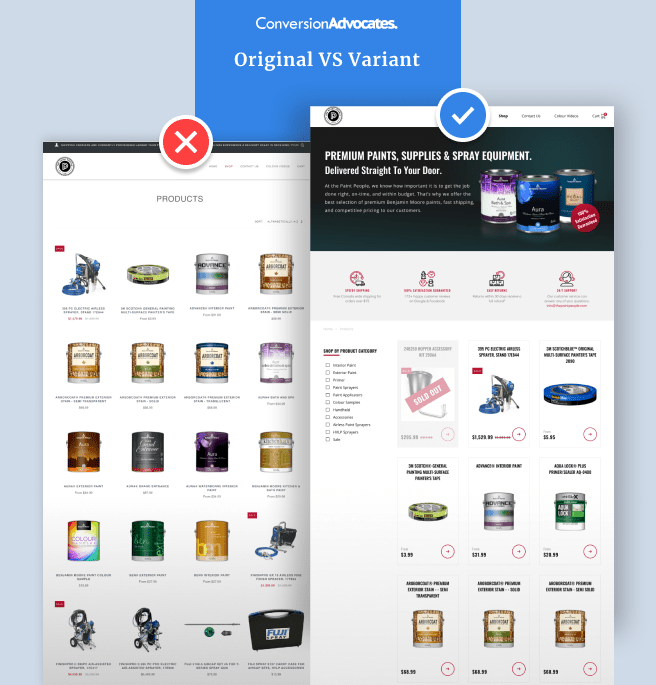 How The Paint People Increased Sales Conversion Rates by 87% in a Single Experiment
Does increasing sales conversion rates sound challenging? We did it in a single experiment, and we boosted them by 87%! Find out how in this conversion rate optimization case study.
What was it like working with ConversionAdvocates?
I believe we started working together in May of 2020, and the first step was the data analysis, which was an analysis of the current state of the business in terms of conversion, in terms of various paths to convert things like that.
That readout blew minds across the company.
It was really terrific! It was not only a fresh perspective, which was something that every company loses after a while, despite the best efforts. But that was really insightful.
And so we not only got the readout of the numbers, the metrics themselves, but also insights into why we might be seeing trends like that and why we might be seeing problem areas or successful areas that we wanted to emulate elsewhere the in the site or even in the business.
That was my favourite part of it.
From that initial readout, we prioritized the opportunities that we had. And so for us, the first two opportunities were our homepage and our booking flow.
And those were the two primary components of conversion as far as our website was concerned. So we started our efforts there.
And so I would say any time we got a readout of the data and the analysis of not only the initial one but also test results as they came in, that was easily my favourite part of working with ConversionAdvocates.
How did ConversionAdvocates help you overcome the challenge of starting to sell online?
I did reach out to them and I spoke to Sina. We just hit it off like we were friends and knew each other for a really long time. We talked about a game plan of strategy and timeline I want to say that time really aligned with what I was thinking and when I was comparing it to what my previous agency was offering me and what they were saying, I didn't really agree with. What Sina was saying, his ideas, everything just work together. Our project just felt like a puzzle.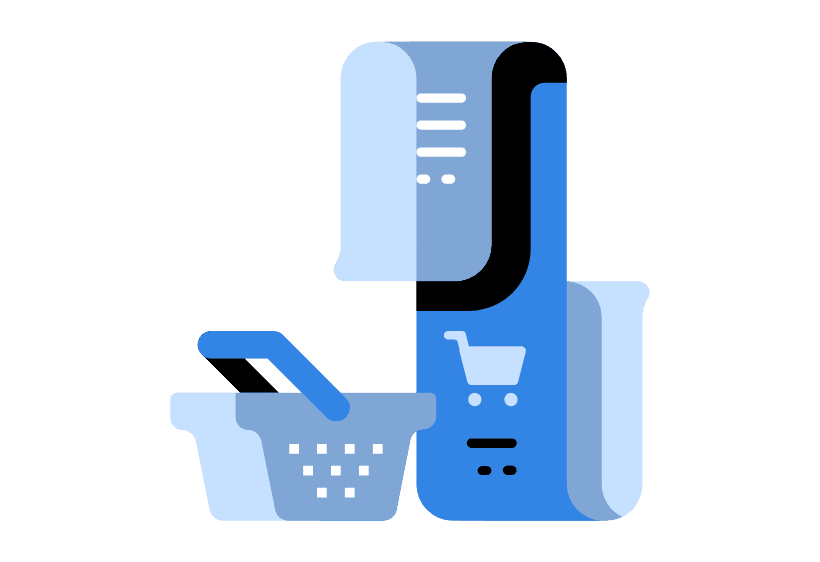 Landing Page Optimization Strategy – Why Effective Split Testing and Data Tracking Are Important
Our landing page optimization strategy relies heavily on split testing and data tracking. But in order to start using it, you first need to understand its importance.
And so we ended up forking our home page and being able to use ConversionAdvocates' design for our paid traffic that performs a lot better than our typical homepage. And our current homepage, which was a subsequent Conversion Advocate's design, was also optimized for the specific traffic that it was seeing.
So the intersection of the designs, the data and the segments of the customer base that are visiting those pages was what we were designing for each time.
What was the final outcome of the collaboration?
The biggest differentiator, I would say, is not about the task where the work is involved because you can find a million of those people. You can drive down the street, there's a sign $499 I'll build your website.
The difference is that you're going to get the knowledge, the experience, the strategy, the ideas behind the work and that's what's important because anybody can build that website for you, but they don't have that knowledge, that strategy behind that website and this is what you need.
What impact did working with us and the results we achieved have on your business?
Once we started with ConversionAdvocates, we kind of skyrocketed. We went from $1500 a month to $20,000 and $50,000. We hit that $100,000 milestone that we were hoping for! To be honest, It just made me happy and still continues to make me happy. It feels like a partnership, it doesn't feel like I'm hiring a company to do something for me. It feels more like they're invested in my interest and not just in my pay check or what they can get from me "money wise", let's say.
Hitting that $100,000 milestone as quickly as we did exceeded my expectations. Sales are always a good way to exceed expectations, right? Again, to be honest, the whole process feels like a partnership and you don't really get that from a lot of companies. It feels right!
Why would you recommend ConversionAdvocates?
ConversionAdvocates meets deadlines, and their communication's excellent. If I have a problem, they instantly respond and acknowledge it. They're on the ball.
Since they have our best interest in mind and treat us like a partner rather than a customer, their team understands that we have to be successful together. We think together, which makes them different from our past provider.
So I'd recommend ConversionAdvocates because we think together, which makes them different from our past provider.