Business Incubator for eCommerce owners & teams
Grow Your eCommerce Business With The Only
Done-With-You

CRO Coaching Program

Presented by
Sina Fak, CEO at ConversionAdvocates
In this step-by-step program, you'll learn how to convert more of your website visitors into paying customers using our proven CRO framework. We've taken everything we've learned (from running 1000s of tests for 100s of eCommerce stores worldwide) and channeled it into an expert-guided implementation program that not only teaches you the science behind conversion rate optimization but supports you in the actual EXECUTION every step of the way.
Grow your business with the help of world-class experts
Learn how to increase revenue without spending more
Save money by Identifying and fixing weak spots in your sales funnel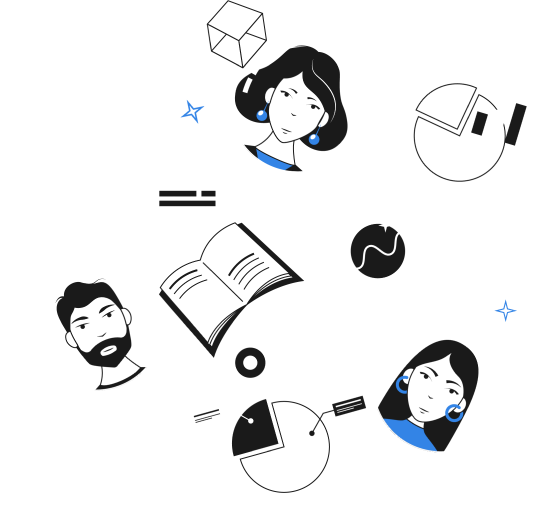 This program is designed to help eCommerce and SaaS business owners and marketers increase revenue and decrease costs using CRO. If you want a complete framework and system to grow your business, and do it in a repeatable way month-over-month, then this is for you.
We'll provide you with the insights and guidance to increase conversions throughout your entire sales funnel, helping you every step of the way with coaching and feedback from our experts. To get the most out of this program, your business must already be generating sales and getting traffic. The more data you have to work with, the faster CRO can deliver results.
Done-With-You Optimization
ConversionAccelerator is more than just a training program. It's an implementation program designed to not only guide you step-by-step through our proven in-house CRO process, but also support you every step of the way to ensure your success.
We start the program by showing you how to do a complete analysis of not only your website but your entire sales funnel. We'll teach you how to get insights about your business, your audience, your competitors, and how to identify the success and failure points within the business and marketing systems that need to be optimized.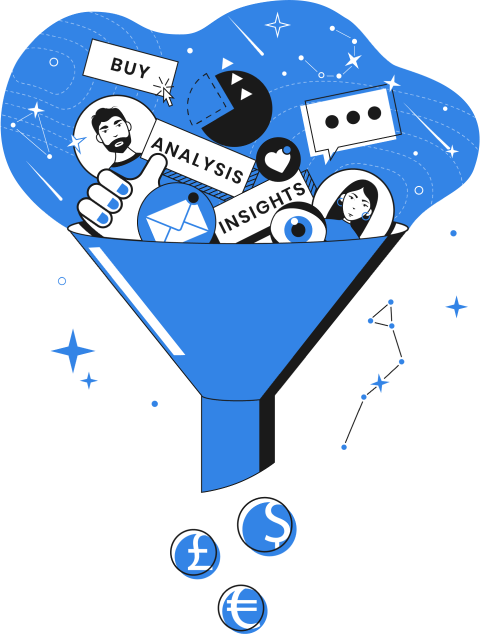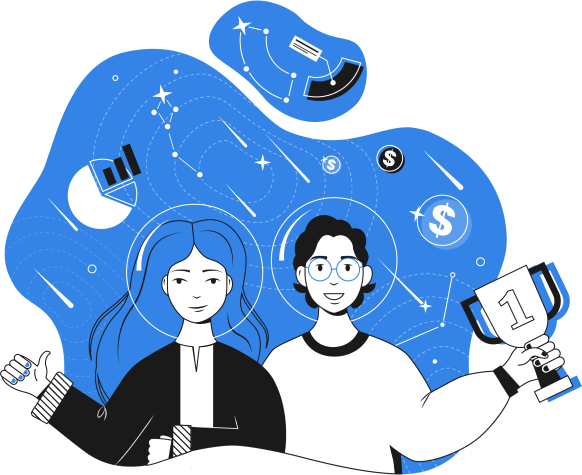 From there we show you step-by-step how to consistently run tests that give you winning results. Every test will bring you one step closer to the target sales, revenue, and conversion metrics you're trying to achieve.
We are not here to teach you any specific strategy or tactics that work one day and are gone tomorrow. What you'll learn is a framework for CRO that we've refined over 13 years of working with eCommerce and SasS clients. A process that delivers both short-term wins and long-term results.
As a member of the program, you'll also have access to hands-on support and guidance from our expert team (usually only reserved for our consulting clients).
By the end of our program, you will have a powerful system to continuously test and improve every asset in your business. Our goal is to give you clarity and confidence in every decision. Where instead of trying new tactics and getting distracted, you can confidently make decisions that actually move the needle, backed by data and a proven framework.
What Results Do People Get?
"…
50% Improvement


in Conversion Rate…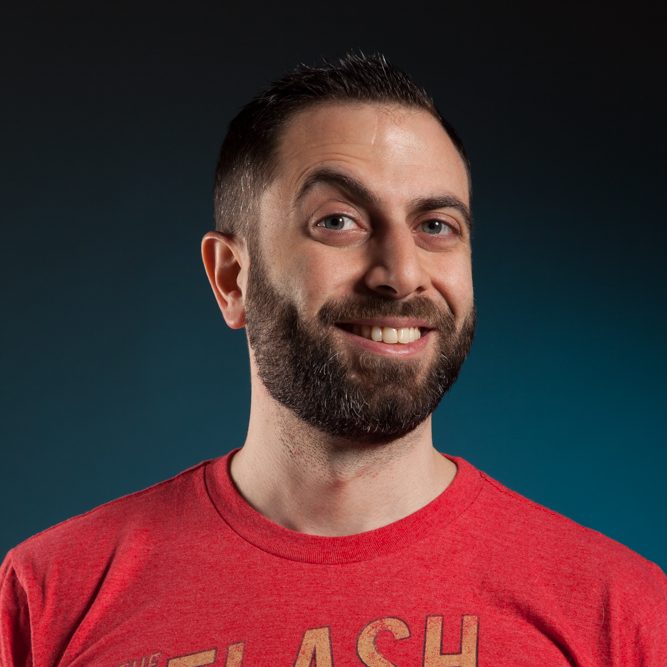 Rami Nuseir
GutsyGeek.com
"
Tripled Sales

…After, We Went
All In On it!

What's Inside The Program?
When you become a member of ConversionAccelerator, you'll gain access to our 5-week implementation program. It's here where you'll go from learning the fundamentals of CRO to running your own tests and seeing real results.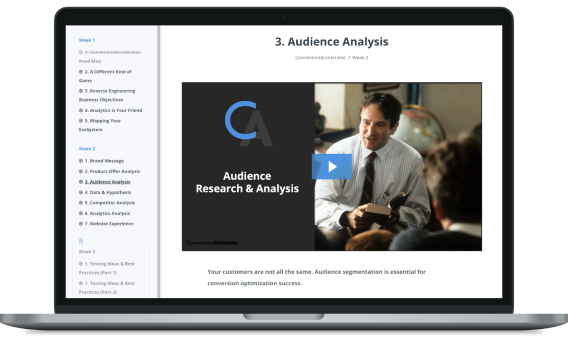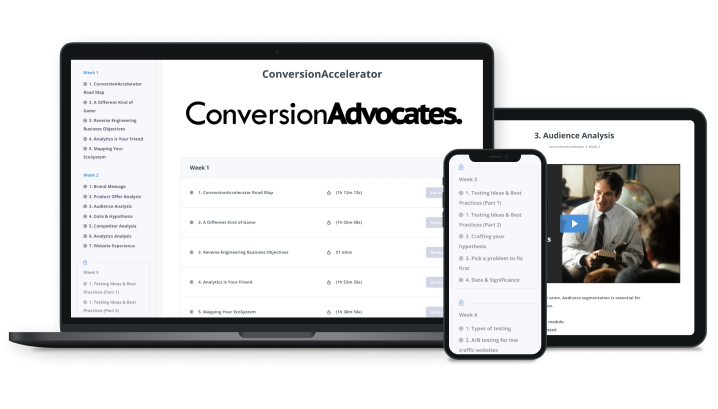 This is the only done-with-you coaching program of its kind where you get to interact with CRO experts, gain feedback, and be held accountable. You'll also receive access to our private Accelerator Community where our team will review your test ideas, webpages, and guide you every step of the way.
Weekly Breakdown
Gather data and insights about your business, audience, and competitors
Fundamentals and foundations of CRO
How to reverse engineer your business objectives to set you up for success
Opportunities and mapping out your EcoSystem
Analytics, data, and a growth mindset
Better understand your customers and what they want
Analyze your product offerings, brand messaging, and website experience
How to make any website sell more
Identify the success and failure points within your sales and marketing processes
How to come up with winning test ideas and best practices
Identifying problem areas in your funnel and finding opportunity in data
Types of testing and how to run A/B tests for low traffic sites
Setting up the tests, tool walkthroughs, and advanced CRO strategies
How to launch your first test following our proven framework
Get your ideas and tests reviewed by our team
Systematically improve sales, conversion rates and revenue throughout your business
How to review the test data and what to look out for
Analyzing results and your growth roadmap
Get your test results reviewed by our team
Learn a systematic way to grow your business month-over-month. Guidance and support from world-class CRO experts. Make better business decisions based on a proven framework. Find revenue opportunity hidden in your data Increased conversions and revenue as you optimize your sales funnel. Lowered costs to acquire a customer from paid traffic. Save money by identifying and fixing weak spots in your funnel.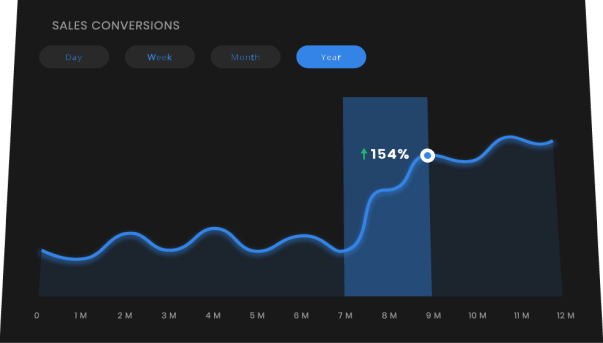 Experience Powerful
Proven Results
Car computer exchange
154%
increase in sales conversion in 2 months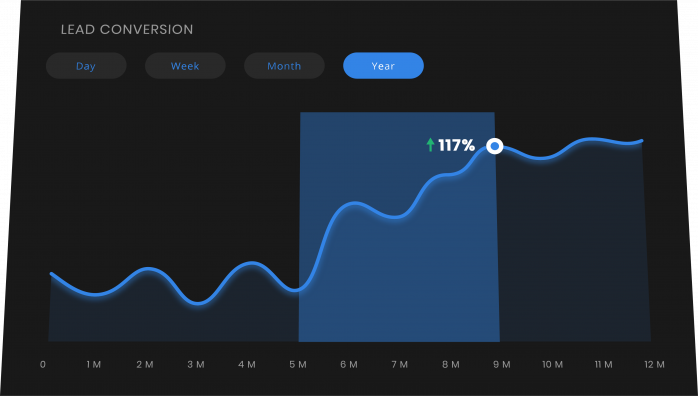 Experience Powerful
Proven Results
Furnace Prices
117%
increase in lead conversion in 4 months
Is The Program Right For Me?
This course is for you if…
You are someone who is serious about changing how you run and how you make decisions for your business.
You are someone who is done with short cuts or overnight hacks and you are looking to do the necessary work that goes into testing and optimization longterm.
You are someone who values and invests in your education.
You recognize that you can only get so far alone and are ready to work with a team that will challenge you, uncover your blind spots, and push you further.
This course is not for you if…
You are continuously in information-gathering mode and not ready to actually implement and try what you've learned.
You are not ready to let go of your ego and challenge every decision and idea you have to let the data make the final decision for you.
You are not ready to be held accountable and do the hard work. We take our role very seriously and when we speak with you, we expect that you're ready to actually put in what's required, even though it's hard.
You are not willing to invest in yourself but instead, you are looking to take shortcuts, cut corners, and keep going the hard way.
Business Incubator for eCommerce owners & teams
Start Growing Your Business With
Our
Done-With-You

CRO Coaching Program
Start Growing Your Business With Our
Done-With-You

CRO Coaching Program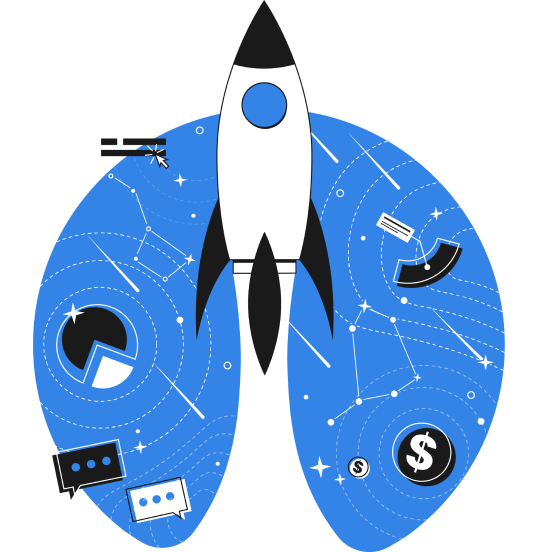 Get access to the 5-week CRO implementation program
Receive coaching and guidance from our team of CRO experts
Join the accelerator community with other growth-minded entrepreneurs

CEO at ConversionAdvocates
Sina Fak