a 8-minute read | Editor's Note: This post was originally published in March 2019 and has been updated in August 2020 for accuracy and comprehensiveness.
When it comes to investing time and resources into your business, the ideal option is a low-risk, high-reward investment. Email marketing could be just that. Developing a strong email marketing strategy will allow you to engage with your audience in a low-cost and effective way that can dramatically boost revenues and increase conversion rates.
Research shows that, on average, email marketing generates $38 for every $1 spent: an incredible 3800% ROI. What's more, a lead handing over their email address is like being given keys to their digital house. You have direct access to their inbox. So, why not make the most of their trust in you and show them how you can provide real value?
In this article, we will cover how your business can increase customer engagement and sales using email marketing. We will also share some efficient email marketing strategy tactics to increase customer engagement:
Leveraging Your Existing Customers
Many forget to include the re-engage and re-target existing customers step in their email marketing strategy. You might think that once they have made their purchase and are happy, then your job with them is done. But the easiest and best value sales to generate are ones with people who already know and trust your brand. Many sales funnels end with the purchasing step – but that means you miss out on turning one-time buyers into loyal customers. If you have served 1,000 clients over the course of being in business, then your email list should already be at least 1,000 names long — if not longer.
If your email list is shorter than the number of clients you have served, you are not alone. Most small businesses make the mistake of not collecting information from clients they have served. In doing so, they miss out on generating a long list of relevant and pre-qualified leads. After all, you can never be more certain of someone being interested in your services than someone who has already bought them once.
Your existing clients are familiar with your business and product — and what is more, they have already shown they are willing to purchase from you. If you can convince them to buy again, they will steadily turn into loyal customers and maybe even brand ambassadors down the line. They might recommend you to friends, talk about your services on social media, or generate free publicity for you in other ways. It is too good an opportunity to miss out on.
If you haven't already started turning your customers into subscribers for your email list — start right now! Ask every new customer to include their email address when they fill out a work-order or information form — and ask them to check a box to opt in to helpful emails from you. Remember, you have to receive permission before adding subscribers to your email list. You will have a much easier time getting that permission if you have an attractive reason for people to subscribe. Think of enticing content ideas or exclusive offers that you can use to draw people in.
Depending on the service you offer, your customers may need to buy from you once every few months, or maybe every few years. When this time comes, you want to make sure they are calling you to fulfill their needs, not one of your competitors. Popping up in their inbox regularly with useful and relevant content keeps you in their mind and forms deeper positive associations with your business. Remember, though: too much, and you can come across overly pushy or even spammy. Find that balance between providing value and overstepping your bounds.
Once you've got the right rhythm of emails down, you will find it flows more easily. Ultimately, if you are not proactively contacting past clients and reminding them of their experience with your company, you are leaving money on the table.
Forging New Relationships
Your past customers are valuable additions to your email list – but that does not mean you should stop there. There is likely a huge pool of relevant leads just waiting for you in the vast world of email marketing. The trick is knowing how to attract them and start building those positive relationships. These relationships are the foundation of any successful business and are the most important part of email marketing strategy.
Using lead generation content, like instructional videos, case studies, or downloadable guides, is one way to collect new email addresses. The key is to make it relevant to your audience. Think about your customer personas: what might they want to know more about that is relevant to your service? What expertise can you leverage as a business to set yourself up as a trustworthy source?
Let's take the example of a roof construction company. A key area of their target market will be homeowners so they could create guides for home maintenance. It fits in with their professional expertise, and anyone who wants to read that content is someone who is in the position to make decisions about construction in the home. Gate your content by requiring email addresses to give out the content, and your list of relevant email leads is already growing.
Golden Content Behind Your Email Marketing Strategy
You have your leads and your past customers in your email list – the first step is done. Now you need to make sure you are supplying them with what they want and building on those positive first impressions and customer experiences. The last thing you want is for your email list to start thinking of you as spam or to start switching off when they see your content arrive in their inbox. To make sure you are continuously providing stellar service, segmentation is a key tactic of email marketing strategy.
Segment Your Leads
You need to have a deep understanding of your audience segments, because the more relevant and personalized your emails are, the higher your engagement and response rate will be.
Splitting your contacts into:
Sub-lists based on location,
Gender,
Past purchases,
Actions taken on your website (e.g. what product pages they looked at, where they came from, etc)
will help you increase the value and response rate of your emails.
Let's look at an example of why this is so important. We worked with a sports store that collected emails from every customer that shopped with them, just as we advised above. However, their email marketing campaigns had an open rate of less than 2% which is less than ideal results. On closer inspection, we saw that they were sending emails from every department to their entire email list. You can't send promotions for men's hockey equipment to women interested in yoga and expect much of a return!
We leaped into action, and the results were immediate. Here are the exact strategic steps we took to set up their email campaign. You can use them as a guide when creating your own email campaign: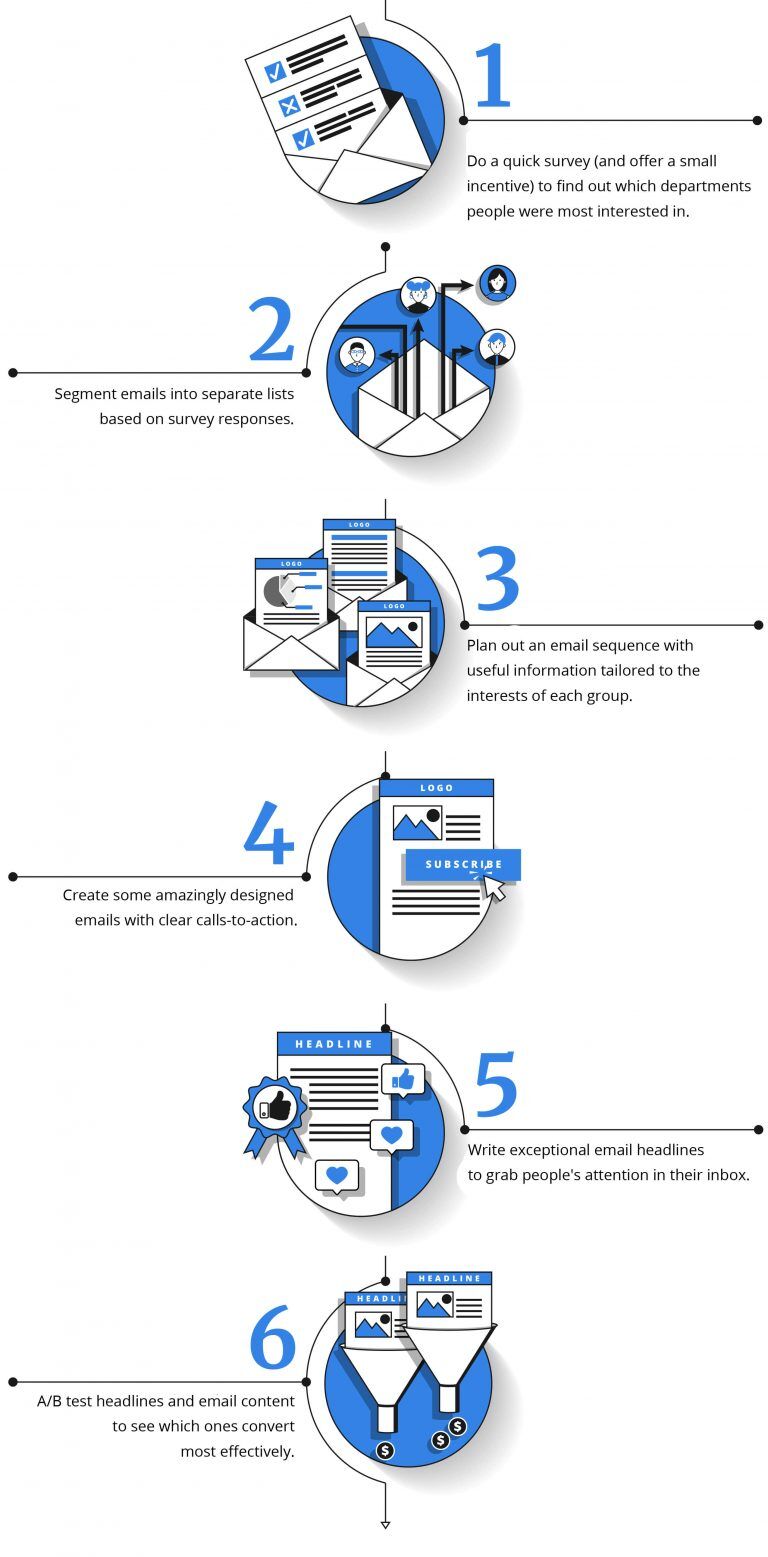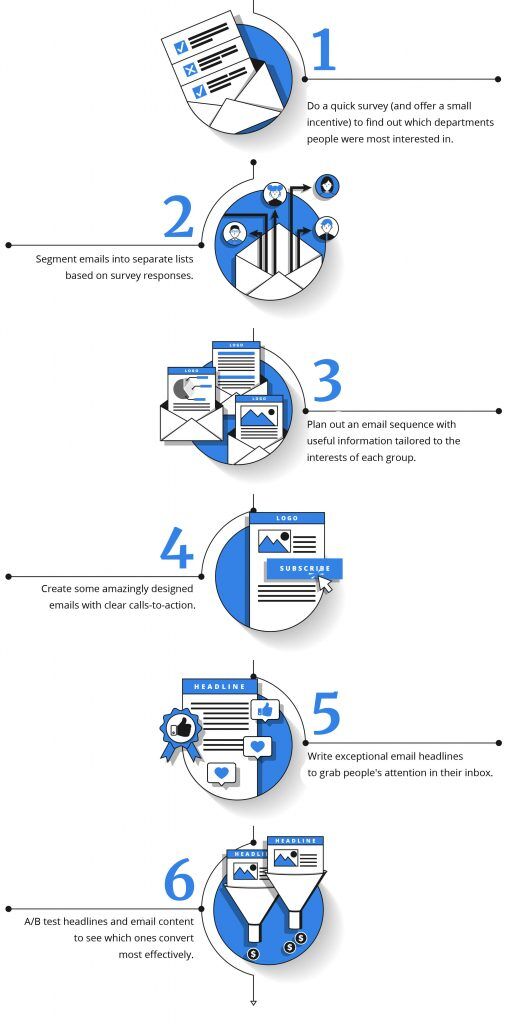 The results were far beyond what we expected. The company's email open rate went from 2% to a whopping 20%! Depending on your industry, average open rates are around 17% – so you can see the influence of segmentation here.
Today, this company still uses email as its top marketing tool and makes sure to collect customer preferences the moment they ask for an email address. If you haven't already segmented your email lists, try sending a small, simple survey (like we did in our email marketing strategy) to your entire list, and use the responses to determine your segments. It may take some effort up-front, but you will save huge amounts of time and money in the long run by targeting your emails around the specific interests of your leads, instead of sending a hodgepodge of content they do not care about. What's more, you will be supplying your customers and leads with a service that they want and have asked for.
Lead Nurturing
You've got your list, and you know who is who and what they are expecting from you. You are in the prime position to convert these leads into prospects and eventually into paying customers. If you know anything about us, you will know we are all about the data – and with good reason. Using proven insights to analyze and understand your leads and their behavior leads to far more likely success than trial-and-error practices. Having the best email marketing strategy in the world won't mean a thing unless you have clear KPIs, well-set analytics, and accurate data to base future tests and optimization on.
What you need to look for when it comes to turning your email marketing into a smooth lead nurturing machine is the maturity of your leads. Trying to sell your product to a lead too early on can come across as pushy and overly salesy. Wait too long, and your lead might lose interest. Sending the right, personalized content at the perfect time to hook your lead is the way to success. That means knowing when they are about to become a prospect, what obstacles might prevent them from becoming a prospect, and when a prospect is ready to become a customer.
Finding the Right Email Marketing Software
The first step in identifying these different stages is gathering the right information in the first place. This is why using email marketing software that tracks your audience's behavior is the key. You need to know more than just your CTR; you need to know:
How far they're reading?
What they're clicking?
How long it takes them to open your emails?
and any other information that can be used to help sort out your email marketing list. It's worth a slightly bigger investment for the kind of sophisticated email marketing software that can help you do this.
Take ActiveCampaigns email marketing software as an example. Their system allows you to assign points to users based on their behavior. So if one of your leads reads all the way through an email plus clicks on some key links that show great interest in exactly what you offer, you can heap on the points, and they will be right at the top of your list, in prime prospect position.
Automation
Creating automated email sequences is a great way to increase customer engagement and the value of your email list. Some companies can almost completely automate their email marketing efforts. Bur others may require a bit more of a hands-on approach. The important thing is to always remember your audience. Creating email marketing templates and related content that speaks to them personally is the best way to keep them engaged. Your emails need to be tailored to their needs and sent at the right times to best appeal to them. Automation should be used to achieve that goal, rather than cutting any corners.
Regardless of the type of business you have, there will inevitably be opportunities to apply an email automation strategy that will bring value to both your customers and your business. For instance, you might set up a series of personalized email marketing templates to be sent to new subscribers as soon as they join your list. This series of emails might introduce your company or product and begin the process of actively arguing in favor of your product.
Let's say you owned an ice cream parlor. You could segment your list based on birth dates and send pre-created email marketing templates to your customers in the weeks leading up to their birthday, convincing them to stop by your ice cream parlor to celebrate or take advantage of a group discount. Always consider how relevant and valuable your message is, before sending it to your audience. Sending an in-depth 50-page eBook that is not relevant to the needs and interests of your audience is completely worthless; free ice cream on your birthday is valuable to anyone!
Some Final Thoughts
Email marketing strategy is more than an annual newsletter at Christmas. It is a direct way to be able to build relationships with leads and gauge interest in your services. Remember to keep an eye on the data to know whether you are emailing the right content at the right time to the right user, and you will be amazed at what increase in revenue you can achieve.