Did you know that you can use customer segmentation to identify and uncover opportunities to improve user experience and increase conversion rates, and ultimately sales?
No?
Don't worry about it.
Today we will explain it to you in a very easy-to-understand example.
As an example, we will compare two data reports from the same website showing:
All Sessions
Sessions that Viewed Compare Us page
The First Step | Analyze and Segment All Sessions
Start the analyzing process with segmenting all sessions by different:
Channels,
Devices,
User segments,
Behaviours.
In this case, this process helped us uncover that the customers that visited the Compare Us page were five to six times more likely to convert and make a purchase.
Once we've detected a possible opportunity, we proceed to the next step.
The Second Step | Compare Sessions That Viewed Compare Us Page Against All Sessions
When comparing two reports, we can see that the product page views are not much higher. But, add to cart, checkout and transactions are very high!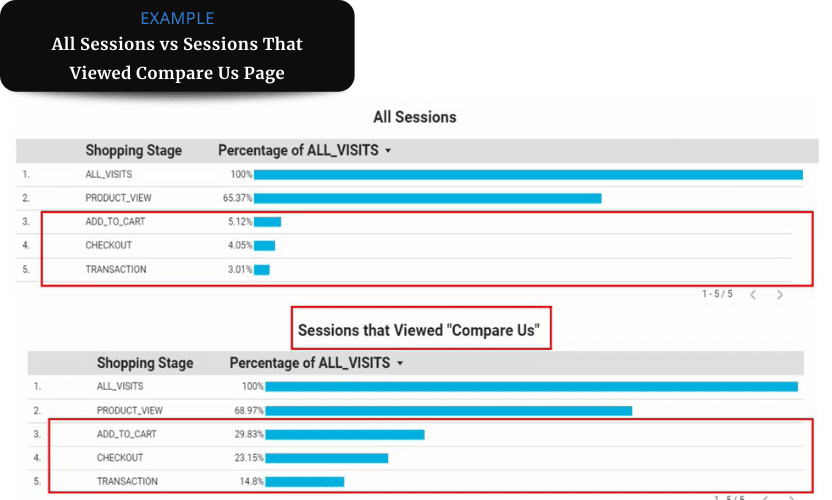 This information confirms that the customer segment that visits the Compare Us page is much more likely to convert after visiting the mentioned page.
The Third Step | How to Use This Insight
There are many ways you could use this insight to your advantage. So, let's name just a few.
The first thing you could do is analyze the content of the Compare Us page. Try to pinpoint what's communicated on that page and see how you can apply it on various steps of the customer buying journey.
Maybe you could present some of that information earlier to your customers? For example, you could introduce that information in the top funnel ads at the awareness stage.
You could also explore possibilities to present it on some of the landing pages, the product page.
The easiest solution would be to find more ways to drive more customers to Compare Us page.
Whichever solution you choose, make sure you've figured out what is the intention of the presented information., and what's behind this information that makes users convert.
Some Final Thoughts
If you have data that confirms that customers convert five times more after visiting a certain page, then it will be worth your time to:
Dig into the information you're offering on that page and
Detect what piece of information makes such a huge difference.
Invest some time and effort to get inside your customer psychology and identify the exact stage where the customer is in at the point of looking into your Compare Us page.
After that, it will all come down to running data drive experiments on how you can leverage that information on different steps of your customer buying journey.
If you have some questions on analyzing your data correctly, segmenting your customers, or preparing and running experiments, our team will be happy to help you.