Fixer joined forces with ConversionAdvocates in May 2020 because they were facing a very particular challenge: two unique offers, one landing page. Our team successfully increased their landing page conversion rates by 124%, but instead of hearing it from us, check out the interview we did with Fixer's Vice President of Product – Cat de Merode.
Tell us a little bit about yourself and what your company does.
I am Cat De Merode, and I'm the vice president of product at Fixer.com. We are a handy person service, we work in home repair and we like to say that we are a trade school disguised as a handy person service.
So, we have a training program for people who have no home repair experience. We also hire experienced fixers and we put trainees through a 90-day program that gives them all the skills they need to be dispatched out into customers homes. We do things like mounting TVs and fixing plumbing issues and electrical issues and generally jobs that can be done in one to four hours in consumer homes.
What problem were you looking to solve when you discovered ConversionAdvocates?
During the Covid19 pandemic, we were still able to operate as an essential service within people's homes. But because we have that training center component, we decided to extend that sort of service to our customers as well and started offering video consultations with our experts.
Basically, from anywhere in the US, you could call and have a video chat with one of our fixers. A lot of people were picking up a wrench for the first time, dying in their homes, noticing a lot of flaws in their home that they wanted to repair. So the challenge was that we then had an in-home service that was available only in the city of Chicago and then a nationwide service that was available by video, that could be sold anywhere.
And so we wanted to optimize conversion for both of those paths, frankly. But because the video consult was a newer product, we wanted specifically to be able to increase conversion on that product since the market was so much bigger because it was nationwide.
We were searching for a UX person who had a bent for conversion. But in the process, we came across ConversionAdvocates on Upwork. And so that's how we were introduced. And in fact, what was nice about ConversionAdvocates is that they only offer the UX portion that we were originally looking for, but also the data analysis, the strategy, the copywriting, sort of all the pieces of the puzzle that go together to optimize conversion. So it was a pretty easy sell once we realized that ConversionAdvocates existed.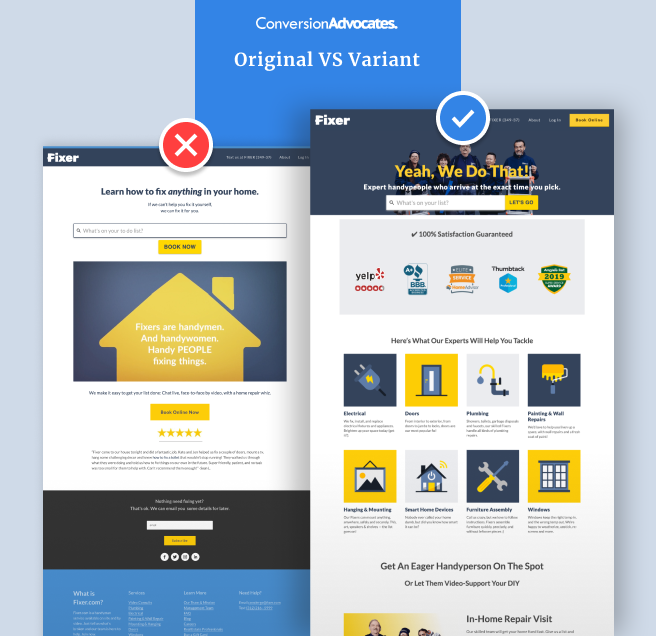 How Fixer Increased Lead Conversion Rates by 124% for Paid Traffic in a Single Experiment
Does increasing lead conversion rates for paid traffic sound challenging? We did it in a single experiment, and we boosted them by 124%! Find out how in this conversion rate optimization case study.
What was it like working with ConversionAdvocates?
I believe we started working together in May of 2020, and the first step was the data analysis, which was an analysis of the current state of the business in terms of conversion, in terms of various paths to convert things like that.
That readout blew minds across the company.
It was really terrific! It was not only a fresh perspective, which was something that every company loses after a while, despite the best efforts. But that was really insightful.
And so we not only got the readout of the numbers, the metrics themselves, but also insights into why we might be seeing trends like that and why we might be seeing problem areas or successful areas that we wanted to emulate elsewhere the in the site or even in the business.
That was my favourite part of it.
From that initial readout, we prioritized the opportunities that we had. And so for us, the first two opportunities were our homepage and our booking flow.
And those were the two primary components of conversion as far as our website was concerned. So we started our efforts there.
And so I would say any time we got a readout of the data and the analysis of not only the initial one but also test results as they came in, that was easily my favourite part of working with ConversionAdvocates.
So you found data very exciting! That's good to hear because a lot of people think the data is boring, that it's a dull process. But in the end, the things that you discover, they're mind-blowing.
It's true.
And we're not data newbies.
Like we have a ton of data. We have an in-home software engineering team, which is very uncommon for repair service. We have our own proprietary software. We have a full Google analytics suite. Like, we have all of the data at our fingertips.
But to have that data prioritized and analyzed and have insights attached to it and opportunities prioritized attached to it, especially from an outside firm – that was really helpful.
How did ConversionAdvocates help you overcome the challenge of having two different offers?
Well, we ran probably close to seven or eight, or maybe even more tests in 2020.
We did homepage tests, several booking flow tests, we tested landing pages for CRM, so that could help us optimize our quality score with Google, which helps optimize our cost per acquisition.
We ran tests, we also ran some tests by email, ran some tests through our customer service team.
We were having a lot of conversations with people trying to convince them to book a job. And so ConversionAdvocates analyzed those conversations for us.
We would go page by page by page on the site. And some of the most insightful readouts were about the Fixer.com homepage. And when we would run a test on that page, it would perform one way for sources of traffic associated with one medium. Paid traffic would react one way and organic traffic would react another way.
Landing Page Optimization Strategy – Why Effective Split Testing and Data Tracking Are Important
Our landing page optimization strategy relies heavily on split testing and data tracking. But in order to start using it, you first need to understand its importance.
And so we ended up forking our home page and being able to use ConversionAdvocates' design for our paid traffic that performs a lot better than our typical homepage. And our current homepage, which was a subsequent Conversion Advocate's design, was also optimized for the specific traffic that it was seeing.
So the intersection of the designs, the data and the segments of the customer base that are visiting those pages was what we were designing for each time.
What was the final outcome of the collaboration?
It's a little hard to say that in a blanket statement simply because there were certain pages that performed really well for certain segments, and so we were able to launch a new home page specifically designed for paid traffic that we can direct our paid ads towards since we know exactly where that traffic will come from in the land.
And then there were other tests that were less effective for certain segments. But whenever we had the opportunity to fork the traffic and to land people on a page that we knew was performing well for their particular segment. So what it means is that our business is a little bit more complex. But that's also sort of the story with conversion optimization, is that there's no one single answer. There's no one homepage that's going to do better for everybody.
At a certain point, you reach diminishing returns, unless you start forking the segments and the designs that you're pointing them towards and then continuing to optimize each of those parts.
What impact did working with us and the results we achieved have on your business?
A group of people I've worked with for a long time at other companies as well, and we've always had a growth culture. A number of us were parts of startups that got very big. And so growth has always been a part of our internal culture.
But what it did for me was sort of redefine where to look, like in the cracks and crevices for conversion optimizations.
I'm very familiar with A versus B, and one of them performs better.
But what was enlightening to me was all of the segmentation and how to use those insights to make actual product decisions as opposed to making something that's better for the overall good, but may harm individual segments that you could still save.
Why would you recommend ConversionAdvocates?
ConversionAdvocates would be a great engagement for any company that is, first of all, new to conversion, but even for those of us who have been through conversion optimization efforts throughout our career. It is helpful to engage third-party service, to take fresh eyes and get fresh insights.
The team sort of provides a one-stop-shop.
There is UX, there is an individual pixel perfect design, graphic design. There's copywriting, there is strategic influence. There is data analytics there.
The team seems to have access to an endless number of experts that can really add their influence to your business.
So I'd recommend ConversionAdvocates for any company that moves fast and wants to be able to make measurably increased changes.