Case Study
How Fixer increased lead conversion rates by 124% for paid traffic in a single experiment
January 8, 2021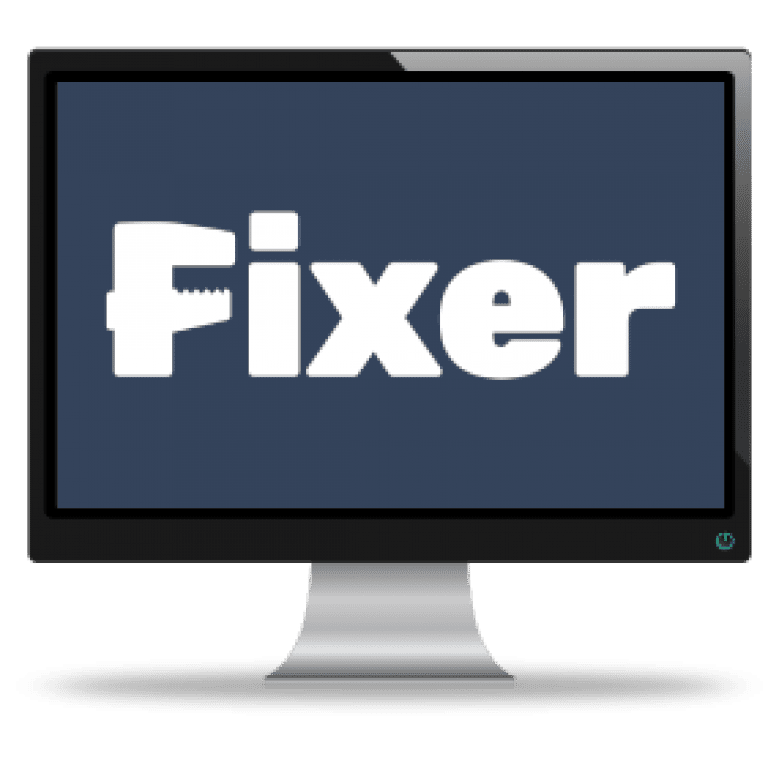 This case study is about how the team at ConversionAdvocates increased lead conversion rates of Fixer in-home repair service for paid traffic by 124%.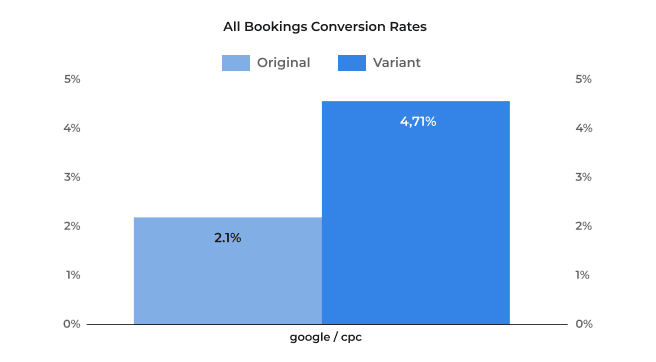 Learning Objectives:
How clarifying Fixer's value proposition and service communication will impact the users navigation?
Conversion Objectives:
Micro Conversion Increase CTR of the home page to booking page on Fixer.com.
Macro Conversion Increase Lead Conversion Rates of in-home repair bookings on Fixer.com.
Primary Insight:
Most conversion paths were starting on the Home page and were going directly to the booking page from either the search bar or page CTAs.
Primary Hypothesis:
If the service and value proposition of the brand is clearly communicated to the users when they land on Fixer.com then lead conversion rates will increase.
Information Chanels:
Google Analytics, MixPanel, Google Optimize
Results:
Paid advertising conversion rates increased by 124%

Booking page visits increased by 17%

Six out of the seven top source/mediums all saw an increase in their conversion rates
2 Unique Offers on 1 Landing Page
Fixer.com is not your typical handy-man or repair company. Unlike marketplaces websites that connect you with an assortment of handy-men and women nationwide, Fixer hires, trains, and retains each and every Fixer in their company. With that comes certain restrictions to which geographical locations they can service, at different points in time, as they grow.
In order to service the rest of the country, Fixer offers virtual consultations where you can speak to a Fixer via video to help you with whatever problem you're facing.
On their own, each of these services is unique and requires a fair amount of explaining to fully grasp the value and scope of what they're offering. However, combined they presented a unique challenge that needed to be overcome on the 2-in-1 landing page where the services offers were combined.
Using our proprietary IIEA framework we were able to uncover opportunities to increase lead conversion rates coming from Paid Advertising by over 124% in a single experiment.
IIEA Step 1
| Gather Insights
Customer types & acquisition source data
What's interesting about Fixer is that they have a fair amount of repeat customers who, after purchasing and trying their service one-time, come back again and again. And while this is a testament to the excellence of their service, it creates an important consideration when analyzing data and conversion within different acquisition channels.
From our analysis, we uncovered three important insights
Insight #1 | Most visitors on the home page were leaving the website right away without visiting a second page. Bounce rates and exit rates were both at 73% during the six month period prior to the experiment.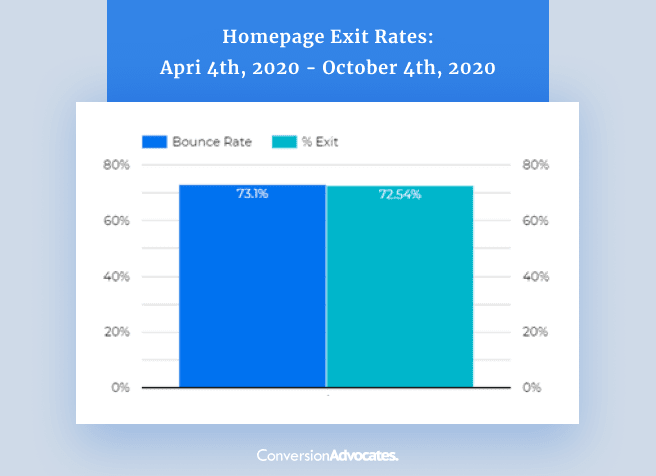 Insight #2 | In the six months of data prior to this experiment, only 9% of home page visitors were clicking through to the booking page.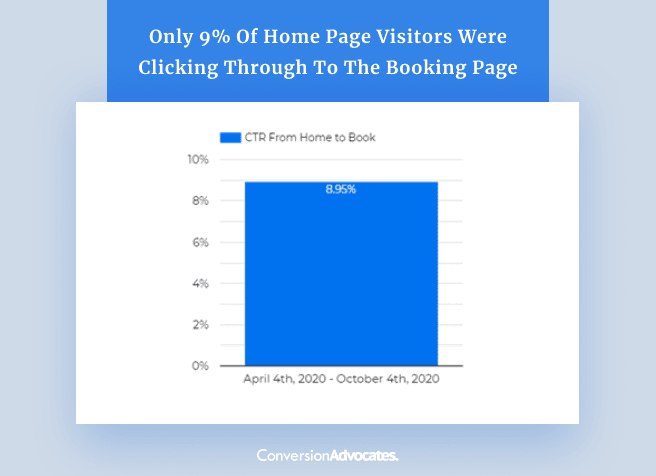 Insight #3 | In the six months date range of data prior to this experiment, Google/CPC had been converting at a rate of 2.83%.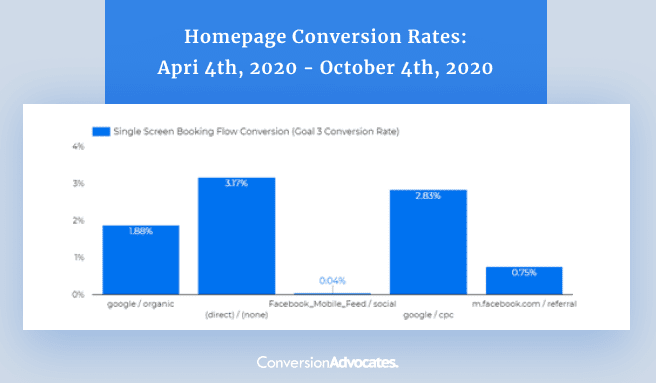 IIEA Step 2
| Hypothesis Ideation
Based on the findings, we formulated our primary and secondary hypothesis for the experiment.
Primary Hypothesis:
If the difference between the two main services is clearly communicated then there won't be confusion for the users and they will most likely proceed with the booking.
Secondary Hypothesis:
If the look and feel of the Home Page are slightly refined, then visitors will have more trust towards the brand and they will most likely proceed with the booking.
IIEA Step 3
| Experiment Creation
For this experiment, we created an optimized variant of Fixer.com home page in an attempt to drive more traffic to the booking page.
Some highlights of the experiment variation include:
Clarifying the 2 services offered by the company

Adding trust elements along the page to reinforce brand authority

Pushing the human feeling a little further in the design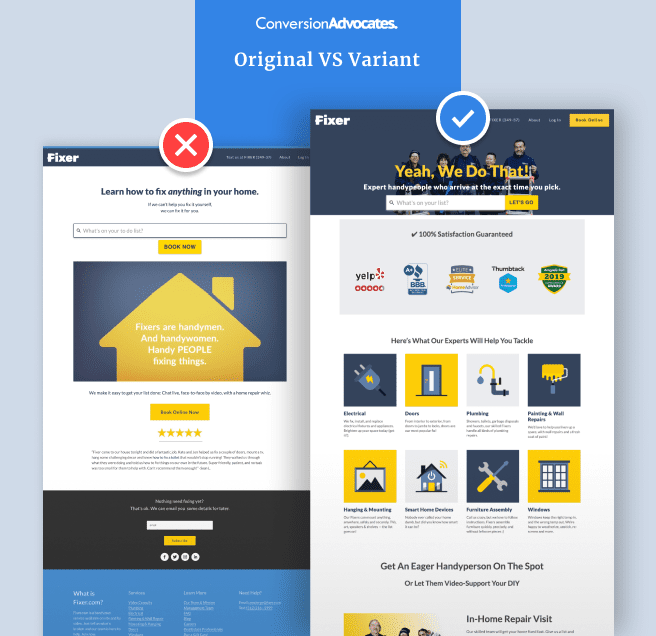 After running the experiment for 45 days, our original hypothesis was inconclusive. However, we found a winning variation for paid traffic. The new variant showed a 124% increase in lead conversion rates through this channel with a probability of 97% that it will continue to outperform the Control.
Highlights From the Experiment Analysis
The original version of the home page continued to perform the best for Organic Search & Returning traffic sources from Google. Our variant, however, outperformed the original in all of the additional traffic sources, especially with sources associated with new users.
Here are some conversion highlights:
124% higher in Google Advertising

50% higher in Yelp mobile

49% higher in Yelp.com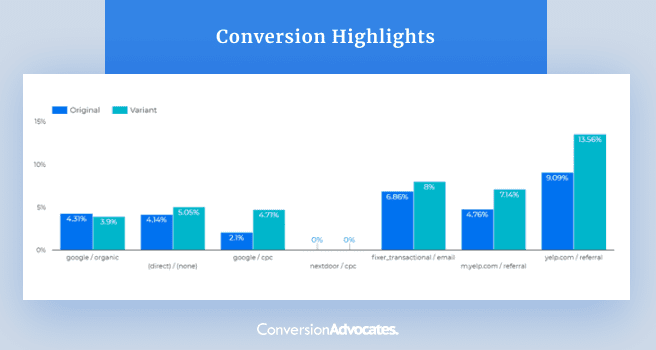 The original version of the home page had higher bounce rates in the top three traffic sources of Google Organic, Direct, and Google Cpc. Meaning that a lower percentage of users visiting variant was leaving the page.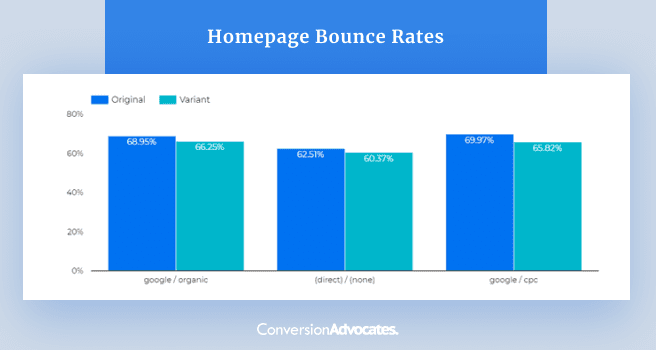 Booking page visits increased by 17%, with a probability of 99% to continue.
Want to hear what the owners of Fixer had to say about working with ConversionAdvocates teams?
Check out their telephone VERIFIED Review on Clutch.
Get in touch &
get started Today

on your 90-day CRO journey

Here's what you will get from your free CRO strategy call:
90 Day Growth Plan focused on increasing revenue
Calculate projected ROI from improving your CRO
Walk through our proven CRO process and how to apply it in your business
Learn what specific research methods will drive insights and winning tests
Gain an understanding of testing velocity for your site
Get answers to any questions around CRO or growth strategy
Book your
CRO strategy call
Remove Obstacles To Conversion For Your Customers And Achieve Triple Digit Growth
Our Process Drives Consistent and Measurable Growth. We Build You An ROI Positive CRO Program In 90 Days
Book Your FREE CRO Strategy Call
Remove Obstacles To Conversion For Your Customers And Achieve Triple Digit Growth
Our Process Drives Consistent and Measurable Growth. We Build You An ROI Positive CRO Program In 90 Days