Businesses are underpinned by their processes. They establish how they work, how data is gathered, how customers are won and lost – basically everything that goes into a business' growth. It won't come as a surprise, then, that business processes are often what separates the losers from the winners in the long run.
The Traits That Separate Them
While working with numerous clients, we started noticing some patterns. After some data-digging and proper analysis, we were able to map out some habits that were hindering their growth. But we didn't stop there! We've decided to make a comparison with the traits that characterize the winning businesses' processes.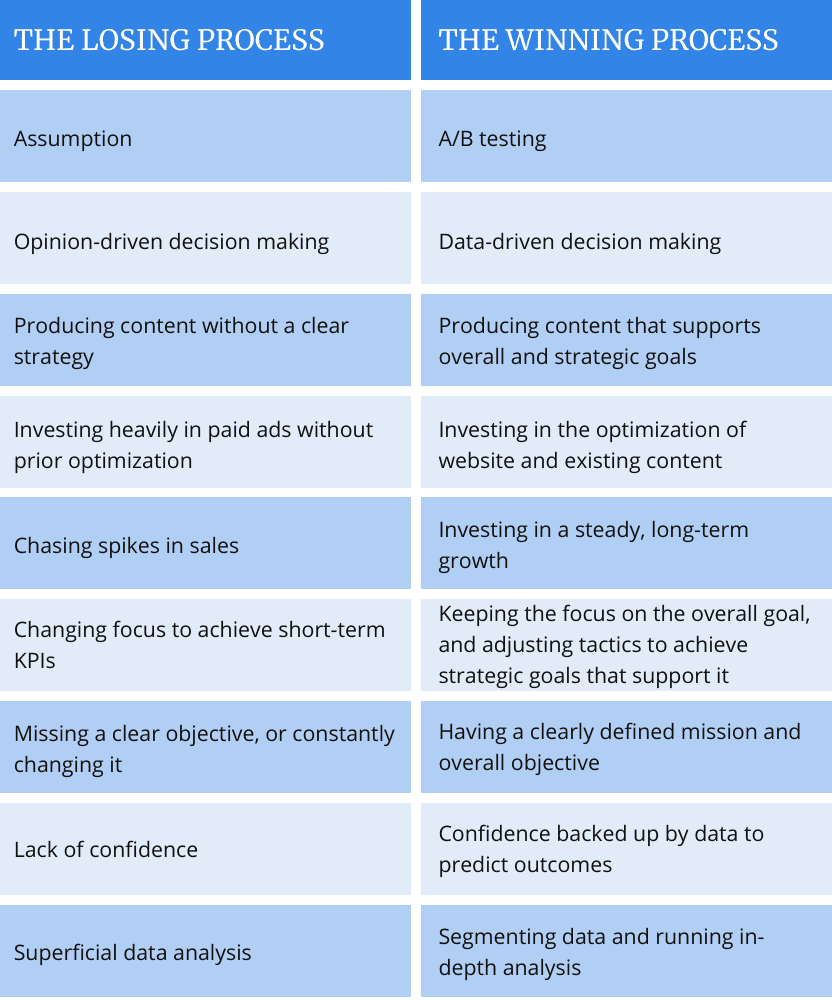 The Four Pillars of the Winning Process
A focused, disciplined, and data-driven decision-making process is close to our definition of a winning process. By implementing these four pillars, you'll see improvements in all fields of your business:

1) Continuous research
Brainstorm sessions with your team are an amazing way to generate new ideas. But instead of asking them out of the blue to come up with some ideas, create a task for them where they could copy-paste all of the interesting findings they collect during their daily internet browsing. Make the most of the research they are doing every day as part of their job and share the knowledge amongst your team. Just make sure you specify topics that can enrich your content or plans, and that match your overall strategic and overall goals.
2) Prioritizing each idea based on specific decision-making criteria that are aligned with the goals of the business and performance metrics

Stop diving headfirst into every new and exciting idea straight away. We know it's hard but trust us: it will be much harder to get back on the road if you wander off too far. Unless you thoroughly prepare the groundwork and spend time on the implementation process, one wrong idea could create a terrible user experience that could result in a big loss. Don't put yourself in an unrecoverable situation. Make your plans based on thorough research and data that will help you predict the outcome. Then only move forward when you can control the move and take it as slow as you need to.
3) Scientific implementation of new ideas and testing them for their effectiveness and validity
Make sure you have everything you need before you start implementing your previously-approved ideas. This includes having a back-up plan and crisis management safely stored in the closet, but ready to bring in if the need arises.
Also, be sure to leave room for adjustments. As you'll be tracking the performance of your A/B campaigns along the way, be ready to adjust your ideas according to the results. Just because your original idea isn't providing the wanted outcome, it doesn't mean you should abort the experiment. Remember to learn as you go.
4) Result analysis and usage of the learnings for creating new ideas that generate advancement and growth

If you've invested all this effort into creating and implementing your new undertaking, it would all have been for nothing unless you learn from it. Make sure you collect all of the relevant, properly segmented data and use it to your advantage. It will be much easier to come up with a new idea that will accelerate your growth once you've collected information and transformed it into smart and useful business intelligence.
Some Final Thoughts
Whether you're focusing on growth in your PPC, SEO, Email Marketing, User Experience, or Public Relations, having this process will allow you and your team to make decisions and move forward with more clarity and confidence in every decision. If you're struggling with implementing this four-step process, feel free to reach out to us. We're always happy to help!