We know that you read and heard a lot of experts underlining the importance of data segmentation (including us). But, we're pretty sure you're still not convinced that you can discover opportunities in your data that will grow your business exponentially. So we decided to present to you an example of what you can learn from segmenting and digging into your data and how you can leverage it to your advantage.
Today we're going over a breakdown of two different user segments. You can segment your data in an infinite amount of ways, but, in this example, we're segmenting two types of users:
The ones who used site search on the website,
And those who didn't use site search on the website.
Step 1 of Data Segmentation | What Do We First Notice?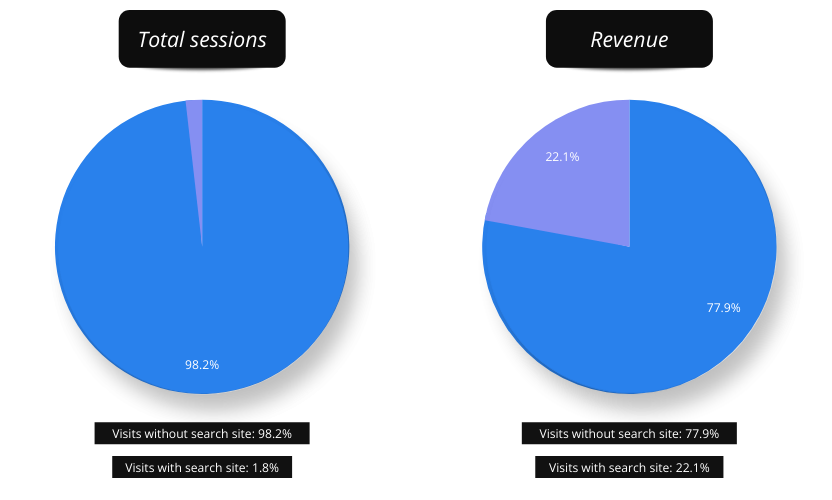 98% of website visitors don't use the site search and only 1.8% of visitors do.
However, if we dig into this 1.8% of visitors, we will see that they make up 22% of the sales on this website.
That's an amazing finding, but let's not stop there.
Let's compare the data between those who use the search site and those who don't.
Step 2 of Data Segmentation | Digging Into Segments and Comparing Them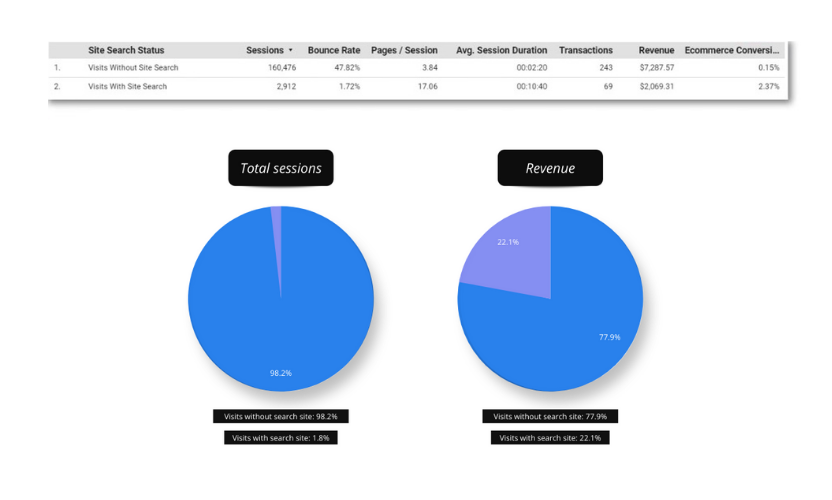 Number of sessions: 3,912 vs 160,476
Bounce rate: 1.72% vs 47.82%
Page/Session: 17.06 vs 3.84
Avg. Session Duration: 00:10:40 vs 00:02:20
Number of Transactions: 69 vs 243
eCommerce Conversion Rate: 2.37% vs 0.15%
The number of sessions of the visitors that did use the site search option is much lower. But this segment of users also has a significantly lower bounce rate. Their pages per session are much higher, and this tells us that they're searching, that they're looking for things.
Moving on forward their average session duration tells us that they spend a lot more time on the website. So, we can conclude that they're:
Collecting data,
Gathering information,
Learning.
As a result of these actions – they are buying! This leads to the eCommerce conversion rate that is mind-blowing: 2.37%!
Step 3 | Making a Data-Driven Decision
In our example, not only does this data tell us that site search is important for your eCommerce business, but it also that users like searching before buying! They like going to 17 pages on average before making a purchase decision. They like spending 10 minutes on the website before making a purchase.
What does this information tell you?
It tells you you need to improve that experience. Just ask yourself:
How can I get more information?
How can I improve that navigation experience for your customers?
If this business was to promote the site search to the visitors that didn't use this option they could potentially have an exponential increase in their:
Conversion rates,
Sales, and
They could improve the customer experience.
Some Final Thoughts
Data segmentation is extremely important because it will help you understand user behaviour, optimize it and make data-driven decisions when it comes to making investments of different sorts. If you wish to know just how big of an impact would a decision have, use a conversion rate calculator that will tell you exactly what increase can you expect.
Remember that this insight is not limited to this one area of site search, because it tells you something fundamental about your users, who they are, and how they behave. And that is the most valuable information in the world.
Data is more than just numbers. Data is much more about taking action, and our team will gladly help you get started.