If you have been in business for a while, you'll know that most prospects will say no at first. Most of the time, it won't even have anything to do with the quality of your offer: it's just a normal initial reaction. Especially nowadays, with an oversaturated market, consumers will often be suspicious of new brands and want to take time to consider their options.
Even if you do get a quick sale, remember that this an outlier. You can't rely on them and you certainly can't base your entire strategy on them. As a matter of fact, if you know the tricks of the trade, you'll find that the real opportunity lies with these people who said no at first. You can make the most of these rejections by using a conversion funnel. To get started, let's look at what types of funnels are out there:
Types of Conversion Funnels
You've already evaluated your conversion funnel with our quiz, so now is the time to also identify its type. Here is a brief summary of the three basic types.
1 | Basic Three-Step Funnel
This is a three-step funnel and is often used by beginners.
As you can see, it all comes down to:
Attracting new website visitors (a targeted ad campaign will often do the trick here).
Giving these visitors something valuable to spark their interest in your product.
Waiting for the conversion to happen.
It's very simple to implement, but the best news is that there is also a lot of room for optimization. If you're already getting good results with this, then the sky is the limit.
2 | Standard Five-Step Funnel
This type of conversion funnel covers the five basic stages of the buyer's journey. This is also a foundation for the ideal omnichannel funnels.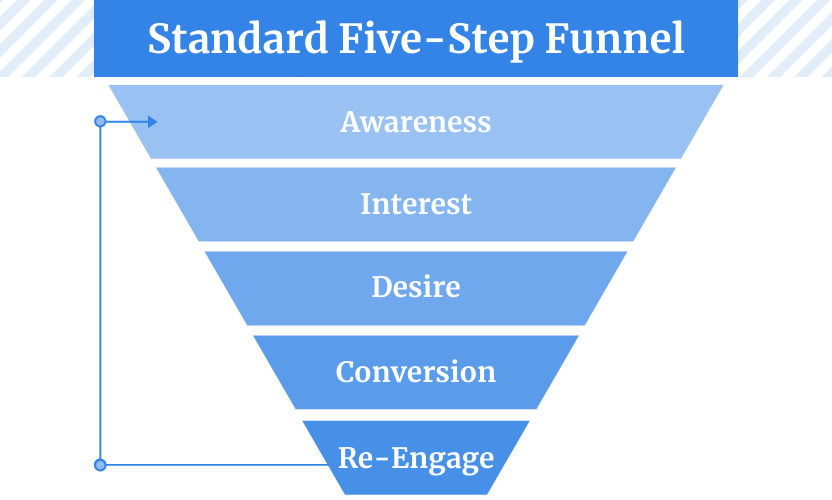 1. Awareness – In this first step of your funnel, it's all about attracting leads to your website and making them aware of your business.
2. Interest – Now that you have led them to your website, it's time to pique their interest and form a relationship with them. This is your chance to offer them something valuable, before asking for value in return.
3. Desire – If you did the second step right, they will come back for more. They will want to know more about what you have to offer and what it can do for them.
4. Conversion – Now the prospect finally completes the desired action. You might think that you've achieved your end goal – but true success means taking it one step further.
5. Re-Engage – Lifecycle marketing is one of the biggest trends right now, and for good reason. Just because prospects have completed the desired action it doesn't mean your relationship with them should come to an end. Find a way to nourish it and keep them coming back for more. Eventually, they'll become your unofficial brand ambassadors and do your marketing for you. Keep in mind that users do not often trust information coming directly from brands nowadays. They are much more likely to trust someone they see as a peer, like finding information through customer reviews, case studies, or social proof.
3 | Advanced Omnichannel Funnel
The famous "less is more" motto of the minimalist architect, Ludwig Mies van der Rohe, is true for many things. The conversion funnel is not one of them. In fact, the more details you can include, the better. Details allow you to customize your sales funnel and make it more natural for the user. If you can personalize your funnel enough, your lead won't feel like you've trapped them in some cycle. The process will feel much more natural and your prospects are more likely to trust you.
With an omnichannel funnel, you reach leads across multiple channels and touchpoints, creating a holistic and trustworthy message. It often requires more steps than the basic or standard funnels mentioned above but also offers high rewards.
Improving the user experience is, of course, a great reason on its own, but there are still more advantages of using an omnichannel conversion funnel. They include:
Enhancing your ability to find lookalike customers that are more likely to convert.
Easier optimization of smaller parts of the funnel, rather than overhauling an entire system.
Scaling your business more efficiently and effectively.
Step 3 | Follow-Up Email
A personalized follow-up email is a great opportunity to start building a relationship with users. Keep it brief and to the point, perhaps signposting to a couple of other pieces of content that they might find interesting. This is your chance to make a good impression and leave them with a positive association with your brand.
For the airline ticket company, their follow-up email could be a cheerful note thanking them for reading the blog post, sharing a maximum of two other forms of content, and containing plenty of attractive travel images. You want to send your leads something that is low-effort for them and contains plenty of positive branding.
Are you interested in seeing what an omnichannel conversion funnel looks like and how you can put it into practice? We have created a 10-step ready-to-use conversion funnel just for you, with clear examples and takeaways.