Kettlebell Kings, leading provider of high-quality kettlebell equipment and digital workout plans, joined forces with ConversionAdvocates in July 2020.

Even though they have a super high-quality product and well regarded website – their conversion rates were always slightly below the standard.

On another hand – their primary focus has always been on selling physical products so it's no surprise that their digital offerings took second fiddle to this end goal which showed up in lower conversion rates for them.

After an immediate uplift in conversions following our involvement we can say without any doubt that hiring us sooner would've made all the difference, but don't take our word for it! Check out what Jay Perkins, co-founder and managing partner of Kettlebell Kings, has to say about us.
Tell us a little bit about yourself and what your company does.
My name is Jay Perkins. I run a few eCommerce sites, but our main business is KettlebellKings.com and we create and sell high quality kettlebells and fitness equipment.
In addition to that, we also have a training and certification website called Living.Fit where we produce and sell workouts, certifications, kettlebells, battle ropes, nutrition and a number of other fitness modalities.
What problem were you looking to solve when you discovered ConversionAdvocates?
So generally speaking, we always have just been aware that we wanted to optimize our site as much as possible and drive as much revenue by doing experiments in conversion experiments.
The basic problem was that we had a conversion rate that's probably slightly below internet standards from everything that we've read. I mean even though we have a super high quality product and a well regarded brand, we thought there was room for improvement in getting those conversion rates up.
I tried it myself for a time. I tried to run my own split tests and things like that, but eventually we just needed more bandwidth, we needed more experts on it so that we could drive more revenue.
So we started looking for conversion rate companies.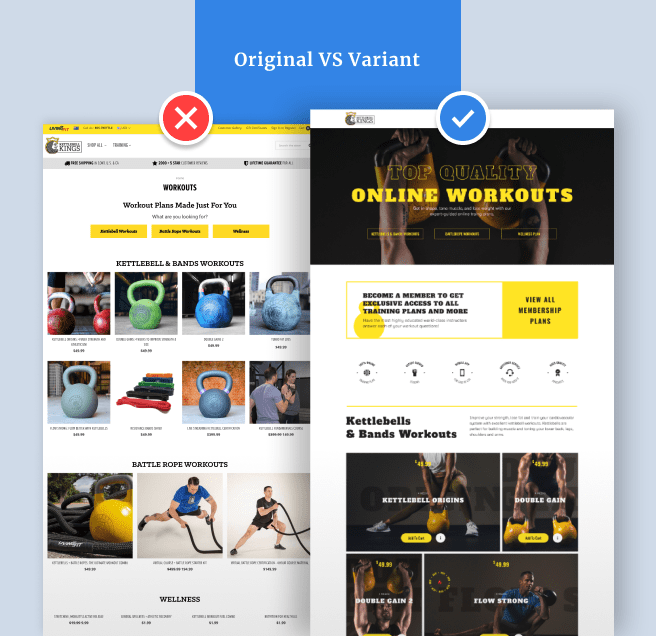 How Kettlebell Kings Increased Sales Conversion Rates 151% And Monthly Recurring Revenue By 35% In A Single Experiment
Because their primary focus has always been the sale of physical products, their digital product offering always took a sideline, and it showed in their conversion rates. Find out how we increased sales conversion rates of digital products over 151% in a single experiment in this CRO case study.
What is it like working with ConversionAdvocates?
We started working with ConversionAdvocates in July of 2020, and it was a big improvement on past vendors we worked with because of the responsiveness, communication and actually seeing results.
The thing that I appreciate the most is that as a vendor ConversionAdvocates acts as I try to treat people we work with, meaning:
Super timely with responses,
Solving problems,
Providing solutions.
How did ConversionAdvocates help you solve the problem?
Pretty immediately after starting to work with ConversionAdvocates, we saw an increase in conversions on some of our most highly trafficked pages.
So the immediate problem that was solved was we improved our conversion, which we were looking to do and we had more sales.
A lot of our problems have been solved just through the experimentation and scientific process.
I think there's the basic level of best practices that ConversionAdvocates know from their experience with all the clients they've worked with that we just simply don't know. So just implementing those is a big step in helping us convert more.
The second level is intuition. As they learned more about our business and our customers, they came up with even more things to tweak or change on a particular page so that it ends up converting better.
Do you wish that you hired us earlier?
Of course we wish that we found ConversionAdvocates earlier. We actually did find them earlier and regrettably did not hire them right away but certainly wish we had.
We went with another conversion company initially. And you know, I had been pretty interested in hiring ConversionAdvocates from the beginning.
So after that things didn't work with the other company, because they weren't as quick on their feet and responding to some of the experiments we needed, I engaged ConversionAdvocates again in conversation and that's how we ended up working with them.
So I certainly wish that we had done it from the beginning!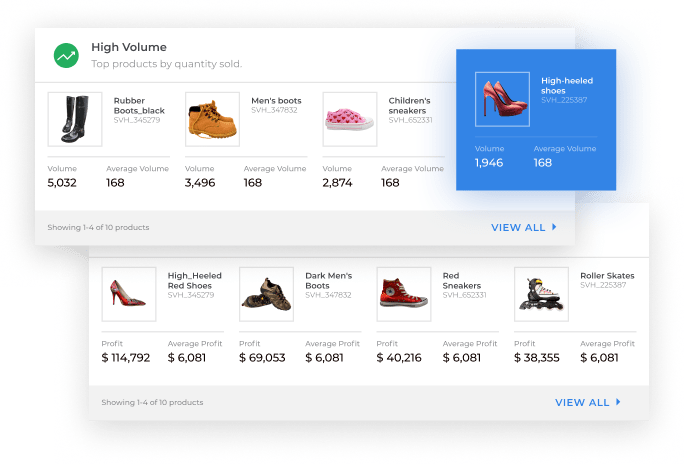 Insights Helps You Boost Conversions & Reduce Costs
Get powerful insights for your eCommerce store in one place.
Sign up for a Free 15-Day Trial and we'll show you how Insights will transform the way you look at your data and make decisions in your business.
What was the final outcome of the initial collaboration?
The final results have been ongoing really. We continue to see improvement on our conversions on a monthly basis with each new experiment that we run.
Basically, we have an ongoing process of trying to test each month with ConversionAdvocates whether it's driving more leads or leading them to more eCommerce sales and we continue to see improvements above what our baselines are.
Even on some of the highest performing products, that we sell the most of, we've seen
Significant upticks,
More checkouts completed,
More revenue,
and that will continue to be an ongoing process as we continue to engage more with ConversionAdvocates for even more experiments.
What impact did working with us and the results we achieved have on your business?
The first impact has just been increased revenue by experiments.
But it has also made us realize the importance of continuing optimization.
And this culture fits well with our organizational standards and what we hold ourselves to! We always want to be growing, improving, evolving and figuring out ways to do things better and going through this process has certainly reaffirmed that position for us as we continue to work with ConversionAdvocates and they continue to make changes for our website as well.
Why would you recommend ConversionAdvocates?
I would recommend ConversionAdvocates for a few reasons.
One is they get the job done.
So if you're looking to improve conversions – that has certainly happened for us significantly.
Two is that they are what I look for in a vendor, which is timely responses, taking care of things that we need, and just getting things done.
And when you have a lot of vendors that you deal with, and not all of them are quite like that, you certainly appreciate the ones who do the work that you would be doing for your own customers as well.
The last thing is that they actually have helped us drive an improvement in sales, which is something that we didn't see with previous vendors that we worked with.