User experience optimization should have made it on your list of priorities a long time ago. But if you haven't had the time for it, you might want to consider using Black Friday and Cyber Monday to start implementing it. Even though this year's BFCM will offer you tons of new opportunities due to the increase of online users with purchasing power, it will present you with new challenges as well. With "user experience" trending higher than ever before, you'll want to make sure you offer your target customers something they'll never forget.
This is why we've created a list of seven psychological drivers that you should consider when looking to optimize the user experience. One of the great things about these drivers is that they don't apply exclusively to your website, but also to any sort of marketing or sales assets that you have within your sales funnel. These seven psychological drivers will help you optimize your users' experience by enhancing every touchpoint of your conversion funnel:
UX Psychological Driver 1 | Relevance
If a user sees a certain product in your ad and visits your website, and then you retarget them with a completely different offer or set of products unrelated to their original search – there's a great chance you'll create a negative experience. It will feel spammy, and they'll likely end up hiding your ads. The same goes for your existing customers – if they're used to purchasing a certain type of products, and now you bombard them with something not even remotely related, you'll confuse them, and probably lose them to the competition.
To avoid this situation, you'll have to start by answering the question: "Is what I'm showing my target audience relevant to their needs and expectations?" But to do so, you'll need to:
Have in-depth knowledge of their needs
Create a crystal clear buyer persona profile
Segment your leads, prospects, customers
If you've got this covered, you can proceed to evaluate the relevance of what you're offering them and optimize according to the results.
Keep in mind that the same product or service will not have the same level of relevance for all of your existing and potential customers. It's important to know:
Where did they come from?
How did they come to your website?
Do they have previous experience with you?
What did attract their attention?
Thorough data segmentation will help you answer all of these questions. Once you've answered them, you'll be able to create an offer that corresponds exactly to your users' needs, desires, and expectations.
UX Psychological Driver 2 | Trust
Trust is one of the biggest user experience optimization opportunities. To start optimizing UX in this direction, you'll have to examine whether your users have confidence in your product and the promises that your product is offering?
If you can increase the amount of trust your users have in your product and service, you will not only improve their experience but also conversion rates and the number of users that take the desired action.
You need to think off some of the objections that they might have, as well some considerations that they might think of before making up a purchasing decision. Once you've figured it out, you'll have to come up with a way to reassure them.
Our favourite and proven elements that strengthen trust and confidence are:
Visible certification
Product reviews
Customer testimonials
Guarantee
Warranty
UX Psychological Driver 3 | Orientation
A little bit of adventure never hurt anybody, unless we're talking about your sales funnel. You can be safe to presume that your users want to know exactly what awaits them around the corner. This is why "orientation" comes right after "trust". These to drivers are very closely attached, and they support one another.
If you want your customers to complete a purchase, especially during Black Friday/Cyber Monday when there's not a lot of time for them to think and rethink their decisions, you'll need to tell them exactly what they'll get in the next step. If this is not clear it will cause friction and make them stop moving forward in their buying journey.
Make sure it's crystal clear what will happen when they take the first step. Make sure they know what deal they will get, and what they need to do to complete the purchase. Let them know of the benefits they'll receive once they click "buy now". Make sure your BFCM sales funnel, various touchpoints in it and the buyer journey don't turn into a series of unfortunate events.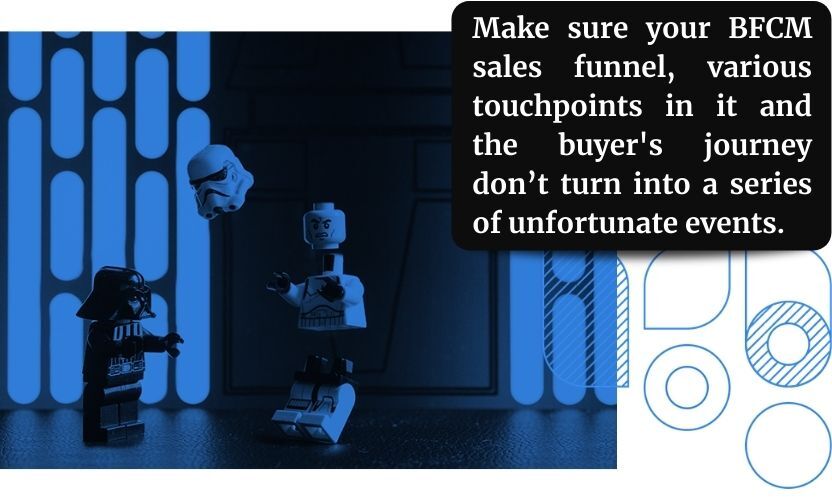 UX Psychological Driver 4 | Stimulation
This psychological driver is all about creating some level of urgency. Stimulation is a big part of the customer buying journey. This is the element that urges them to continue moving down your sales funnel until they've completed the desired action. If "orientation" is all about explaining WHERE they're going, "stimulation" is about WHY should they go there.
Making your offer stand out during Black Friday and Cyber Monday is especially challenging. So, you'll really want to offer some additional stimulation. Explain to them what they'll gain by completing the purchase right away. Tell them that this kind of offer is a one-time thing, that it will expire soon, and that they will have lost their golden opportunity.
Pinpoint the greatest desire of your ideal customer and make it come true as an addition to providing them with what they need at a great price.
Click To Tweet
UX Psychological Driver 5 | Security
One of the reasons a lot of people still prefers to buy in regular stores is security. A lot of users still hesitates when it comes to sharing personal information online. In 2020 even those users will be "forced" to shop online – and you'll want to make sure you convince them that your website or online shop is trustworthy, and that information they share with you won't be abused.
Ask yourself what is it that you can offer them to make them feel 100% secure? Come Black Friday/Cyber Monday you'll get a lot of new users that are not familiar with your brand. You can't just expect them to trust you blindly.
Trust is one of those things you earn with time. But BFCM doesn't give you this option.
This is why you'll want to make sure you have something in black and white that will explain to your visitors that they have nothing to worry about while sharing their information. Will it be a money-back guarantee, two-step verification, verified by Visa/MasterCard – these are just some of the options you can consider.
UX Psychological Driver 6 | Convenience
You made sure your offer is relevant and trustworthy, that your users will know at every step what awaits them ahead, that they'll be stimulated to complete the purchase and that their sensitive information will be completely protected. But will this experience be easy for them or will they breath out with relief once they complete all of the steps?
Convenience is all about making their entire experience natural and easy. Ask yourself, how can you make the buying journey as simple and as fluid as possible?
A big part of making the customer journey convenient is avoiding:
Unnecessary steps,
Bombarding them with much information,
Landing pages overloaded with distractions,
Unclear calls to action,
Asking for too much information (you can do this gradually during the nurturing process).
UX Psychological Driver 7 | Confirmation
Like many e-commerce businesses you're probably struggling with a significant disproportion of metrics "add to cart" and "number of transactions". This is where the seventh driver "confirmation" comes into play.
You'll want to make sure that you're confirming to your users that they're getting exactly what they want at every step of the buying journey. Remind them of the time limit, money-back guarantee, additional value that they'll get. Don't lose them after they hit "add to cart" button. Let them know they're just one step away from getting exactly what they need. Underline that they've made the right choice. Offer them even more testimonials relevant to the product they chose. This way, you'll stop them from second-guessing their choice.
But don't abruptly stop confirming their decision once they complete the purchase. Always have in mind their lifetime value. Explore the opportunities for an upsell or cross-sell, a start nurturing your relationship with them.
Some Final Thoughts
The real beauty of these seven psychological drivers is that you can apply them to optimize the user experience on different platforms and levels. Whether you're optimizing UX on your website, ad campaigns, social media, email marketing – all of them will help you create the best possible experience for your users:
From mastering relevant content,
Strengthening trust,
Orienting them in the right direction, and
Stimulating them to make the right decision,
Confirming it, and
Making sure they go through this entire process with easy and completely secure.
The benefits will be overwhelming both for your users and your business.
The key is to free yourself from opinions and guesses. Use this year's Black Friday/Cyber Monday to explore various options. Split-test and make sure you've set up your analytics correctly. Then dig into gathered information, and transform it into business intelligence that will help you grow your business like never before.