What differs Black Friday Cyber Monday long sales weekend from any other sales weekend? The fact that all eCommerce businesses try to use the potential of these days to the maximum. Users expect of you the best deals, limited offers, and unique experience that will convince them to choose you over the competition. To make your users' wishes come true, you will need to equip yourself with tools that will help you with real-time data tracking and optimizing your conversion rates accordingly. One such tool is the conversion funnel calculator.
What Is the Conversion Funnel Calculator
Conversion funnel calculator is a tool that will help you identify optimization opportunities within your marketing campaigns. It is especially useful for short-term sales such as Black Friday and Cyber Monday. Its purpose is to help you pinpoint where within your sales funnel you have opportunities to optimize and improve your:
Revenue,
Conversion rates,
Today we will share with you our conversion funnel calculator and explain how to use it to start thinking about what parts of your customers' buying journey and sales funnel should you start focusing on.
How Does the Conversion Funnel Calculator Work
The principle on which this conversion funnel calculator works is pretty simple:

Essentially, the calculator we will share with you is customizable. You can break it down however you want and insert data that makes the most sense for your eCommerce business.
Our biggest recommendation is doing this practice for different segments. You can start by examining different stages of your buyer's journey and user experience based on the device or acquisition sources.
How does the conversion funnel for desktop users look?
How does traffic from Facebook differs from that of Google?
How do different customer segments behave?
This way you will pinpoint the potential opportunities for optimization within different stages and steps of your conversion funnel. The basic stages of your sales funnel and buying journey should cover:
INTEREST – all website visitors.
CONSIDERATION – users who look at your product page.
EVALUATION – users that add to cart.
INTENT – your check-out page.
PURCHASE – users that land on thank you page after the purchase
Tutorial | How to Use the Conversion Funnel Calculator
In terms of data you just need to fill in the blue fields.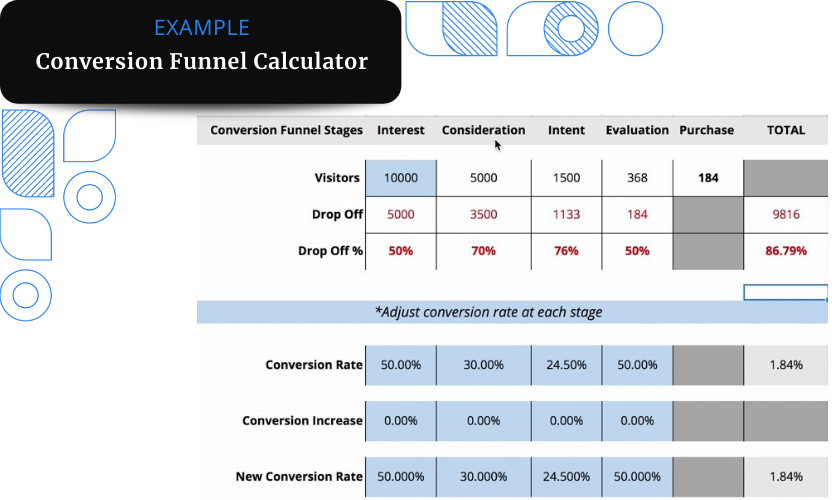 EXAMPLE: Desktop users coming to your website right now.
10.000 users are visiting your website.
50% of them end up visiting the product page.
30% of the users who visit your product page, end up adding to cart.
24.5% of users who add to cart go to check out.
50% of users that get to check out complete the purchase.
This is a very typical flow for people on an eCommerce website. Your website experience might be a little bit different, but you can adjust this conversion funnel calculator to fit your needs.
OBJECTIVE: Increase the overall conversion rate
In our example, the initial conversion rate is 1,84%. If you are selling $100 products, this means you have made $18,000 from 184 sales.
Now you can start investigating the impact of optimizing various stages of your conversion funnel by asking questions.
Question A
What would happen if I managed to increase the conversion rate of users who visit my website (interest) to go to the product page (consideration)?
By getting 10% more people to go to a product page, you increase your total conversions to 2,02%. This means that instead of making $18.000, you will make $20.000.
Question B
What if I was able to increase the conversion rate of my product page by 20%?
By getting 20% more users to add to cart, your total conversion rates will increase from 1,84% to 2,43%.
The same principle applies to all stages. And the goal of this practice is for you to identify opportunities where you need to be putting attention. Because you only have so much time, money, and resources to invest in optimization and improving user experience. Especially during short period sales like Black Friday and Cyber Monday.
Some Final Thoughts
Conversion optimization is a hypothetical game of challenging your presumptions. With this simple calculator, you will be able to make important investment decisions. You will be able to answer questions like:
"Is a 10% increase in product page visits more valuable than a 20% increase in add to cart page visits?"
in a matter of seconds!
Even though this is a very high-level calculator, it is super simple to use, and it is completely customizable! Our suggestion would be to look at specific:
Date range,
User segments,
Acquisition sources,
Devices,
User behaviour.
This is why you should first make sure your analytics are set-up correctly, that you are segmenting gathered data, and that you have a precise experiment plan.
Black Friday and Cyber Monday are a perfect opportunity to start implementing these techniques because you will be driving more traffic than usual to your website. You will need to look at how different segments are performing at different stages in their buying journey, and identify opportunities for optimizing them.
In the end, all of these practices together will help you reach your BFCM KPIs, set foundations for Christmas sales cycle, and more importantly, for and exponential business growth.
---
If you have any questions about using our Conversion Funnel Calculator, don't hesitate to reach out.