90 Day

CRO Results

Average results we achieve within our 90 day sprint cycles
Experiments Launched

13

.

8

Conversion Rate Increase

26.6

%

18.6% Median

Return On Investment

8.7

x

Customer Research
Deliverables 9

Validated Win Rate

37.7%
Ranked no. 2 out of 4572 CRO Agencies Worldwide on
Your website is just one piece of the puzzle.
Optimize
Across All of Your Channels
We deliver insights from research, analytics, and experimentation across all of your channels, eliminate silos, and create a Hub of Insights that will exponentially increase your value from CRO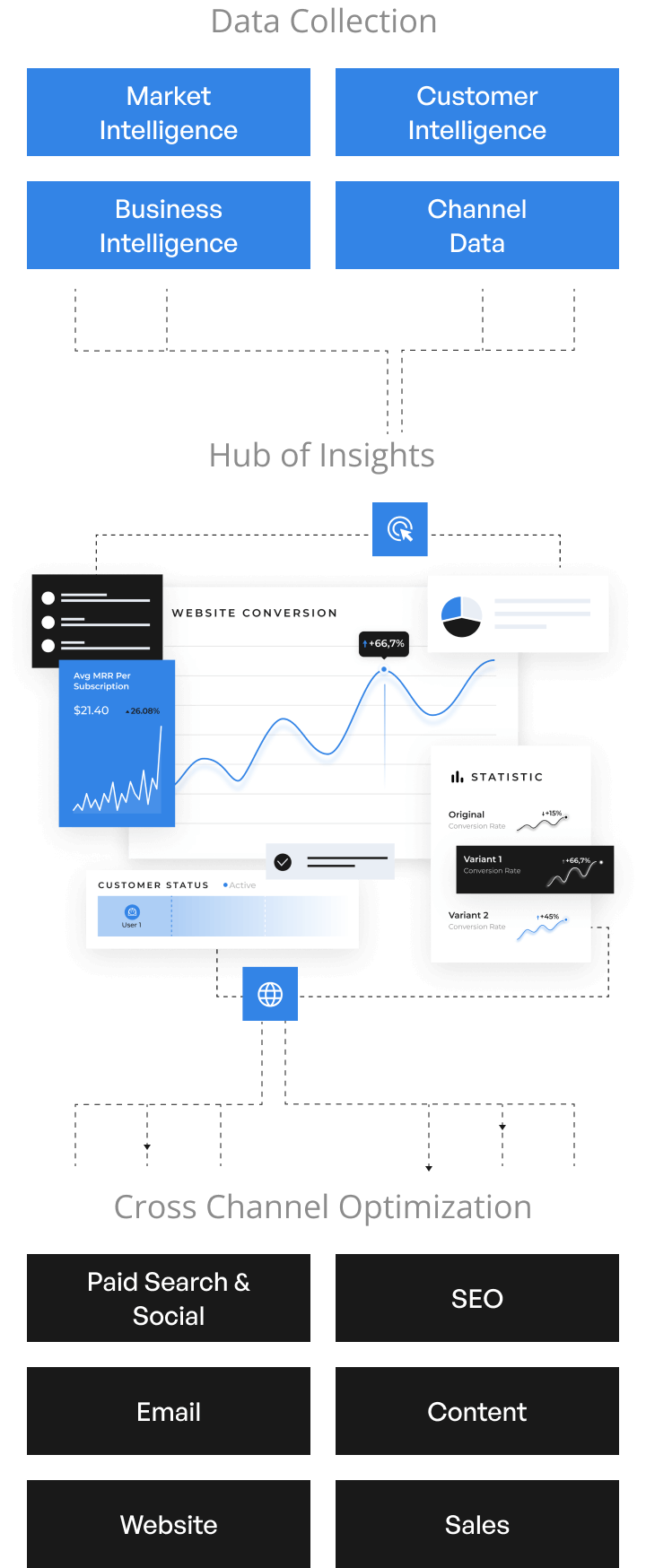 How We Deliver Results
Every 90 Days
We analyzed 250+ marketing teams and built our process to overcome common roadblocks and shorten the timelines to ROI so you could get the most out of CRO
Full Stack Growth Team

As a CMO you have constraints on resources and team size. We seamlessly integrate with your team in 2-4 weeks. You will get full stack growth team with the 14 capabilities necessary to scale for the cost of one full time employee.

Research & Analytics Capabilities

Get the most sophisticated methodology for market and customer research & business intelligence. Stop making decisions based on brainstorming and opinions. Leverage research, analytics and experimentation to measurably drive growth.

Cross Channel Optimization

Fragmented customer journeys and information silos are suppressing your growth. We help you connect the dots and apply insights from research and experimentation across all channels. Leveraging our Hub of Insights we break down silos and deliver ROI throughout your business ecosystem.
Get in touch &
get started Today

on your 90-day CRO journey

Here's what you will get from your free CRO strategy call:
90 Day Growth Plan focused on increasing revenue
Calculate projected ROI from improving your CRO
Walk through our proven CRO process and how to apply it in your business
Learn what specific research methods will drive insights and winning tests
Gain an understanding of testing velocity for your site
Get answers to any questions around CRO or growth strategy
Book your
CRO strategy call